Daher logs sales of 68 turboprop aircraft in 2019 from its TBM and Kodiak product lines
Tarbes, France, January 15, 2020 – Daher today announced the 2019 business results for its expanded turboprop-powered aircraft family, with the company logging sales of 48 TBMs in the TBM 910 and TBM 940 versions, along with 20 Kodiak 100 Series II airplanes.
Deliveries of Kodiak utility aircraft were primary in North America: 11 in the United States and three in Canada. Asia ranked second with three Kodiak aircraft delivered in China and one in Thailand, followed by two deliveries to European customers.
For the TBM very fast turboprop aircraft, deliveries continued to be focused in the U.S., involving 38 airplanes; followed by Europe, with three in Germany, two in the United Kingdom and one in Russia. Daher provided three TBMs in Latin America: two for customers in Brazil, and one in Mexico. Completing the 2019 activity was a TBM 940 version delivered in Japan, marking the first sale of a TBM in this country since the acquisitions of several TBM 700s by Japanese customers during the TBM program's early days.
With Daher's addition of Kodiak to its aircraft portfolio last year, the 2019 sales results were the first to include both the Kodiak and TBM in the company's annual tally of new business.
"We thank our customers for their continued support of Daher's turboprop-powered aircraft," said Nicolas Chabbert, Senior Vice President of Daher's Airplane Business Unit. "We remain committed to building the most efficient, cost-effective and safe airplanes that provide the ultimate flying experience for owners and operators."
Vertis anticipates a diverse new decade of charter business
Zug, Switzerland/14 January 2020 – Senior executives at the bespoke charter specialist Vertis Aviation, are predicting a decade of diversity as changing social attitudes, environmental concerns, and technological advancements bring new operating models to the international business aviation charter market. business
Catherine Buchannan Chief Operating Officer of the Switzerland-headquartered states a combination of major influences could potentially transform business aviation charter operations into a more efficient and operationally sustainable model. Following a successful 2019 which saw Vertis profitability grow as it enhanced its global charter offering with a new US presence, expanded its charter team, and ramped up its third party sales offering via the Vertis Charter Management Programme, Buchanan is now assessing what will affect charter activity in the next decade.
Vertis has seen an upward trend in requests and booking of shared charters and empty legs. She believes this will continue as the 'on-demand' and 'socially primed' nature of the next generation affects the behaviour of business aviation charter customers.  "The digital native generation are our next set of customers. They are empowered by technology which makes them a far more informed demographic than ever before. Digital know-how strengthens their abilities to source empty legs, join membership organisations that offer shared charter options, and increases willingness to share information to better fulfill their travel needs. This will significantly affect the way they book charters," says Buchanan. Vertis has noted that since launching the Vertis Aviation App, which provides the ability for users to book individual executive jet seats, source near-real time charter flight information, and access empty leg data for competitively priced private jet flights, requests for flights from this new demographic has grown.
The impact of climate change will also be a big driver in changed charter behaviour through the next decade says Buchannan. As the climate crisis worsens, flight shaming gains momentum and alternatives to hydrocarbon fuel are yet to be proven, customers want to make a positive contribution to carbon offsetting. The number of 'green' programmes is increasing, and charter customers will increasingly demand means of mitigating their impact. Charter companies and brokers developing sustainable, long term options to satisfy this requirement will win out. "Vertis Aviation will be launching a green campaign this year to encourage existing customers to consider the impact their travel has on the planet and attract new environmentally conscious customers to the business. We know that the captains of industry will continue to need to optimise the benefits of executive aviation, and we also recognise there is a need for them to lead the way in reducing carbon impact. What requires change from one generation will be the norm of the next."
Vertis says advancement in technology will be a key transformer of the charter experience. The amount of data aggregated, stored and analysed by automated systems will continue to grow. Improved methods of data analysis will keep charter brokers and operators more informed about customer behaviour. Digitised aviation supporting the Internet of Things will also see aircraft better prepared for each individual passenger as aircraft automatically inform suppliers of requirements for the next leg. "This will enhance the charter experience across the whole value chain as suppliers, operators and brokers better satisfy customer needs."
Buchanan expects that vehicles yet to be developed will change the charter model. "We currently charter business jets from airport to airport, but looking to the next decade I can imagine we'll be chartering a pilotless Evtol (electric vertical take-off and landing)  machine to transport customers directly from their home or office to airside, where a hybrid powered aircraft will fly shorter journeys, or a jet powered by sustainable aviation fuel will support longer missions. We are eagerly awaiting the day we can charter a hypersonic aircraft to conduct a multi-leg journey in one day too. We'll all be keeping a close eye on what will take off through the next decade, it's going to be one of diversity for sure."
Business Aviation Activity : Surprise growth in December but decline for the full year 2019
Hamburg,  January 8th, 2020 – According to WINGX`s latest monthly Business Aviation Monitor December saw some YOY growth in business aviation activity in Europe, flights up by 2.9% YOY. Most of the growth came in business jet sectors, up by 4.5%, particularly Charter activity, up by 7%. For the full year, total activity was down 1.6% compared to 2018.
Flight activity out of the UK slipped back by 3% in December, but most of the other larger markets were up, notably Italy and Austria. Spain had strongest growth in 2019, Germany most decline.
Large Jet activity was the motor for this month´s growth, notably France, Germany, Italy. Small and Midsize jet traffic was up 15% in Italy but down by 8% in Sweden. Prop activity was up 16% in Spain.
Italy has stand-out growth of 20% in AOC activity. Germany, Spain, Austria, Russia had >10% growth. UK Charters fell 5%. Private activity was up 20% In Czech, but down by 13% in Spain.
Activity out of London was flat in Dec-19, in contrast to around 15% growth from Paris and Geneva, mostly in Small and Medium Jets. Large Jet flights fell 8% from Zurich but were up 27% from Berlin.
Intra-European flights were up 3% in Dec, reducing the YTD deficit to 1.7% vs 2018. Flights to North America were up by 2% this year. Flights to Asia-Pac fell 9% during 2019.
Contrasting trends in AOC and Private, with Cessna -6% in former, +10% in latter. Bombardier also negative Private trend, +7% commercial. Learjet Private activity increased 12% YOY.
Citation Latitude aircraft flew 70% more flights YOY in Dec-19. Also there were strong gains for Embraer Legacy and Challenger 350. King Air and Citation Mustang activity was down.
Departures were up across almost all the busiest airports, largest gains at LFPB, LSGG and EGLF, also LIML, LIRA. For the FY-19, EGLF was only gainer in top 10 airports.
Richard Koe, Managing Director of WINGX, comments:
"December activity was surprisingly positive, up 3% YOY. Partly this is due to December 2018 being particularly weak; this December´s activity was still well below the peak December activity way back in 2007. The overall trend for this year is negative, 2% fewer flights than 2018. The growth this month has clearly come from the Super Midsize, Super Light and Ultra Long-Range Jets, reflecting growth in the size of the active fleets in Europe towards the end of last year. For the full year, the UK and Germany were weakest regional markets."
Gogo Announces Partners For 5G Network and Onboard Systems
 U.S.-based companies Cisco, Airspan Networks and FIRST RF will play key roles in Gogo's 5G network development and deployment
LAS VEGAS (NBAA-BACE) – Oct. 22, 2019 – Gogo (NASDAQ: GOGO), the leading global provider of broadband connectivity products and services for aviation, today announced three strategic partners which will play key roles in Gogo's development of its 5G system and network. A true 5G experience requires every piece of the network and the onboard system hardware, software and antennas to be 5G capable.
"When we announced we were going to build a 5G network for aviation we stated that we would leverage the expertise of U.S.-based companies to help us bring it to life," said Sergio Aguirre, president of Gogo Business Aviation. "The three partners we're announcing today are on the leading edge of wireless network technology and together we will bring the most capable network and systems in aviation."
Cisco, Airspan Networks, and First RF Corp. each will provide necessary elements to Gogo's 5G solution for aviation.
Cisco
Cisco will provide core network solutions that will power Gogo's nationwide air-to-ground (ATG) 5G network. Cisco was selected for its expertise in providing 4G/5G solutions for some of the world's largest wireless telecommunications networks. Cisco's innovation in network technologies is ideally suited for the advancements Gogo's ATG network requires.  Together, Gogo and Cisco will redefine the inflight entertainment and connectivity experience with a high throughput, low latency nationwide 5G network.
Cisco will offer Gogo a cloud-to-client approach for its 5G network, resulting from Cisco's investments and commitment to developing cloud applications and services, to help customers unify multi-vendor solutions into a single, standards-based architecture, which will be critical to the Gogo 5G network.
Airspan
The Gogo 5G system will use the same carrier grade technology as the Airspan Air5G product line. The Air5G platform will provide state-of-the-art 5G; virtualized-RAN base station technology that uses Massive MIMO antenna arrays for increased capacity. It also features advanced beamforming and tracking techniques, capable of communicating with an aircraft travelling in excess of 750 miles per hour, at long range, all while providing an enhanced mobile broadband 5G experience.
FIRST RF
FIRST RF will bring its extensive advanced antenna and RF systems technology portfolio to deploy a solution that pairs Gogo's existing 3G and 4G networks as well as the new 5G network. FIRST RF will provide belly-mounted airborne multi-band antennas that will connect Gogo's onboard 5G system to the Gogo 5G network on ground.  This technology will include complex multiband apertures, advanced beamforming technology, and phased arrays. FIRST RF provides government and commercial customers with premier performance and reliability while maintaining efficiency and responsiveness that is required in the modern marketplace.
Gogo's 5G Network
Gogo's new air-to-ground (ATG) 5G network will be designed for use on business aviation aircraft and commercial regional jets operating within the contiguous United States and Canada. Gogo expects the nationwide network to be available in 2021.
Gogo will build the 5G network on its existing infrastructure of more than 250 towers and will use unlicensed spectrum in the 2.4GHz range, along with a proprietary modem and advanced beamforming technology. Gogo's 5G infrastructure will support all spectrum types (licensed, shared, unlicensed) and bands (mid, high, low), and will allow Gogo to take advantage of new advances in technology as they are developed. Similar to how wireless carriers provide redundancy across their networks, Gogo will continue to employ its 3G and 4G networks throughout the continental U.S. and in Canada that will provide backup to the 5G network when needed.
When compared to satellite technologies, ground-based network technologies in general deliver operational advantages – specifically lower cost of operation, symmetric bi-directional throughput, and lower latency. Gogo is committed to provide easy upgrade paths to 5G for existing Gogo air-to-ground customers.
Embraer Receives Gogo AVANCE L5 STC FAA Approval For Its In-Service Phenom 300 Business Jets
Phenom 300 is the fifth jet from Embraer that can receive AVANCE L5
 LAS VEGAS (NBAA-BACE) – Oct. 21, 2019 – Embraer (NYSE: ERJ), an industry leader in adopting connectivity solutions, has received Supplemental Type Certification (STC) for the Gogo AVANCE L5, the most capable inflight Wi-Fi system from Gogo Business Aviation (NASDAQ: GOGO), on the Phenom 300.
The Phenom 300 is the first aircraft from Embraer to receive an FAA approval for an in-service fleet STC for the aftermarket, and is the fifth Embraer aircraft with an L5 solution, joining the Legacy 450, Legacy 500, Praetor 500 and Praetor 600 with Service Bulletins for the AVANCE L5 system.
"Gogo's solutions allow our customers in North America to elevate their travel experience with nonstop connectivity and in-flight entertainment," said Johann Bordais, president and CEO of Embraer Services & Support. "The AVANCE L5 has been delivering an inflight Wi-Fi experience that has delighted our Legacy and Praetor customers and we're excited to bring this aftermarket solution to our Phenom 300 customers."
Gogo AVANCE L5 connects to Gogo's 4G network, delivering faster speeds and enhanced network capacity and enabling a more robust experience for activities such as streaming video and audio, on-demand movies, personal smartphone use, and real-time data for cockpit apps while in flight. It also provides an easy upgrade path for anyone who wants to add Gogo 5G when the network launches in 2021.
"Embraer's certification of Gogo AVANCE L5 is further validation of our ability to offer customers the most advanced air-to-ground technology available today and shows the confidence Embraer has in our AVANCE platform and our 4G network," said David Salvador, vice president of aftermarket sales for Gogo Business Aviation. "Gogo AVANCE L5 has been added to aircraft of all sizes and mission types, delivering a robust inflight Wi-Fi experience, and we're making it more accessible by adding Embraer's Phenom 300 series for the aftermarket."
Gogo AVANCE is an innovative approach that combines Gogo's advanced hardware and software technology to create a fully integrated, aviation-grade inflight connectivity and entertainment platform. The platform enables connected aviation technologies, services and applications like never before. Gogo AVANCE is the heart of the company's suite of platform-based products including its Smart Cabin systems – SCS Elite and SCE Media – and the Gogo AVANCE L5 and L3 systems
OneWeb to make "doing business" on business jets a reality
October 21, 2019.  Las Vegas, NV:  OneWeb, a global communications company with a mission to connect everyone everywhere, will bring high speed, low latency, reliable in-flight connectivity to business aviation users – creating a "fit for business" cabin in the sky for the first time. With global services beginning in 2021, OneWeb's inflight service will connect unconnected routes such as the Arctic from the outset, and business jet fliers will be able to access all applications from their office in the air.
Working with key industry partners, OneWeb pledges to deliver an affordable line-fit solution to the lightest of bizjets, through to large cabin VVIP airliners and new supersonic offerings. OneWeb's service will transform flight connectivity at a time when cabin connectivity is ranked a top priority for commercial operators and private jet buyers.
The business aviation team, led by Dylan Browne, Head of OneWeb's Business Aviation, Government and Maritime sectors, will be at NBAA-BACE in Las Vegas, NV. (October 21-24) to explain the benefits of low latency, cloud-friendly services to OEMs and to prospective partners.
"Our vision for business aviation is fully customized, truly global, uninterrupted high-speed connectivity and we are building an eco-system for this sector," said Dylan Browne.  "Business jet users want to make their time onboard count. They need to be able to access the same tools in the sky as on the ground. OneWeb will make it possible for all the software applications used in an office to be available in the sky. We are duly looking forward to our debut at the world's biggest business aviation gathering, with a vast range of specialist companies represented under one roof, including resellers and antenna suppliers."
When OneWeb goes live, passengers will be able to fully participate in necessary business operations such as multiple simultaneous uninterrupted live video conferences, access cloud solutions such as Office365, connect with Live TV, as well as content streaming Apps such as Netflix and Amazon Video, but also keep up to date with the family on FaceTime and WhatsApp.
Domination in LEO satellites
OneWeb's solution comes from high performing, low latency, Low Earth Orbit (LEO) satellites situated much closer to Earth – approximately 750 miles.
This means that business jet passengers connecting in-flight won't have to compete for their coverage in the traditional, larger 35,000 ft GEO (Geostationary) space, where transmission regularly drops out. A typical GEO satellite signal round-trip of nearly 45,000 miles on average means a network time delay of two seconds. GEOs also cannot serve the polar regions, where OneWeb plans to offer polar track coverage from day one, which is good news for the business jet community, with aircraft flying longer and further than ever before.
OneWeb has been focused in the past months on growing its Business Aviation team and recently welcomed satellite mobility expert Carole Plessy, who brings 20 years of experience to OneWeb and previously headed product development at Inmarsat. Carol joins Ed Slater, who led airborne communication systems and planning for Air Force One during President George W. Bush and President Barack Obama's terms, in the business aviation team.
OneWeb's satellites are built in Florida by OneWeb Satellites, a joint venture between OneWeb and Airbus. OneWeb will deploy more than 30 satellites on a monthly basis starting in December 2019, as it grows its constellation for full global coverage.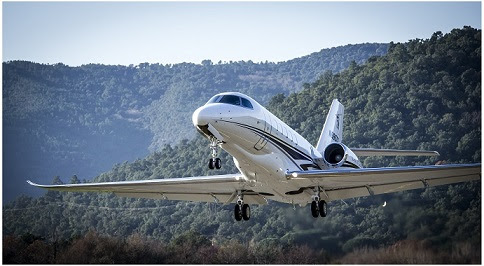 OneWeb plots move into business aviation
 (Photo credit – Billypix – Textron Latitude)
SD releases SD PostFlight, industry's first real-time automated flight-log reporting software.
Las Vegas, Nevada / 21 October 2019– Satcom Direct (SD), the business aviation solutions provider, releases SD PostFlight today at NBAA – BACE 2019 – booth C10217. The industry-first, web-based software, automatically populates the aircraft flight log with all available data relating to flight times and cycle events for each leg of a journey. The automated and timely record keeping precision of critical flight data reduces pilot workload, minimizes human error and improves operational efficiency by synchronizing the flight department, crew and maintenance teams with autonomous flight log information.
The aircraft movement data is delivered via SD's datalink service, FlightDeck Freedom®, and is immediately captured after each flight event. The information is accurate to the minute and autonomously populated in SD Pro®, providing all flight operation team members with instant, direct access to the data. The increased accuracy of data can extend the time between scheduled maintenance events reducing aircraft down time and improving maintenance budget management.
In addition, data from SD PostFlight can be integrated with third party maintenance management tracking systems, including CAMP, MyCMP, and FlightDocs. To support warranty programs, customers can also choose to have data pushed to engine OEMs, with Rolls-Royce already signed up to receive operational performance records.
Supporting the SD philosophy of providing customers with agnostic, tailored solutions, SD PostFlight is also available as an independent module that can integrate with third-party scheduling systems through an intelligent API. The product's ability to instantly and exactly record complex information marks SD's first foray into aviation data management.
"In a digital age, it is essential that we provide our customers with a highly accurate way of collecting, aggregating, and storing flight data. It increases the visibility of the aircraft's actual performance, can help optimize aircraft usage, improve maintenance efficiency and eliminate errors inevitable from a paper-based record keeping system," says President of SD Business Aviation, Chris Moore. "We can improve safety too by effectively communicating with maintenance tracking systems and reducing crew workload, all of which is highly valuable to an operator. "
To support the near real-time recording, the SD Crew mobile app allows pilots to log Out, Off, On, and In (OOOI) times, fuel levels and fuel uplift, crew data, and leg notes off-line to make logging and verification more timely and accurate. Future releases will capture flight expenses and accommodation costs, which can improve accounting accuracy for flight departments
Flying Colours completes Honeywell Primus Elite & Ka-band upgrade on
Bombardier Global Express.
NBAA Las Vegas, Nevada/ 21 October 2019. North America-based Flying Colours Corp. –completed a retrofit of the Honeywell Primus Elite™ flight-deck for a Bombardier Global Express, along with installation of the Honeywell JetWave™ Ka-band system in an unusual two phase project. The dual avionics upgrade successfully modernised the privately-owned Bombardier Global Express to enhance the crew's situational awareness and add high-speed broadband, enabling powerful inflight connectivity capabilities for passengers.
The customer selected Flying Colours Corp. based on the team's flexibility around the installation process. "Timing was the biggest challenge for sure on this project," said Kevin Kliethermes, director of sales for Flying Colours Corp. "Due to flight schedules, the project was broken into two separate events and required all team members to work in concert to be successful." The work was completed at the company's Peterborough, ON. headquarters by the avionics team, which worked in close collaboration with Honeywell, Bombardier and its avionics colleagues at its Spirit of St. Louis facility in order to expedite the project within the challenging time frame.
As part of the Primus Elite upgrade, six all new Honeywell DU-875 displays were installed to replaced old cathode ray tubes (CRT) monitors. The Primus Elite Advanced Features' (PEAF) software suite is optimized on aircraft carrying a full complement of the new DU-875 displays. PEAF adds a Synthetic Vision System (SVS) which provides 3-D color images of runways, terrain and obstacles, giving pilots a clear view of the virtual flight path. This increased level of situational awareness is particularly useful when flying to unfamiliar locations, in bad weather, or at night, as it helps reduce pilot workload and consequently errors.
The display upgrade also brings brighter, clearer, high resolution pictures to the pilots, yet the system runs cooler so creates less heat in cockpit making for a more comfortable working environment. In terms of operations the displays are seven pounds lighter per unit and overall lowers the cost of operations while doubling reliability. "There are numerous benefits to this upgrade," said Kliethermes. "It removes CRT obsolescence issues and it enables updates in the cockpit to the latest technology with a relatively quick turn time."
Complementing the flight-deck upgrade Flying Colours handled the installation of the Honeywell Ka-band JetWave system with the Flying Colours avionics team mounted a new radome, tail antenna and the Honeywell JetWave hardware which when connected with Inmarsat's Jet ConneX Ka-band network supplies the fastest broadband available for business aviation. The high-speed cabin WiFi delivers improved connectivity services enhancing the passenger experience. Video streaming, internet access, e-mailing, voice, cell phone usage and Honeywell's GoDirect suite of apps, are now available from take-off to landing around the globe (not including the polar regions).
Malta Aviation Conference & Expo (MACE)
October 18, 2019 – Malta Aviation Conference & Expo (MACE), a new B2B and B2C aviation networking event in Malta, will be held between October 30th and November 1st, 2019 at the Grand Hotel Excelsior, Valletta. MACE will include educational and inspiring keynote speakers and an expo hall, it being the first of its kind to be organised in Malta.  The main aim of the event is to create an environment of collaboration and cooperation for aviation leaders to come together and help each other succeed, profit and thrive. The event is supported by Transport Malta, and will be held under the patronage of EBAA (European Business Aviation Association) and MBAA ( Malta Business Aviation Association).
Speaking at the launch of MACE during a Press Conference, Stanley Bugeja and Jonathan Dalli, Founder Members of MACE said: "Malta is fast becoming Europe's favourite aviation jurisdiction with a number of airlines setting up in Malta. The Maltese aircraft register has now exceeded the 300 aircraft milestone and more than 35 airlines call Malta home. Important MRO's have setup in Malta and more are expected to follow suit. This is why we wanted to create a unique event to target delegates interested in or that are part of the industry and offer them the opportunity to engage directly with policy makers, business aviation professionals and end-users – one-of-a-kind and a first for the island".
With over 165 delegates already confirmed for the event, MACE is Malta's biggest ever conference & expo to be held on the island.
Launching MACE, the Hon. Dr. Ian Borg, Minister for Transport, Infrastructure and Capital Projects said,  "With a fast-growing aviation sector that is gaining momentum as we speak, Malta is well on its way to establishing itself as a hub for all things aviation. MACE is an excellent opportunity to foster healthy dialogue, collaboration and the sharing of best practices in such an important sector. Most importantly MACE will provide the right platform to deliberate on where we want to go. We have already achieved great results but my ambitions as Minister responsible for the aviation sector are much greater and we will work harder together with this industry to get there."
MACE 2019 will include policy makers, operators, aviation industry professionals, legal & regulatory consultants and global users. The event will also include a number of international and local speakers who will be sharing their knowledge, including the Prime Minister of Malta, Dr. Joseph Muscat; the Minister for Transport, Infrastructure and Capital Projects, Dr. Ian Borg; the Director General for Civil Aviation, Transport Malta, Capt. Charles Pace; the Director General for Eurocontrol, Mr. Eamonn Brennan; Former NASA Scientist, Dr Anita Sengupta; the Director of Public Relations of Ryanair, Mr. Diarmuid Ó Conghaile; and the Executive Chairman of Knighthood Capital Partners and Former Chief Executive Officer of Etihad Aviation Group, Mr. James Hogan.
Acropolis Aviation appoints new Ground Operations Manager Mark Bird joins from Air Tanker
Acropolis Aviation, the UK VVIP executive charter operator based at Farnborough Airport, is pleased to formally welcome Mark Bird as Ground Operations Manager.
Mark joins Acropolis from Air Tanker, the PFI initiative formed by Airbus, Babcock, Rolls/Royce, Thales and Cobham, operating 14 Airbus A330-200 Voyager aircraft.  At Air Tanker, Mark was based out of Brize Norton as an Operations Duty Manager for five years, managing the worldwide day-to-day operations of both civil and military aircraft and managing multi-role operations, liaising with commercial airlines, representatives of the Government and the Royal Flight.
"Mark is a welcome addition to our team with his multi-faceted operational experience gained in commercial airline, freight and airport operations," said Acropolis CEO Jonathan Bousfield.
After three decades in the RAF acquiring the discipline of getting a job done well, on time, working as part of a team, Mark's follow-on commercial roles included being a member of the executive team behind the service launch of African regional carrier Fly Africa.  He served as airport manager of Kandahar Airport, Afghanistan, moving from DHL, where as Operations Manager, he was responsible for the Middle East region.
"Acropolis Aviation is an established, highly regarded luxury charter operator and joining its team is a great privilege," said Mark.  "It is a very exciting time in Acropolis' history as we prepare for the arrival of G-KELT in the coming months."  The industry's first ACJ320neo is currently undergoing cabin outfitting to Acropolis' unique Alberto Pinto design at AMAC Aerospace's Basel, Switzerland facility.
New flight planning system – from myairops
An early priority for Mark is to oversee the introduction of a next-generation flight planning solution, which comes on line in November.  The system is being introduced ahead of the ACJ320neo's arrival.  Following a comprehensive evaluation across various alternative suppliers, Acropolis opted to renew with myairops in a nod to its attractive new features and its ease of use between Acropolis' UK and US operations.
"We're pleased to appoint myairops as our new flight operations software providers. myairops Flight was selected owing to its highly protective security of data, GDPR compliance, ease of data migration and HMI design." said Mark Bird.  "We're looking forward to a long-term collaboration," he added.
Part of the Gama Aviation Group of companies, myairops is a full aviation ecosystem providing SaaS (Software as a Service) and mobile app solutions to manage flight and ground operations, handling, FBO and CAMO needs.  It will deliver full flexibility when integrating Acropolis Aviation's other systems, providing a versatile and comprehensive solution for their operations.
Satcom Direct (SD) bolsters IT training for business aviation sector
Melbourne, FL. / 15 October 2019 – In response to the growing demand for more qualified IT experts in the business aviation sector, Satcom Direct (SD), the business aviation solutions provider, is strengthening its industry-focused training program.  The second edition of aeroIT, SD's aviation IT certification, is now available with renewed content and an exam updated to reflect the changes; SD's training programs have been added to the curricula offered at both FlightSafety International (FSI) and Embry-Riddle Aeronautical University; and the number of SD digital self-learning courses has grown.
Revisions to the aeroIT course place more focus on cybersecurity, the latest communications systems and information technology advancements to ensure aviation IT professionals' knowledge is current with the most recent developments.  The revised exam, designed to test candidates' understanding of developing connectivity technologies, will enable existing aeroIT certificate holders to renew their existing qualification.
The updated aeroIT course now forms part of FlightSafety International's new Cabin Master Technician program. Embry-Riddle has also approved the inclusion of aeroIT as part of its new Bachelor's degree, Aviation Maintenance Science with an area of concentration in cybertechnology, avionics and security. The first group of students taking the program began studies this fall. The supporting SD aeroIT study book, newly reprinted in its second edition is a required text for Embry-Riddle students. Students completing the courses can take their exam on campus or via the digital Questionmark platform which SD administers.
The aeroIT course is also available through SD's recently enhanced Learning Management System which provides computer-based training with videos and digital material. Students can fit studying into their work schedule and complete the course at their own pace. For candidates preferring an immersive instructor led experience SD offers aeroIT training at its Melbourne, FL facility and FlightSafety International delivers the aeroIT renewal course in Savannah, the Dallas North Learning Center and the recently added, Long Beach location.  The dedicated aeroCNCT course, created to support industry professionals that work with, or are responsible for, connectivity during flight is also offered at the Savannah facility.
In addition to making updates to the aeroIT and CyberSAFE courses, the new self-paced courses cover a range of topics with datalink, air-to-ground, satellite modules featured, as well as courses related to SD products and services, including the SD Pro operating system.
"Our approach is holistic, so our network partners are incredibly important to us. We are excited to provide enhanced access to our materials via the highly respected FlightSafety International, Embry-Riddle establishments and our improved LMS.  We know that an always-on generation expects connectivity to perform all the time and this drives our continuous educational development program so we can support our customers, so they can support their passengers, crew and employees.  As aviators ourselves we
understand that reliable, professional training is essential for sector development," says Jason Rigby, Director of Training for SD. "The latest additions and updates, along with our growing network of educational partners, firmly positions SD's training modules at the core of business aviation IT training."
Since launch three years ago more than 700 candidates have completed the aeroIT course. In 2018 alone, 205 candidates achieved an 86% pass rate of the accredited exam for aeroIT, and 74 students completed the aeroCNCT test with 85% passing. A further 16 customers have already maximized the opportunity to renew their certificates.
Flying Colours Corp. meets increased demand for ADS-B Out installations.
Peterborough, Ontario/ 14 October 2019.North America-headquartered Flying Colours Corp. will be promoting its ADS – B Out expertise during NBAA- BACE 2019 – Booth C7215 – having performed nearly 50 ADS-B Out installations in the last 18 months. As the number of aircraft being equipped trends upwards avionics experts at both its Peterborough, ON. and St. Louis, MO. facilities are still anticipating a last-minute dash for ADS-B Out equipage as the 1 January 2020 mandate draws closer.
Equipage has already taken place on a wide variety of aircraft including Bombardier Global, Challenger, and Learjet types as well as Dassault Falcon, Embraer Phenom and Citation aircraft. As a Bombardier Authorized Service Facility Flying Colours owns ADS-B Out Supplemental Type Certificates (STCs) for the Bombardier Challenger 300, 604 and 605 aircraft. These STCs are also validated by EASA and TCCA. Sales of the STCs have ramped up in the last four months with more than 25 sold to other installation companies.
Flying Colours Corp. currently has 10 aircraft at the North American facilities undergoing equipage as part of wider maintenance or avionics upgrade projects, with a further 12 aircraft booked in before the end of the year. Significantly Flying Colours Corp. has seen a rise in demand from mid-to-large cabin owners and operators from corporate and private clients, while the number of small-cabin installations has remained stable.
Kevin Kliethermes, Director of Sales at Flying Colours explains most ADS-B Out installations have been part of a wider aircraft upgrade. "We help owners maximise budget and aircraft downtime by completing a number of different projects in parallel. Work on avionics, interiors, maintenance and paint can all take place in parallel at one of our facilities. For us the 1 January is not the end of the ADS B-Out mandate, but the beginning and we want to help the industry in North America and beyond be prepared for this important airspace management milestone, and the requirements of NextGen still to come."
"The industry seems to be doing a good job of meeting demand for compliance with a good majority of aircraft now equipped, but we still think there will be a rush to the finish line. We've noticed an increased demand from owners and operators who regularly use their aircraft, and recognise they need to make sure they're ready," says Kevin Kliethermes, director of sales for Flying Colours Corp.  "We can accommodate a few more aircraft this year, but owners need to call quickly so that we can develop a compliance solution for their aircraft in time. If they don't call us, they must call someone to avoid having their aircraft grounded post-deadline."
Planet Nine ("P9PA") scoops ARGUS Platinum and IS-BAO Stage 1 status
October 11, 2019 – Planet Nine Private Air ("Planet 9"), the Van Nuys, California based private charter operator and aircraft management company is flying high this week on the back of earning the highest-ranked ARGUS Platinum safety certification. Independently awarded, ARGUS ratings are globally recognized as the most accurate and detailed third-party due diligence system for Part 135 charter operators, buyers and passengers throughout the world.
Planet 9 also achieved IS-BAO Stage 1 (International Standard for Business Aircraft Operations (IS-BAO) last month, satisfying IBAC that it is delivering high operational standards in all aspects of its business.
Planet 9, just over a year old, has now achieved three safety ratings, obtaining Wyvern Wingman status, under its onsite flight leader program, coinciding with the NBAA-BACE Show last year.  Wyvern is a renowned benchmark for aviation safety, recognizing commitment to best practice and the highest level of safety protocol.
"We are very pleased to be adding to our accreditations with ARGUS Platinum status and IS-BAO Stage 1 rating," commented Planet 9 Co-founder Matt Walter.
"These are very important recognitions, giving confidence to our charter brokers and passengers.  Our business jets are based in the USA, positioned out of Van Nuys, CA and New York's Teterboro Airport, but we are regularly back and forth to Europe, Russia and the Middle East," he added.
Planet 9 operates five Dassault Falcon 7Xs, plus a Gulfstream G550, Gulfstream G650 and Bombardier Global 5000 available for third party charter for private owners through its management division.  It flies corporations, family offices and UHNWs from the West and East Coasts of the USA to destinations including Europe, Russia and the Middle East.
Euramec adds Leonardo, Eurocopter and Bell, Specialty Flight Simulator lines from Australia's GeoSim Technologies
HAMME. Belgium/Ipswich, Australia, October 10 2019 – Euramec, the European flight simulation solution providers, announced it has signed a non-exclusive distribution agreement with GeoSim Technologies for the worldwide distribution of GeoSim's rotary wing simulators and specialty flight simulators.
GeoSim based in Ipswich, Australia, signed a reciprocal arrangement to market EURAMEC's portfolio of Flight Training Devices in Australia and New Zealand.
GeoSim has partnered with EURAMEC, as EURAMEC has an extensive integrated global sales and support network, and has a proven track record of one-to-one personal attention to customer relationships around the world.
Under the agreement, EURAMEC will promote GeoSim's simulators for rotary wing and specialty products like the Air Tractor 802 simulator used for firefighting and crop-dusting. The Rotary Wing product line will include the Leonardo AW139, Bell 412 and Bell 206 series and the Eurocopter AS350 B3 platforms.
EURAMEC will adapt GeoSim Technologies Flight Simulators to fully comply with EASA FNPT-II standards, which EASA compliant trainers will be marketed as a joint development.
Both companies also signed a licensing agreement to acquire and integrate selected components.
This agreement underlines EURAMEC's successful strategy of providing flexible and customized services to all EURAMEC customers. EURAMEC and GeoSim Technologies continue deploying innovative ways of reducing flight training operating costs by providing agile, cost-competitive services to commercial and government customers worldwide.
"We are extremely excited to partner with GeoSim Technologies," said Bert Buyle, CEO, EURAMEC. "Through the integration and delivery of our Flight Training solutions, we will generate greater value and efficiency for GeoSim's Rotary Wing Simulators and other Specialty Simulation devices for their customers."
Geneva Airpark is extending its offers at Geneva airport
September 19, 2019 – After 10 years of operations and getting the IS-BAH certification, Geneva Airpark is taking another step forward to meet the expectations of business aviation at Geneva airport. With new aircraft hosting solutions tailored to the needs of a varied clientele, Geneva Airpark is offering gains in time, flexibility, safety, comfort and services.
As Switzerland's leading airport, open from 5:00 am to 11:00 pm, and the 3rd in Europe for business aviation after Le Bourget and Nice, the appeal of Geneva airport for business jet clientele remains strong, motivated by business and tourism opportunities in Geneva and throughout Switzerland.
By proposing new personalized hosting options and services for each type of aircraft for short, medium or long term stays, Geneva Airpark is making the advantages of its privileged location on the airport and its organization accessible to a wider clientele:
A 10,000  sq metershangar that can host all types of jets, up to a Boeing 747
Fully secure hangar to protect business jets in all seasons
Improvedopportunities for obtaining desired departure and arrival time slots
A private ramp for very fast and autonomous movements
Immediate passenger access to Terminal C3 reserved for business aviation
A wide range of services for aircraft and crews
A dedicated, human-scale team on site to privilege the quality of customer relations
One contact person to coordinate with airport authorities or handling agents and synchronize fuelling, maintenance, aircraft cleaning, laundry etc.
Flying Colours Corp. appoints Graham Dickie as CFO.
Peterborough, ON. /19 September 2019 – Flying Colours Corp. the North American MRO business has appointed Graham Dickie as its new Chief Financial Officer with immediate effect. Based at the company headquarters in Peterborough, ON. Graham will be responsible for managing the company's finances, reviewing near and long-term financial planning, and working with the senior executive team to manage international growth. As Flying Colours continues to undergo rapid expansion Graham will also be responsible for analyzing financial risk and generating commercial processes to support sustainable day to day financial operations of the company. He will report directly to John Gillespie, president and CEO of Flying Colours Corp.
With CFO experience in the energy, waste management, environmental services and most recently ink and pigmentation sectors during a 25-year career, Graham's experience brings a diverse set of skills which positions him well in a company that continues to expand and diversify.  With a global outlook developed working with international corporations Graham is a valuable addition to the team as Flying Colours continues its growth on a worldwide scale.
 "I am thrilled to join the dynamic team at Flying Colours," said Graham. "There are many opportunities that I look forward to exploring with John and developing with the ambitious team. The company's commitment to provide high quality services to our clients is a strong driving force for the culture here and provides a solid foundation for the ongoing growth. I'm looking forward to supporting that development."
John Gillespie, president and founder of Flying Colours Corp. said, "As we continue to mark thirtyyears in business we are looking forward to the next decades. Strong financial understanding and the ability to understand the financial implications of our business growth is essential for success. In Graham we have someone with the capabilities to support the goals of the company. He is a welcome addition to our team."
 Graham holds a degree in accountancy and finance from Heriot-Watt University in Edinburgh. He is also a certified chartered professional accountant in the province of Ontario.
Pegasus Universal Aerospace signs MoU with Callen-Lenz Group as partner for flight control systems development.
 Veteran aviator Captain Andrew Dietrich appointed as Chief Pilot
September 3, 2019 – South Africa's Pegasus Universal Aerospace, pioneer of the Vertical Business Jet (VBJ®) Pegasus One, has signed a Memorandum of Understanding (MOU) with UK-based, technical aviation consultancy, Callen-Lenz Group. The agreement brings the two companies together to exclusively collaborate on the design and development of the flight control systems for the Pegasus One aircraft.
The flight control systems are integral to supporting the aircraft operations in all phases of flight, including transition from vertical take-off and hover, to forward horizontal flight. The merging of these functions, into one unique system, will be a key technology, enabling Pegasus One to deliver its powerful performance capabilities. Pegasus selected Callen-Lenz as its development partner owing to the team's reputation for creating innovative solutions, required core competencies and experience, in realising complex technologies in the aerospace sector.
Dr Reza Mia, Pegasus founder and Chairman said, "We believe that Callen-Lenz is the ideal partner for Pegasus. Their inventive approach to aerospace challenges, their expertise, and their willingness to embark on this exciting journey with us to deliver a unique proposition determined our selection process. We are excited to be working on this game changing project with them."
"We have been invited to work with a number of new aircraft programmes, but were extremely impressed by the ambition, vision and quality of the Pegasus VBJ project. As the race hots up to deliver new aircraft technologies, we are pleased to join forces with one of the most exciting airframes in development," said Jonathan Webber, CEO, Callen-Lenz.
The Pegasus team has already made great strides over the past year in developing multiple scale models, completing comprehensive studies into the drivetrain and thrust fan systems to support a true hybrid-electric propulsion power source. Pegasus is in ongoing discussions with two leading powerplant OEM's to ensure the best performance capability is achieved.
The signing of the MOU with Callen-Lenz Group ushers in the next significant phase in the programme. Under the terms of the MOU the Callen-Lenz team will work closely with the Pegasus executive team, engineers and newly appointed chief pilot Captain Andrew Dietrich, whose appointment was also confirmed in August. Captain Dietrich joins the expanding Pegasus team with some 16,000 hours flying time spanning a 26-year career operating ultra-long-range commercial airliners and corporate jets. Familiar with numerous flight-decks, working with a variety of avionics systems and aircraft simulators, Captain Dietrich brings valuable knowledge to Pegasus. Reporting directly to the executive team, his hands-on experience will deliver vital input to the aircraft operational capability, performance and safety requirements.
As an integral part of the Pegasus technical team he will work alongside Callen-Lenz and Pegasus Chief Engineer Matthew Buttle and be responsible for overseeing compliance, safety procedures and the co-ordination of test pilots during the official test flight phase.
"We want to build an aircraft that pilots know is responsive, safe, reliable, efficient and above all fun and straight forward to fly. Captain Dietrich will help us achieve these goals and more. We are excited to add his extensive skills and enthusiasm to our team," commented Dr Reza Mia.
"I'm aware there are many eVTOL projects in development, but I wanted to work with the dynamic Pegasus team. The concept is brilliant, the team is solid, and I believe it will make a dramatic difference to the way executives and high-net-worth individuals think about flight in the future. There is also huge potential in the oil and gas platform, (OGP) sector. Being involved with the Pegasus project allows me to use all my accumulated experience on one of the most exciting new and innovative aircraft programmes on the market, it's a superb opportunity," added Captain Dietrich.
Construction of a full-scale VTOL demonstrator to show in Europe in 2020 has already begun and a series of investor evenings in South Africa starts this month.
The MoU with the Callen-Lenz Group and the appointment of Captain Dietrich will ensure Pegasus development continues on the right trajectory.
Zeusch Aviation bolsters medevac expertise as King Air B200 operations launch in Spain
 Lelystad, The Netherlands/27 August 2019 – Zeusch Aviation,the Netherlands-based aerial services provider,has begun dedicated European medevac operations in Spain using its King Air B200. The G-registered, G-MEDZ, which has been configured in air ambulance format,is operating regular flights in partnership with IAS Medical, the UK-headquartered private air ambulance company which holds the AOC on which the aircraft operates.
Air ambulance services are being provided for the Spanish aviation organization Eliance which specialises in supporting aerial medical transportation, search and rescue and firefighting. Zeusch has repositioned the modified King Air B200 from its home-base in Lelystad to Malaga, where a crew of two, working on a two-week rotation, is also based to support the mission.
The first medevac operation took-off on 10 July 2019, and since launching the King Air B200 has already transported some 40 patients between Melilla and Malaga, Spain.Patient care is administered by a local professional medical team during the thirty-minute flight.
Melilla is a Spanish enclave located on the north coast of Africa, sharing a border with Morocco. It has a population of approximately 86,000 and is served by three small hospitals that provide limited healthcare services. The Zeusch flights provide an invaluable service transporting patients to ground ambulances on mainland Spain, which then transfer patients to clinical centres of excellence.
In its medevac configuration the King Air B200 can carry up to two walking patients or a laying single patient in need of a stretcher. The cabin is equipped with a Lifeport PLUS-system which provides a stretcher, as well as high-tech medical equipment including a vacuum system, compressed air, a three-outlet 1000 watts inverter (230VAC) and a 3500-litre oxygen system with remote filling port.
"Zeusch Aviation is proud to be part of this special operation which is literally life-saving in some cases. These flights not only show the need for specialized equipment and well-trained personnel, but also highlights the capabilities of our King Air B200. Most importantly it also demonstrates the importance of cooperation between entities to fulfil a specific mission," saidZeusch Managing Director, Herman van Kranenburg.  "This is enhancing our operational expertise and provides an excellent platform for expanding our medevac operations which we anticipate will widen out across Europe over the next year."
Piaggio Aerospace awarded aircraft maintenance contract worth 12.6 million euros
 The Italian manufacturer will provide ENAV – the Italian air navigation service provider – with the maintenance of the four P.180s used for flight inspection activities at national airports.
Villanova d'Albenga (Italy) – August 23, 2019 – Piaggio Aerospace has been awarded a contract for the maintenance of the P.180s owned by ENAV, the company that manages civil air traffic in Italy. The agreement, with an estimated duration of approximately 7 years, is worth 12.6 million euro and will guarantee integrated logistic support for ENAV's fleet of four P.180 Avanti II.
"The agreement signed represents a further step forward in the turn-around process of Piaggio Aerospace", commented Vincenzo Nicastro, Extraordinary Commissioner of Piaggio Aerospace. "While strengthening the backlog of the Genoa factory-owned service centre, it also confirms the unique expertise of the company in the airframe MRO domain, consolidated throughout decades of activities".
The ENAV P.180s perform an average of 1,800 flight hours per year. Thanks to their special equipment, they carry out regular measurements and calibration of airport navaids (Radar, VOR, DME, VDF, ILS etc.) in order to guarantee their continuous operational accuracy, essential for the safety of air navigation.
A similarly equipped P.180 will be showcased at MAKS '19, the international air show that will be held at Zhukovsky International Airport (Moscow) from August 27 to September 1. A delegation of Piaggio Aerospace will also be present at the air show.
Planet Nine Private Air ("Planet 9") adds Gulfstream G550 to its charter fleet
August 12, 2019 – Planet Nine Private Air ("Planet 9"), the Van Nuys, California based private charter operator and aircraft management company, is pleased to welcome the addition of a privately-owned Gulfstream G550, to its managed fleet.  N41PM was added on to its AOC in July and is now ready for charter through Planet 9's aircraft management division.
The Gulfstream G550 joins a G650, from the same private owner, which went on to Planet 9's AOC for private and third-party charter flights in June.  The G650 has performed a number of flights since service introduction including several trips to the Mediterranean, Fiji, and Australia.
Configured with 16 luxury seats, the latest Gulfstream G550 boasts a 6,037 nm range, suitable for journeys up to 14 hours' flying time.  With a three-zone cabin, giving clients' the versatility of space to work, rest and sleep, both Gogo and KA-band Wi-Fi plus a wide selection of onboard movies adds to the flying experience.
The Gulfstream G550 and G650 complement Planet 9's own five-strong Dassault Falcon 7Xs, operating out of Its Van Nuys, Los Angeles, CA base.
"We are delighted to be adding a second managed aircraft for a private owner inside six weeks and just after our first birthday," said Matt Walter, Co-Founder of Planet 9.  We have expanded our operations and client support team accordingly in readiness for the Gulfstreams, as well as taken on more hangar space at Van Nuys Airport.  We are very proud to be offering a dedicated management division, with a different, popular aircraft type," he added.
Planet 9 pledges full transparency on costs, a tailored program throughout the year and close collaboration with the aircraft's owner to maximize both assets when they are available for charter.  The G550 and G650 will be a charter friendly ultra long-range premium aircraft solution for our industry partners throughout the year and have multiple crews available for complex missions.
Planet 9 already staffs four in-house Gulfstream trained maintenance technicians.
Planet 9 offers charter flights worldwide. The company typically flies corporations, family offices and UHNWs from the West and East Coasts of the USA to destinations including Europe, Russia and the Middle East.
Planet 9 adds Gulfstream G550 to its charter fleet
Edmiston brings its iconic branding to the iconic vertical gateway.
August 7, 2019 – Edmiston, the world leading yacht company, has taken over the title sponsorship of The London Heliport. Coinciding with the heliport's 60th Anniversary this summer, Edmiston has undertaken a major re-styling of both the interior and exterior terminal, including a complete repaint of the landing, take-off and apron areas.  Effective 1st August, the Heliport will be known as The Edmiston London Heliport.
Edmiston Chief Executive, Jamie Edmiston commented; "We have made a long-term commitment to this key London gateway.  For us, this is more than a branding exercise. Our aim is to bring the rigorous focus, attention to detail and teamwork that you would find on board a large yacht – to the operation of the heliport.  Working in close partnership with the management and owners of London Heliport, our objective is to deliver the best possible experience for clients using the Heliport."
"With this collaboration with Edmiston we are entering an exciting new era," said London Heliport General Manager Simon Hutchins. "Edmiston is a prestigious luxury brand to align with and Jamie Edmiston has overseen a significant investment that has revitalised the whole look of the heliport."
The London Heliport continues to thrive as the capital's only licensed heliport serving business and private movements, police and medevac missions.  It is home to The London Helicopter sight-seeing business and a number of helicopter charter tech companies. For the first six months of 2019 business and private movements totaled 4,401.  This represents a 39% growth since 2012 when the Reuben Brothers acquired the heliport in February that year.   Interlining with business jet activity continues to account for nearly 25% of movements with commercial operators departing London Biggin Hill, Luton, London Oxford, Farnborough and Stansted Airports.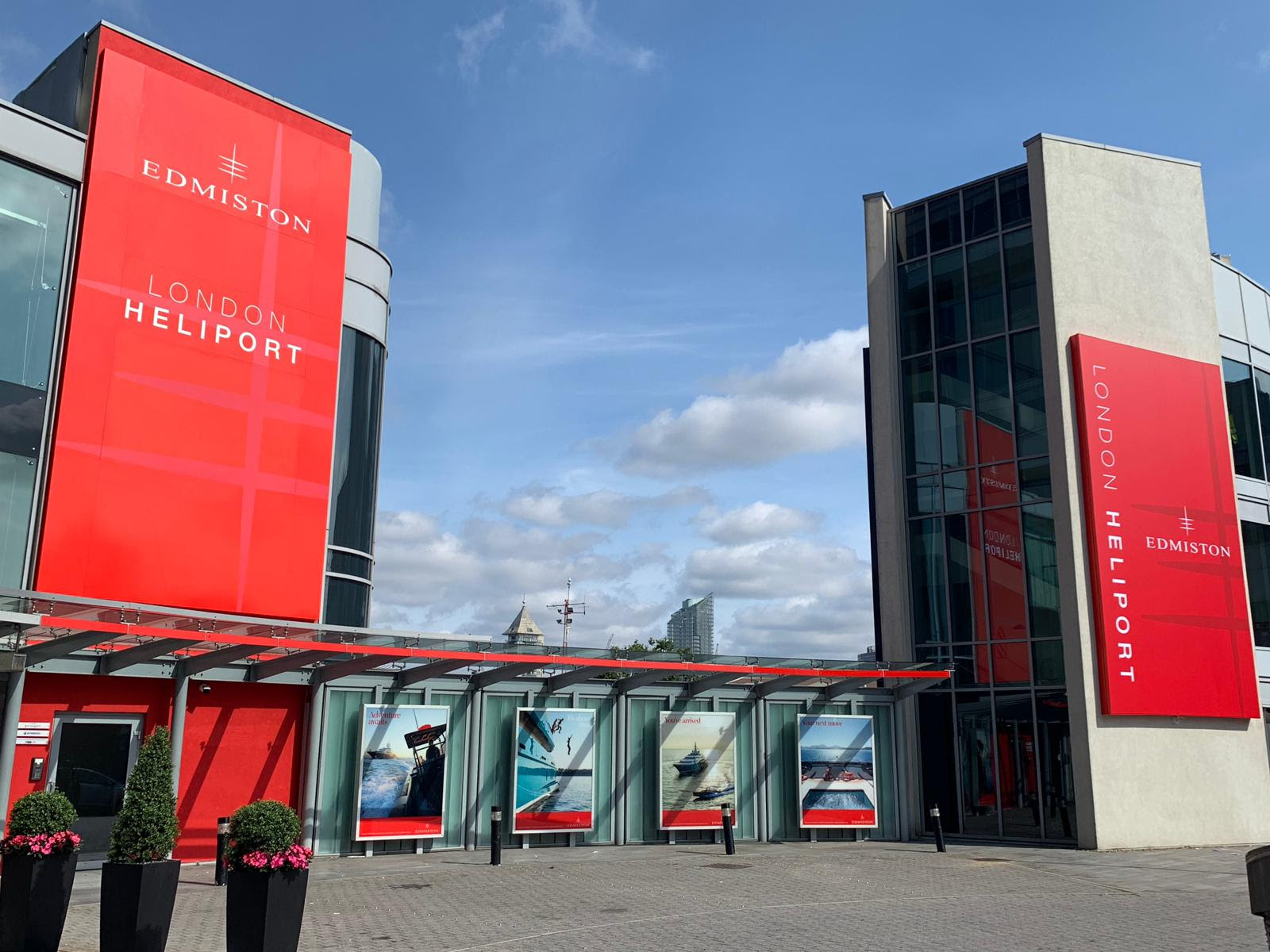 ONEWEB ANNOUNCES HEAD OF COMMERCIAL AVIATION
August 6, 2019 – OneWeb, the global communications company whose mission is to connect everyone, everywhere, is pleased to announce that Ben Griffin has been appointed to the role of Vice President for Commercial Aviation, leading its newly formed Commercial Aviation team.
In his new role, based at OneWeb's White City, London HQ, Ben is responsible for delivering in-flight connectivity solutions, harnessing the power of Low Earth Orbit satellites with unprecedented speed and low latency, to the airline fraternity.
Ben brings 20 years' aviation experience to OneWeb, the last 15 of which were spent in the aircraft connectivity sector, most recently with Inmarsat for eight years.    He will bring deep experience of the connected aircraft world to OneWeb.
Ben Griffin commented: "I am delighted to have joined a company with so much potential. The OneWeb offering is by a long way, simply the best technology, best suited to the aviation market. It stands to significantly change the landscape of passenger connectivity with its ability to deliver consistently strong internet coverage across the world in a way that is often promised, but rarely delivered."
He added: "Right now airlines are not getting value for what they are paying for, nor a consistently acceptable level of service globally.  We we will change that when our service goes live and we invite passengers to not only bring their own device, but to use their own device, which will bring huge benefits to both passengers and airlines."
OneWeb will power applications in aviation using global availability of high capacity speeds and lowest latency, delivering seamless broadband to ultimately maximize the passenger experience.
International aviation debut planned at APEX EXPO in September
OneWeb is building a global communications network in space with an initial constellation of 650 satellites in Low Earth Orbit, scaling up to 1,980 satellites that will be 1,200 km from Earth, to deliver a connectivity everywhere.  With a successful launch of its first satellites in February 2019 and recent high-speed video streaming during its system tests, OneWeb is on track to begin monthly launches starting in December 2019 as it prepares for partial service in 2020 and global commercial service in 2021.
OneWeb will be attending APEX EXPO in Los Angeles, California from September 9th to 12th.
Nuno Pereira of Bestfly signs for Angola's first two ATR 72-600s
Luanda, Angola/ 5 August 2019 – Nuno Pereira, CEO and Founder of Bestfly, the Angola-based aviation services company, signed for the company's first two ATR 72-600 regional aircraft at a ceremony held at Toulouse Francazal Airport, France, at ATR headquarters, on Friday 2nd August. The twin-engine, turbo-prop regional airliners, which have been leased from ACIA Aero Capital group, represent a first of this type for Bestfly, as well as being the first ATR-600 series to operate in Angola. Aircraft number one was ferried to Luanda over the weekend, with the second due to arrive by the 10th August.
Complementing the existing Bestfly fleet of fifteen aircraft and two helicopters, the addition of the ATR 72-600s marks an important evolution for the business as it adds corporate shuttle service operations to its existing jet, turbo-prop and rotary charter services. Pereira anticipates the new aircraft will be kept busy supporting corporate charters for the energy sector, private charters for the expanding national business fraternity and will interline with international commercial business class passengers requiring further transport across the vast nation of Angola.
Following completion of the final parts of certification by the Angolan CAA (INAVIC) , the first charter is slated for the beginning of September for a flight from Luanda to Cabinda.  Configured with 72 seats, passengers will benefit from the comfort of travelling in the widest cabin in the regional turbo-prop sector, increased overhead baggage space and newly designed seats offering 30-inch pitch.  The increased comfort, as well as fuel efficiency, and dispatch reliability were all key factors in the selection of this model which delivers competitive operating costs underpinned by reduced fuel burn, which can be up to 40 percent less fuel than the closest competitor aircraft. It is also well suited to the terrain of Angola and West Africa, with the ability to operate on unpaved and short runways. The combined attributes and versatility of the aircraft meet Bestfly's needs for flexibility in an underserved market.
"We are a customer-centric organization, and we responded to the growing demand for this type of aircraft from our clients. As ATR is one of the world's leading regional aircraft manufacturers we're also proud to be doing our part to expand regional connectivity in Angola by basing these aircraft here. This is another first for us, but it certainly won't be our last. As a leading aviation company in Angola, we serve customers with our offshore helicopters, small to large business jets, and now the ATRs. We are working hard to provide an extremely well-rounded offering to the growing business market here in Angola and further afield," said Pereira, CEO of Bestfly.
Based at Aeroporto Internacional Quatro de Fevereiro the ATR 72–600s join a fleet containing one Gulfstream G550, a Gulfstream G450, a Bombardier Global Express, Challenger 605, and two Learjet 45s, as well as a Dassault Falcon 900, four King Airs and two Leonardo AW139 helicopters. Bestfly has invested in crew and technical training and is working closely with ATR to support aircraft operations.
Krimson bolsters business, five new roles created, including first company CFO
Addis Ababa, 29 July 2019 – Ethiopia-based aviation business Krimson has bolstered its operation by adding five new members to its team. Edomgenet Sentayehu has been appointed as the Chief Financial Officer and is controlling the financial status of the company. Helina Teshome and Nadia Getachew have come on board as Flight Operations Officers. Betelhem Shumu has become Marketing Officer and Yonas Desalgne is re-joining the company, after a year working with Oxfam, to head up IT and support Betelhem with his graphic design and branding skills.
With nearly a decade of experience in accountancy and financial analysis Edomgenet brings a wealth of accountancy experience from outside the aviation industry having worked in the advertising sector, as well as for public and private enterprises. As CFO her responsibilities include creating and administrating financial systems, managing day to day business development finances and preparing financial reports for both internal and external stakeholders.
Nadia and Helina bring diverse perspectives to Krimson as Flight Operations Officers. Nadia sharpened her skills working in sales, marketing and project management for international private aviation companies. Helina brings a background in economics and insurance gained before joining the aviation sector as an inflight service provider.  Together they hold a myriad of professional qualifications in aviation safety, security and ground handling amongst others.  Their honed communication and problem-solving skills position them well to fulfil their new responsibilities which include obtaining flight permits, arranging ground handling, coordinating with international aviation companies,  liaising with passengers and crew, among other day to day flight operations tasks, which are managed against the back drop of the dynamic Ethiopian flight operations landscape.
Betelhem and Yonas are developing and implementing the Krimson marketing strategy to further raise the Krimson profile at an international level. Betelhem started as an intern at Krimson and quickly became part of the full-time team, ensuring daily activities reflect the long-term business strategy. Following a year out working for the charity Oxfam, Yonas has returned to work on branding and graphic design as well as developing and managing Krimson's IT systems.
The new team will support CEO Dawit Lemma in continuing to lead the company to greater heights in the industry. "I'm so excited about the depth of experience, the professional abilities and fantastic team that is now supporting Krimson. It is well known that recruiting for aviation is a challenge but in my new team I have found a wealth of skills, talent and characters who I know will work well together to provide our customers the very best in aviation services. Krimson continues to grow and as we look to set up operations in Eritrea, I need a solid, reliable team to support all activity," said Lemma.
AVIAA adds UK regional FBO group Global Trek Aviation to its supplier network
July 22, 2019 – AVIAA, the world's only independent global group purchasing organization specializing in business aviation, is pleased to announce the addition of privately-owned Global Trek Aviation to its network.
Global Trek Aviation, headquartered in Prestwick, Scotland, opened jet handling facilities on the south side of Cardiff Airport two months ago, investing in a brand new facility featuring a dedicated passenger lounge, private offices, crew briefing centre and flight operations facilities, plus an integrated security suite.  The new FBO mirrors its award-winning handling facility at Belfast's leading airport, Belfast International, which has been operational for five years.
Global Trek Aviation opened up handling services to business aviation at Belfast International Airport five years ago
Global Trek Aviation is a 24/7 full service operation, offering its own dedicated in-house Jet A1 fuel service, with its own Jet A1 fuel truck fleet, in collaboration with Gulf Aviation, ensuring clients can always refuel.  Since 2018 it has been proud to be an Air BP Sterling Card seller too.
"We heard about the great work AVIAA has been contributing to the industry over the past 18 months of its existence, helping its member operators to significantly lower their costs. After a very positive meeting with Sarah Holian, initially in the UK and then with AVIAA MD Irena Deville, we couldn't wait to sign up and give something back to the industry," said Colin Gordon, Global Trek Aviation's Commercial Director.
Colin is a long-standing aviation professional, formerly in flight operations and commercial roles in Scotland and London Luton with Ocean Sky, RSS Jet Centre and latterly Landmark Aviation.  Together with CEO David McColm and COO Gordon Bingham they moved into Belfast when the Scottish Government denationalised their former home at Prestwick Airport.
"We are delighted to welcome Global Trek Aviation, an important UK regional airport FBO supplier," said Irena Deville.
"We are committed to offering a diverse and wide-range of FBOs for our members and the high quality and variety of services Global Trek offers makes their two FBOs excellent additions to our growing international FBO network," she added.
AVIAA is looking forward to celebrating with Global Trek on 30th July at an Open Day at its new Cardiff FBO.
It now offers similar FBO facilities at Cardiff Airport
Global Trek's facilities handle VIP jets, including commercial airliners on ad charter.  Its 24/7 service offering also extends to delivery flights, air ambulance, tech stops and ferry flights, as well as support for government and military flights.   Pet importation is another popular service.
Since its formal launch in May 2018, AVIAA has grown to now provide procurement services for over 1,000 aircraft,  partners with over 70 preferred suppliers, and nearly 150 international FBO locations.   It has added a new European office in Munich, Germany, now headed by Irena Deville, whose former UK-based GPO business Convolus was acquired by AVIAA in January.
AVIAA's current member fleet is made up of North American, European, and Middle Eastern operators, but with their expanding international supply chain has started to garner interest from Asia and Africa as well.  It is also growing its presence in the Middle East, working with notable industry partners such as Jetex Flight Support.
Pegasus Universal Aerospace, the Vertical Business Jet (VBJ®) pioneer names Robbie Irons as CEO
To start investor briefings in South Africa – in September
July 15, 2019 – South Africa's Pegasus Universal Aerospace, pioneer of the Vertical Business Jet (VBJ®) Pegasus One, has named Robbie Irons as its Chief Executive Officer. In this new role, Robbie will help lead product development and lend strategic support to Founder and Chairman Dr Reza Mia as the business seeks to secure investment.
This important appointment coincides with confirmation that a series of prospective investor evenings are to be scheduled for September through to November this year, initially in Johannesburg.  Further opportunities to invest in the programme, online, will be available for potential investors based nationally within South Africa and internationally.
Robbie Irons brings decades of solid international aviation experience to the Johannesburg, SA-based start-up, spanning senior roles previously with ExecuJet in Lanseria in both business development and aircraft sales.  He took responsibility for the firm's aircraft sales activity in Africa in 2009.
Having forged relationships with HNWI's; senior industry personalities; Presidents and Ministers on the continent, Robbie seized the opportunity in 2012 to establish a consultancy firm, Irons Aviation, specializing in turn-key aviation solutions and infrastructure projects. He helped entrepreneurs Nicky and Jonathan Oppenheimer develop and implement South Africa's first exclusive VVIP FBO facility, Fireblade Aviation, at Johannesburg's OR Tambo International Airport, becoming a Board director of the firm in 2013. He also helped Liftec, the independent, exclusive Bombardier sales representative, active in 10 regions, establish a new territory in Africa.
"As general aviation evolves, I am excited to become actively involved with the innovative Pegasus One," said Robbie, who was with Dr Reza in EBACE in Geneva for the programme's international debut.  The two have been friends for many years.  "I am delighted Robbie has agreed to come on board.  Having him as a partner is a major asset," he commented.
Work has started to build a full-scale VTOL demonstrator to show in Europe in 2020.
The all-composite airframe Pegasus One is being targeted for completion within 18 to 24 months of FAA certification from its Johannesburg, SA facility.  Options to establish alternate full production facilities are also being explored in the USA and / or Europe.
Pegasus One is designed to deliver speed, comfort and style to travellers looking for transportation between busy urban airports, small and unpaved landing areas, yachts and regular helipads, amongst others. Other applications include serving the oil and gas industry and medevac.
Pegasus is targeting a 4,400 km range from runway take-off or 2,124 km in VTOL with a planned cruise speed of 796 km per hour.  The aircraft will feature six to eight seats with power provided by two 2,300 shp turboshaft engines.
Pegasus Universal has identified a customer base that spans the civil and executive aerospace sectors, offering operational benefits unlike any other aircraft. Along with Europe, USA, India and China are key markets, as the VBJ doesn't require new airports and runways to be built.
The company is close to identifying key suppliers for avionics, (its retractable) landing gear and the engines that will be the best fit for its highly evolved control systems and automation sub-systems.
Depending on take-off option – VTOL or runway – Pegasus One will be able to fly for three and a half to six hours, supporting direct, point-to-point travel.    The operational costs are competitive when compared with jets of similar range, with lower fuel burn and less CO2 emissions, thanks to its necessarily light-weight construction. The noise levels are lower than comparative rotary machines, and passenger and pilot comfort, security and safety, are all integral in the design, the company says. The lack of rotor tip vortices that give helicopters their distinctive beating noise will be a welcome change to people close to helipads and landing sites.
  * Pegasus estimates it will spend around US$500 million to bring the aircraft to market.    
Left – Robbie Irons with the 2x2m scale model of Pegasus One as shown at EBACE
Right – Robbie Irons, new CEO with Dr Reza Mia, Founding Chairman
SD proud to support new One More Orbit record in honor of Apollo 11 landing
Cape Canaveral, Florida / 11 July 2019 – Executives from Satcom Direct, the business aviation solutions provider, proudly welcomed the One More Orbit team's Gulfstream G650ER as it landed at the Space Florida Launch and Landing Facility, formerly known as the Shuttle Landing Facility, today to complete its record-breaking attempt to complete the fastest aerial circumnavigation of the earth via both geographical poles. The flight, which took 46 hours 39 minutes and 38 seconds, (to be officially confirmed) knocked some eight hours off the existing record and was followed online around the world by aviation enthusiasts logging into the live stream broadcasting the voyage.
The live stream, as well as connectivity and flight deck communications support, were supplied by SD combining its powerful connectivity and security infrastructure with the Global Xpress network from satellite partner Inmarsat. The full ecosystem of SD solutions kept crew, ground control, support teams, the documentary production unit and enthusiastic social media supporters connected for the flight duration, using more than 33GB of data throughout the mission.
To match the needs of the fastest-flight endeavor, the SD team installed equipment and services to deliver the fastest broadband inflight connectivity available for private aviation. The One More Orbit team were connected across the network service area with the SD state-of-the-art equipment, including the Satcom Direct Router (SDR®) and SD Operating System, supporting multiple real-time streaming and communication capabilities.
The first of a kind set-up, which had to support the mission team and a documentary filming team, as well as the live stream, underwent rigorous testing ahead of the ambitious attempt. SD was committed to ensuring the One More Orbit team had the resources needed to successfully complete their goal of honoring the brave Apollo 11 astronauts. The communications equipment was tested in the UK at SD's Farnborough facility with Inmarsat and the film production crew. Testing was repeated in Savannah at the Gulfstream Service Center and was put through its paces again on-wing ahead of take off at Space Florida Launch and Landing Facility.
SD's flight operations software platform, SD Pro®, kept the aircraft synchronized with ground operations and enabled crew and mission control to exchange valuable flight data to improve operational efficiency, which was essential for successfully beating the existing record. It also enabled live flight tracking which was publicly accessible through the One More Orbit website for supporters to watch completion of every one of the 22,422 nautical miles of the journey.
The high-profile event required high-level cybersecurity which SD delivered through its SD Threat Monitoring service. Real time detection, identification and mitigation of any attempted cyber-threat was supported by the SD network infrastructure, the SD Data Center and worldwide Points of Presence (POPS), ensuring a secure voyage for data and crew.
"We are thrilled to have been a part of this inspiring adventure which pays homage to our great Apollo 11 astronauts who boldly took that momentous flight to the moon fifty years ago. We wholeheartedly congratulate the One More Orbit crew and mission team for successfully completing this incredible record attempt. It highlights that visions can be made reality and we are privileged to have played a part in making modern-day history," said Jim Jensen, SD Founder and CEO.  "We pride ourselves on being at the leading edge of aviation connectivity, as the only dedicated provider in the business aviation sector. The One More Orbit mission aligns with our company philosophy of always pushing boundaries, looking for new solutions and delivering effective connectivity, as we take on the challenges and make the seemingly impossible, possible. Business jet users will only benefit from this adventure as we have learned a few things along the way. Not only has this set a new world record, it has raised the bar for business aviation connectivity expectations."
MSB Aerospace to supply Hi-Lo tables to Flying Colours Corp.
July 10, 2019 – MSB Aerospace, the U.S. division of Montreal-headquartered company MSB Group has begun the process of supplying MRO and completions business Flying Colours Corp. with customized Hi-Lo tables. This is the first time the two Canadian-headquartered companies have collaborated, and it is the beginning of what both companies anticipate will be a long-term relationship. The agreement sees MSB Aerospace supplying Flying Colours with customized precision engineered Hi-Lo conference, dinining, coffee and work station tables for large cabin interiors.
The first table, destined for a Bombardier Global aircraft, is scheduled for delivery in late August. The bespoke design is based on the standard single-pedestal manual sliding table MSB has been providing to the Bombardier Global fleet since 2012, and incorporated a number of specific modifications
The table is designed for a four-seat club grouping and provides a 31.5" x 41.5" main tabletop surface with folding leaves. An additional built-in sliding feature allows for a 14.25" panel to be added to extend the tabletop across the aisle to reach passengers seated on the divan, in the two-place seating or the credenza. To complement the interior of the aircraft the pedestal shrouds, which are normally plated, have a faux wood grain finish achieved by water-transfer printing. The finishing touches to the table surface will be completed by Flying Colours to coordinate with the other cabinetry on the aircraft.
"MSB is excited to have the opportunity of providing this first Hi-Lo conference table to Flying Colours. We recognize the expertise of their business and know that our own technical experts will meet the high standards expected. This project requires unique design modifications and certification which we are pleased to undertake as we anticipate further orders for this style of product," said Shannon Gill, managing director MSB Aerospace.
"Our support for the Global family continues to strengthen, and MSB's focus on creating quality, customized precision engineered products is a good match for this aircraft type. Our own cabinet makers are capable of producing an infinite selection of cabin monuments but we have chosen to work with MSB on these very specific, intricately engineered tables as they have a significant amount of experience in designing and creating the complex mechanisms required for durable and stylish Hi-Lo tables," said Eric Gillespie, executive VP Flying Colours Corp.
MSB's versatile single pedestal tables combine sleek design with functionality and robustness and can be used as coffee, conference, or dining tables, as well as work desks. MSB also makes an electric version featuring integrated Bluetooth technology, which enables operational access from anywhere in the cabin to raise and lower the surface according to the passengers' needs. Clients can also opt for dual or quadruple pedestals depending on cabin size, along with oval or round shrouds converting the existing square shape, into an elegant curved finish.
MSB Aerospace in Savannah produces Hi-Lo tables as well as crystal, china and flatware inserts specifically designed to safely stow valuables during all phases of flight. The bespoke CCF inserts not only safeguard china, crystal and flatware but protect the increasing number of artwork and precious objet d'art which decorate the jet cabins.
Vertis Aviation App ramps up usage and adds new JetClass routes
Zug, Switzerland/ 9 July 2019.  The newly launched Vertis Aviation App from the Switzerland-headquartered charter specialist has quickly gathered momentum with an active audience regularly using the app for charter requests. Since launch during EBACE in late May more than a hundred users have signed up from leading business aviation regions to take advantage of the easy to use interface which provides charter quotes, empty leg alerts and seat only booking options.
Led by users from the U.S.A., where Vertis recently opened a new office in Boston, customers from Switzerland, the U.K., France and Germany have been regularly logging on to search for charters.  Averaging a visit of once a week the initial trend is for ad-hoc charter requests, 10% of which have converted to fixed bookings, confirmed with the Vertis charter team.
The Empty Leg Watchlist alert is proving popular with a significant number of European users signing up for the service which gives instant access to competitively priced charters on aircraft repositioning or returning empty to its home base. The most popular alert so far has been for London to Ibiza flights.
The ability to book individual executive jet seats with Austria-based JetClass is also stimulating interest as the Book Seat feature, unique to the Vertis Aviation App, enables users to join an existing business jet flight at rates competing with business class fares. Vertis has upped the number of JetClass routes available to App users since launch and is now offering seats on jets regularly flying between, Nice and Olbia, Nice and Zurich and Nice and Luxembourg. Seat only places are now available between these cities as well as routes serving Geneva and Milan.
A year in the making, the App has been welcomed by users for its intelligent application of digital technology to supplement personal service. "We have seen that customers still want the boutique characteristics of the company but are also valuing the convenience of being able to search for charter from their own mobile digital devices when it suits them," said Julian Burrell, Chairman of Vertis Aviation. "We continue to provide them with personal advice and recommendations and manage the charter with the same high levels of service as we have always done. The App is serving to make the whole process even more seamless and enhances the customer interaction with the business." The free Vertis Aviation App is available through the App store for Android and IOS platforms.
UK pilots set for new World Record – Piper Malibu flight visits 16 countries in 24 hours, over 1,700 miles
July 8, 2019 – Intrepid British pilots Mike Roberts and Nicholas Rogers have successfully flown a Piper Malibu light aircraft (G-TFAM) to 16 countries in 24 hours to claim a new World Record.
Mike, owner of flying club and flight training school Take Flight Aviation, based at Wellesbourne Airfield, Warwickshire and Nicholas Rogers, a B737 Captain based at Birmingham Airport, undertook the challenge on Tuesday, 25th June.  They now await formal verification of their feat from the Guinness World Record Organisation, which currently lists the most countries visited by fixed wing aircraft in 24 hrs as 11, achieved by James van der Hoorn and Iain Macleod in 2010.
As well as fulfilling a personal challenge, Mike and Nicholas embarked on the initiative to raise awareness of the ongoing campaign to Save Wellesbourne Airfield, which since 2015 has been under threat from closure from its Landlords, despite the local authority's attempts to purchase it and retain its current use.
"In doing this trip and taking in 16 countries, we wanted to demonstrate how accessible Europe can be served by general aviation aircraft – for business and leisure – and raise the awareness of the terrific standards many GA airfields offer," Mike Roberts said.  "We are passionate in our belief that preserving our local airports is vital for Great Britain plc.; for the training of future pilots and also for the inevitable role they will be able to play in supporting the next generation of aircraft (including these hybrid and electric models) that don't require the infrastructure and cost of big airports."
"We didn't want to just beat that 2010 World Record, but beat it by a substantial margin," Nicholas Rogers added.  The 2008-built Piper Malibu averaged a cruise speed of 190 mph and its performance was outstanding, he noted.
Their journey with the Malibu commenced with a night departure from Denmark's Roskilde Airport near Copenhagen at 3.30am (local time) visiting Sweden as the sun rose, before returning to Denmark briefly and onwards to Poland, the Czech Republic, Slovakia, Hungary, Croatia, Slovenia, Italy, Austria, Switzerland, Germany, Luxembourg, Netherlands, Belgium and France.
"We chose to contact several airports in each country so we could build an optimum route based on who could accommodate us and what facilities were available in terms of runway surface and length, fuel, customs and operational hours and were pleased to receive a positive and friendly response from everyone.   Maastricht Aachen Airport, in the Netherlands was especially enthusiastic with its fire crew honouring our arrival with a water cannon salute. By then, we knew we had broken the existing world record," said Nick.
The pair give themselves 24 hours to complete the 1,700 plus miles' flight (excluding the positioning), with over half the time in the air, allowing a further eight to 12 hours on the ground for refuelling, airport handling, customs and rest.
They also faced record temperatures in Central Europe with 38 Celsius on the ground in Italy and staggering outside air temperatures over 30 Celsius in the air.
Delays with customs in Hungary and gaining permissions in France and weather closing in at home meant that the final 17th leg was dropped so the pair took time out to relax in Lille.
"The response to our challenge was very positive and we were heartened to see people waiting to greet us from 4am (local time) in Sweden.  We were welcomed with many fantastic facilities geared to handle General Aviation which could certainly be replicated by Stratford District Council at Wellesbourne," Mike highlighted.
Stratford District Council are in the process of a Compulsory Purchase of the airfield to maintain its aviation use.  Meanwhile, some of the remaining tenants are taking action in the Court of Appeal to try and maintain their tenancies and overturn a previous ruling, which surprisingly went against them.
Mike and Nicholas have broken world records before. They currently hold the Guinness World Record for the greatest number of airfields visited in 24 hours, when they landed at 87 airfields in the UK in a Cessna C172 in 2017.
Caption: Left to right – Intrepid pilots Mike Roberts and Nicholas Rogers
Euramec Strengthens Operations in China with New Sales Office and Team Expansion
Hangzhou 'China Innovation-Drive Strategy' Supports Euramec China Drive
Hangzhou, CHINA/Hamme, Belgium, 3 july 2019 — Euramec, the European provider of advanced flight simulation solutions, officially opened its Sales and Support office today in Hangzhou as a response to the company's continued growth within the Chinese market.
The office will be home to a new team consisting of hardware and software support engineers, to support Euramec's strategic partners and clients in China.
In addition to bringing world-class technical support, the Hangzhou Sales and Support office will develop flight simulation systems and go to market with products that are developed, created and sold in and for the Chinese market.
A Diamond DA-20 simulator and other cockpit panels are available for demonstrations and to run applicable software tests.
Euramec appointed Dalvey Tan as Executive Director – Training and Maintenance
Dalvey Tan joins the expanding Euramec China team to drive new business and strengthen existing operations in the region. The Greater China region is a core focus for Euramec, as the General Aviation and Business Aviation markets continue to grow in size and significance.
Mr. Tan will also seek out new business opportunities and solutions that help meet the needs of Euramec's existing clients in the region.
Euramec has a product and services portfolio that includes flight simulation solutions, flight training and maintenance services.
Mr Tan brings more than 15 years of experience with Chinese high-tech and aerospace to the Euramec team, having most recently served as Vice President & Managing Director of HZ Yong Rong Trading Co. in Hangzhou.
The Hangzhou Municipal People's Government
In June 2018 Hangzhou City Jianggan District Council awarded Hangzhou Euramec Aviation Technologies Co. Ltd. with the First Prize Startup STAR Program Award to support an initiative to set up an R&D centre in Hangzhou, China.
Euramec will offer design and production services to aircraft manufacturers requiring custom-made Flight Simulation Devices (FTD) for training and engineering purposes in China.
The Euramec R&D Center will design and create FTDs for China's Civil Aviation market as well as for China's General Aviation and sporty Ultra-Light aircraft (ULM). These ULMs are lightweight, 2-seat fixed-wing aircraft — extremely light and are lightly equipped with avionics, making them inexpensive to purchase and maintain.
All Euramec training devices are fully functional for both flight training/flight simulation as well as for crew and maintenance training programs.
Planet Nine Private Air ("Planet 9") celebrates 1st anniversary
Doubles its employees to over 60, including 35 pilots
June26, 2019 -Planet Nine Private Air ("Planet 9"), the Van Nuys, California based private charter operator and aircraft management company celebrates its first birthday this week.  In the eleven months since it first took to the air it has touched down in 262 different airports with its Dassault Falcon 7Xs.  Its longest charter routes have connected Tokyo, Japan with Dundee in Scotland and Washington Dulles International with Tahiti in the South Pacific.  Globally, Paris and London have been Planet 9's most popular charter destinations – from Van Nuys and Teterboro.   Its workforce, which started out at 35 in June 2018 has grown to over 60, including 35 pilots – five of them female.
Planet 9 enters its second year with an expanded fleet of five next generation Falcon 7Xs, plus one managed Gulfstream G650, newly added to its Part 135 charter certificate.  A second Gulfstream – a G550 – joins its aircraft management division in July.  Planet 9 also manages a privately owned Bombardier Global 5000 based out of Teterboro.
"We are very pleased at how we have been accepted in the premium ultra long-haul charter market," said Planet 9 Matt Walter, Co-founder. "The success we have enjoyed would not have been possible without the dedication and hard work of our employees and the industry partners who have supported us."
Amongst the Planet 9 external support team special thanks go to Paula Kraft and her DaVinci Inflight Training Institute in Florida; AirCare FACTS, MRO provider Thornton Aircraft Services, Van Nuys – especially Steve Zimmerman and Tim Johnson; the Dassault Falcon AOG Response teams at Teterboro and Paris Le Bourget and FBO partners Castle and Cooke Aviation (Van Nuys); Jet Aviation at Teterboro and Harrods Aviation at London Luton Airports.
"Inside one year we are proud to have built an exemplary inflight team which is setting new standards for service in the private aviation sector.  We have cultivated a passionate group of professionals who are 'fully hands on.'  Their creativity and attention to detail has resulted in a unique experience for our discerning clients.  We don't just aim to please, we aim to be remembered," commented Planet 9's Director of Inflight Services.
Heather Johnson, Planet 9's Logistics Manager also highlighted her happiness in the role. "You know when you're in the right job when you look forward to work," she said.
Co-founders Matt Walter and James Seagrim, Planet 9's Director of Operations, were able to draw on their invaluable previous experience running Burbank, CA, based Advanced Air Management ("AAM"), an operator they built up to a 15 strong long-range business jet fleet, before selling it in 2016.  "Drawing on our experiences at AAM, we have continued where we left off, managing the business with full integrity, honesty and transparency.  This has been reflected by a tremendous amount of repeat business from a charter broker fraternity who know us well, and it has been extremely pleasing to start where we left off," Matt highlighted.
"Over the next 12 months our goal is to continue growing our team of aviation professionals, continuing growing our relationships with traditional and disruptive companies – and also to further expand our ultra-long range aircraft fleet."
Planet 9 is also open to a third operational base in the US, after Van Nuys and Teterboro should an attractive aircraft management opportunity specifying a new location come along.  "We do aim to stay as a specialist in the ultra long-haul market.  This is our niche, which sets us apart from other US-based private jet operators," added Matt Walter.  "This is the market we know so well."
Planet 9 flies corporations, family offices and UHNWs from the West and East Coasts of the USA to destinations including Europe, Russia and the Middle East.
Caption: L-R Back row – Ben Kightly, Pilot; Matt Walter, Co-founder; Joe Pontz, Director of Maintenance; Harvey Underwood, Chief Pilot; Noel Peterson, Pilot; Cassie Terlecki, Maintenance Manager; Front row – Heather Roberts, Logistics; Amanda Selby, Intern; Hilary Clark, Director of Inflight.
MSB Global Resources begins phase one of Wichita expansion plans.
June 25, 2019 – The American division of Montreal-headquartered MSB Global Ressources, MGR has begun implementation of phase one of an ambitious strategic growth plan, which will see the company evolve both in terms of office size and number of employees. The Wichita, KS. facility has already moved to a 4,500 square feet location and plans include recruiting a further 30 aerospace engineers by the end of the summer.
MGR supports OEMs, maintenance, refurbishment and completion centers by providing a wide range of specialized and general aerospace engineering services. The recent signing of a major interiors contract for an undisclosed North American customer has been the catalyst for the MGR expansion. The primary recruitment focus is on sourcing precision design engineers, although other specialties including electrical and stress expertise, will also be required. The newly created workforce will not only service the latest contract, but also complement the existing MGR workforce in various locations throughout the United States including Indiana, Washington and California.
"The strong economy, the growth in aerospace as an industry and the seemingly diminishing number of aerospace engineers are all factors that have inspired us to  become creative as hiring gets more challenging.  We are utilizing our network to find talent with the desired qualifications, as well as training new engineers to understand interiors. Recruits are not just from aviation but from the automotive industry too.  Our expertise lies in finding and building talented teams to support our customers, and the industry at large," said Gemma Dendurent, Director of Operations, MGR.
Dendurent is heading up the expansion project, while Belinda Fortin, Program Manager – Engineering Services, is responsible for the successful delivery of all ongoing work package solutions to the new customer.
To support the growth MGR has created a new sales manager position in San Diego, California. With a history of business development in the engineering services sector, Kam Avval will bolster the presence of MGR in one of the most dynamic business aviation states in the Americas. Avval will focus on developing a wider client base in the United States as well as maximizing the MGR team skills by winning new work packages for additional aerospace companies throughout North America.
The North American recruitment activity is complemented by the MGR parent company headquartered in France, Sogeclair Aerospace. With its international network it can supply skilled workers for short-term projects, as well as supporting global recruitment needs.
The persistent growth of MGR highlights the success of MSB Group's strategic expansion into the U.S., which also included the opening of a new manufacturing facility in Savannah, GA, in 2017. Expansion for this division is also on the horizon.
Air BP and CNAF expand partnership in fast-growing Chinese aviation market
June 24, 2019 – Air BP and China National Aviation Fuel Group (CNAF) today announced the signing of a joint venture agreement to operate a general aviation fuel business in Southwest China, covering Sichuan Province, Guizhou Province and Chongqing Municipality.
The agreement was signed by Alan Wilson, China strategic project director of Air BP and Shi Haiping, executive director of CNAF GA Development Company Ltd and witnessed by Jon Platt, CEO Air BP, Xiaoping Yang, BP China chairman and president, Zhou Qiang, Chairman of CNAF and Xi Zhengping, General Manager of CNAF.
Subject to regulatory approvals, the joint venture, CNAF Air BP General Aviation Fuel Company, intends to support the growth and development of China's general aviation sector – civil aviation other than commercial air transportation – with the intention to expand the scope further in future.
The Chinese general aviation sector has seen rapid growth in recent years and this is expected to continue. China's government has said that by 2020 it expects general aviation in China will reach two million hours flown and the fleet size will exceed 5,000 aircraft.
"We are delighted to extend our existing successful partnership with CNAF from commercial aviation into general aviation," said Jon Platt, CEO Air BP. "Combining Air BP's globally renowned global aviation fuels, best practices and innovative fuelling technologies with CNAF's strong presence and local expertise, we look forward to jointly contributing to the sustainable development of China's aviation industryover the long term."
Zhou Qiang, Chairman of CNAF, said, "Although China's general aviation is still in its early stage, we are confident that it will grow into a towering tree and become the two wings of China's aviation industry together with commercial aviation. The cooperation between CNAF and Air BP will support the development of China's general aviation industry."
Air BP has been a long-term partner, in China's commercial aviation sector, with CNAF through its Shenzhen Chengyuan Aviation Oil Co., Ltd. and South China Bluesky Aviation Oil Co. Ltd joint ventures. The two joint ventures currently supply aviation fuel to 29 airports in central and southern China.
"This newly-signed joint venture agreement not only underlines BP's continued confidence and commitment in the Chinese market, but also reaffirms our dedication to support the transformation of China's industry through innovation and growth," added Xiaoping Yang, BP China chairman and president.
Caption: L-R: Holden Han: China JV&BD Manager, Air BP; Alan Wilson: China Strategic Project Director, Air BP;Bella Young: China Cluster Manager, Air BP; Xiaoping Yang, Chairman and President, BP China; Jon Platt: CEO, Air BP; Zhou Qiang: Chairman, CNAF; Xi Zhengping: General Manager, CNAF; Gong Feng: Deputy GM, CNAF; Liu Wenquan: GM of Planning and Development Department, CNAF; Shi Haiping: Executive Director, CNAF GA Development Company Ltd
Planet Nine Private Air ("Planet Nine") adds Gulfstream G650 to its charter fleet
 Gulfstream G550 to follow in weeks
June 21, 2019 – Planet Nine Private Air ("Planet 9"), the Van Nuys, California based private charter operator and aircraft management company, announced today (21 June) that it has added a privately-owned Gulfstream G650, to its managed fleet, effective immediately. The aircraft, will be available for third party charter through its aircraft management division.
The owner selected Planet 9 to professionally manage the aircraft, citing its ability to provide a fully tailored service, offering transparency on costs, service and high reliability as paramount.
Fitted with 13 luxury seats, the low-time 2015-built aircraft complements Planet 9's own five-strong Dassault Falcon 7Xs, operating out of Its Van Nuys, Los Angeles, CA base.  The G650 will be joined by a sister model, the Gulfstream G550, from the same owner, in the next six weeks.   Both will be offered for charter.
"This is a major endorsement for Planet 9 to be adding managed aircraft alongside our own fleet after just one year of operations. We pledge full transparency on costs, a tailored program throughout the year and will work closely with the owner to maximize the asset when available for charter," commented Matt Walter, Co-Founder of Planet 9.
With the arrival of the Gulfstream G650, Planet 9 has engaged in-house Gulfstream trained maintenance technicians to support the type.
The Gulfstream G650 offers a 7,000 nm range, 14 hours' flying time, based on a full complement of passengers flying.  Its cabin is stylishly laid out in three zones to work, relax and rest.  Cabin entertainment includes high speed KU band international wifi which is accessible via eight large iPad devices or from passengers' own devices.
"We have been gearing up to support this aircraft type for months now and are especially delighted to be expanding into third party aircraft management with such a popular aircraft type."
Planet 9 flies corporations, family offices and UHNWs from the West and East Coasts of the USA to destinations including Europe, Russia and the Middle East.

Caption: Planet Nine adds Gulfstream G650 to its charter fleet
Italian Government grants Piaggio Aerospace orders worth 700 million euro.
Villanova d'Albenga, June 21 2019 – During a meeting held on Thursday in Rome, the Italian Defence Ministry confirmed its commitments on multiple orders to Piaggio Aerospace for a total amount of approximately 700 million euros. Taking part in the meeting were representatives of the Italian Government, Piaggio Aerospace's Extraordinary Receiver, local authorities from the Liguria region and the Piaggio Aerospace Unions.
In particular, two contracts relating to maintenance of the engines of the Italian Armed Forces' fleet – worth a total of 33 million euros – have already been signed and funded, while a further commitment to sign two more contracts by the end of June has been confirmed, for an additional total value of 167 million euros.
Representatives of the Ministry for Economic Development and of the Ministry of Defence have also confirmed the acquisition of 9 new Avanti EVO aircraft and the upgrade of 19 of the current P.180 fleet. The signing of the relevant contracts – for a total value of 260 million euros – is expected at the earliest, and in any case by the end of the year. An additional 96 million euros will come from logistic support to the Armed Forces' fleet, with the relevant contracts due to be signed by the end of September this year.
Finally, the Government has taken a commitment to finalize by mid-July the parliamentary approval process concerning the P.1HH UAS program, which will lead to the certification of the platform and the acquisition of at least one system (two aircraft and one ground control station) as test-bed, for a total investment of 160 million euros. "This will allow the company to get back to the design activity at European level, [in particular] within the MALE program (2020-2025), and preserve the company know-how", a Government representative stated on Thursday immediately after the meeting.
"The definition of the operational needs of the Italian Armed Forces and the availability of the relevant budgets, communicated yesterday by the Italian Government in Rome, allows the company to restart", the Extraordinary Receiver of Piaggio Aerospace Vincenzo Nicastro said. "The timetable announced, which foresees the signing of the first new contracts as early as the end of this month, will support the company's commitment to regaining market share in all the sectors in which it operates. There is still a lot to do", he added, "but I believe that – just 6 months after the start of the Extraordinary Receivership – we are moving in the right direction. Our goal is to be in a good position after the summer, when the official tender for the sale of Piaggio Aerospace will hopefully start, with a company able to attract a number of qualified potential buyers".
CAE presents its first CAE Women in Flight ambassadors
• Discover the first winners of the 2019 CAE Women in Flight Scholarship by clicking here.
PARIS, LE BOURGET, France, June 18, 2019 (GLOBE NEWSWIRE) — (NYSE: CAE; TSX: CAE) – CAE announced today at the International Paris Air Show the names of the first three winners of its 2019 CAE Women in Flight scholarship program. CAE's new Women in Flight ambassadors will help drive awareness and promote the pilot profession among women, as well as diversity in aviation.
"We look forward to accompanying our new ambassadors, from their early days in training to the beginning of their journey as professional pilots with our airline partners," said Nick Leontidis, CAE's Group President, Civil Aviation Training Solutions.  "This ground-breaking scholarship program is a catalyst for more diversity in the cockpit, and we congratulate the winners as they pave the way for a new generation of pilots. We thank all applicants of this first edition and wish them much success in reaching their dreams of becoming pilots."
Over the next decade, CAE expects the civil aviation industry to need over 300,000 new pilots. With women currently representing less than 5% of pilots, CAE is taking a proactive approach to promote a better gender balance and tap into a wider pool of talent. One of the objectives of the CAE Women in Flight program is for its ambassadors to inspire a new generation of professional pilots.
CAE welcomed its first three CAE Women in Flight ambassadors:
• Georgina Thomas-Watson, winner of the Generation easyJet Cadet Program
• Daniella Saucedo Orozco, winner of the Aeromexico Cadet Program
• Bisma Petafi, winner of the CityJet Climb High Mentored Cadet Program
"I want to be a fantastic role model for my kids, particularly my daughter, I convinced her to call me 'super mommy' because I'm learning how to fly," said Georgina, aged 28, from London, United Kingdom. "Too many women give up on their dreams and careers as soon as they become mothers."
"I have never had a passion until I discovered my love for aviation," said Daniella, aged 20, from Mexico City, Mexico. "We should remember that gender is no limit, our limit is the sky."
"I am 100% sure that no other profession can compare to the pilot profession," said Bisma, aged 30, from High Wycombe, United Kingdom. "The satisfaction that you get from flying is different from any career that I can possibly pursue."
CAE is awarding five scholarships for this first edition of the program. The CAE Women in Flight scholarship recipients for the Air Asia Cadet Pilot Program and the American Airline Cadet Academy Program will be announced later this year.
More details about the program are available at cae.com/womeninflight. The CAE Women in Flight ambassadors will begin sharing their journey on social media in the coming weeks. Follow @CAEpilot on Instagram for the latest updates.
About CAE Women in Flight
CAE's Women in Flight scholarship program is a competitive program for female ambassadors who demonstrate leadership skills, perseverance and who are passionate about aviation. The CAE Women in Flight scholarship recipients will receive a full tuition scholarship that will cover the entire cost of training at CAE, including accommodation and travel. CAE partnered with five global airlines for this first edition. Eligible female candidates who meet the requirements of the American Airlines Cadet Academy Program can still submit their CAE Women in Flight scholarship application via CAE's website at cae.com/womeninflight.
XJET MAKES IT X-TRA SPECIAL
Luxury FBO operator intros enhanced services at its London Stansted Airport Diamond Hangar home
XJet, the luxury FBO operator at London Stansted Airport continues to revolutionise the private aviation industry with its vision of what a truly world-class FBO can provide for its clientele with the roll out of its new 'tailored branding' service.
XJet has introduced an immersive experience at its London Stansted FBO which can be tailored to a client's specific requirements (ideal for car launches; financial road shows; music and sports tours). From tickets to boarding passes to luggage tags and inside its executive lounges, operators and charter brokers can opt to have their brand's logo, corporate colours and décor featured as and where they choose.
Boarding passes and tickets are also now available in electronic form, in line with XJet's commitment to sustainability.
"The system allows us to carry out direct electronic online filing of GAR's; all flight handling paperwork; load sheets; branded boarding passes and luggage tags, plus a few additional options," noted XJet General Manager Paul Forster, architect of the new solution.
XJet can update the appropriate charter broker of their flight's status via automated text messages including 'passengers have been screened'; 'passengers boarded'; 'doors closed' and 'aircraft airborne' – taking out or cutting down telephone calls or emails.
Fine art showcasing new talent
Inside its lounges, XJet showcases a steady stream of beautiful and individual items of art and sculptures from talented, emerging artists from all over the world.
As its reputation builds, a number of other prestige brands will be showing at the XJet facility, further enhancing the customer experience as they travel through the FBO.
"In response to demand from customers, our team has worked hard to create, develop and build the concept so that clientele can distinguish themselves from their competitors and build facilities and private conference rooms for its VVIP clientele."
Open 24/7, The Diamond Hangar also provides world-class maintenance, safety and security for aircraft of all sizes.   Unique among such facilities, it boasts 150 car park spaces.
XJet is proud to be a BBGA and EBAA member company.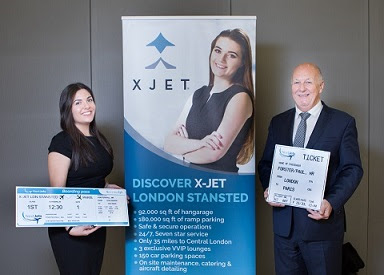 Carly Swetman, Deputy General Manager XJet and Paul Forster, General Manager XJet.
Van Nuys Airport Recognizes Clay Lacy Aviation with Friendly Flyer Award for Seventh Consecutive Year
(Los Angeles — June 18, 2019) Clay Lacy Aviation has been honored as a legacy recipient of the Friendly Flyer Award from Los Angeles World Airports. The Friendly Flyer Award recognizes jet operators with the highest levels of compliance with theQuiet Departure Program, Van Nuys Airport's voluntary noise reduction initiative, over and above mandatory noise regulations. Clay Lacy is a legacy winner, having earned this distinction every year since the award was instituted in 2012. The 2018 award winners were recognized at a luncheon at the Airtel Plaza Hotel in Van Nuys on June 13.
"I congratulate Clay Lacy on their seventh consecutive Friendly Flyer Award," saidFlora Margheritis, Van Nuys Airport Manager. "I am grateful to Clay Lacy and all this year's winners for their continuing efforts to make Van Nuys Airport a great neighbor in the San Fernando Valley."
"We are delighted to be a legacy winner of this award," said Veriar Collins-Jenkins, VP Charter Services, Clay Lacy Aviation. "We also salute our fellow winners who share our commitment to reducing noise levels, benefiting Van Nuys and other cities near the airport."
Daher TBM 940 debuts at the 2019 Paris Air Show
Le Bourget, France, June 17, 2019 – Daher is showcasing the TBM 940 at the 2019 Paris Air Show following the start-up of deliveries for this newest member of its very fast turboprop aircraft product line (static display area – B4).
Featuring an increased level of automation to reduce the pilot's workload and optimize performance and safety, the TBM 940 incorporates an automated throttle and an automated icing detection system – both of which are installed for the first time on a standard production turboprop aircraft weighing less than 12,500 lbs. (5.7 metric tons). Their integration in the aircraft further builds on Daher's TBM e-copilot® strategy of introducing functionality for improved operational safety on the TBM product line.
Daher provided initial TBM 940 to a customer last week, with this milestone aircraft delivered to a British businessman. More deliveries are scheduled this month in Europe and Latin America, to be followed by aircraft provided to clients in North America and other countries after the TBM 940's certification by European Aviation Safety Agency (EASA) is validated by the U.S. Federal Aviation Administration.
"We are proud to have developed an aircraft that combines power, safety and comfort – which result from the work of our teams in continuously improving the TBM product line," said Nicolas Chabbert, Senior Vice President of Daher Airplane Business Unit. "The enthusiastic feedback from pilots who have flown the TBM 940 confirms the bright future for this new TBM family member."
Some of the TBM 940's enhancements, such as cabin upgrades for style, ergonomics and comfort, are applied as well to Daher's entry-level TBM 910 version, along with the automated icing detection system. Both aircraft also benefit from the latest Garmin cockpit features: Surface Watch™, which gives pilots better situational awareness in the airport environment; BARO VNAV, allowing approaches with vertical guidance when the Wide Area Augmentation System (WAAS) is not available; and visual approach assistance in the execution of visual approaches at uncontrolled airports with vertical guidance.
As part of Daher's participation in this week's Paris Air Show, the company is presenting TBM Care – an operational entity that expands on the technical expertise of its customer support teams by bringing in the aspects of training and technical documentation. This provides TBM owners and operators a single point of contact, which is included as one-click access on the latest version of Daher's "Me & My TBM" cloud-based application.
The "Me & My TBM" app's ergonomics and functionality have been improved with the introduction of modes of analysis to optimize flight and flight time, as well as the aircraft's landing approach phase, to which are added new calculation functions and monitoring of the average speed. During each TBM flight phase, feedback is provided by high-precision graphics indicating key parameters of the engine and other systems – offering a complete set of statistics accessible wherever the aircraft goes.
CAE extends pilot and cabin crew training agreement with SAS for five-years
• CAE to be the exclusive provider of Airbus A320, A330, A340 and Boeing 737 pilot training services
• CAE to provide cabin crew training in CAE's training network in the Nordics
PARIS, LE BOURGET, France, June 17, 2019 (GLOBE NEWSWIRE) — (NYSE: CAE; TSX: CAE) – CAE and SAS announced today at the 2019 International Paris Air Show the extension of their exclusive long-term pilot and cabin crew training contract. Under the terms of the agreement, CAE instructors will deliver Airbus A320, A330, A340 and Boeing 737 full-flight simulator (FFS) pilot training to the airline's pilots near SAS headquarters, mainly in CAE Copenhagen, CAE Oslo and CAE Stockholm for a further period of five years. In addition, SAS will have access to train on CAE's Airbus A350 full-flight simulator in CAE London Gatwick and CAE Madrid. The airline's cabin crew will also continue to train in CAE's training network in the Nordics as part of this agreement renewal.
"CAE provides an excellent training experience to our pilots and cabin crew, and we are happy to extend our agreement for another five years," said Lena Rökaas, Vice President and Accountable Manager for Scandinavian Airlines, SAS. "We greatly benefit from our long-term cooperation with CAE, and we are confident that CAE will continue to deliver high quality training.''
"CAE and SAS have a longstanding relationship of more than 10 years with the provision of training equipment services, initial and recurrent pilot training, and cabin crew training," said Nick Leontidis, CAE's Group President, Civil Aviation Training Solutions. "With training centres located very close to the airline's operating base, CAE is well-positioned to continue to support SAS as the airline continues to grow."
In support of this agreement, CAE will deploy an Airbus A320 NEO full-flight simulator at CAE Oslo by the second half of calendar 2020.
Oriens Aviation secures three delivery positions for British Isles based customers on the Pilatus PC-24
June 14, 2019 – Oriens Aviation is pleased to offer three delivery positions on the PC-24 Super Versatile Jet, hard on the heels of Pilatus Aircraft Ltd re-opening the orderbook last month, coinciding with EBACE 2019.  Oriens, the exclusive UK and Ireland sales distributor and Authorised Pilatus Centre, headquartered at London Biggin Hill Airport, has already sold one of the three positions.
Prospective customers still have an opportunity to order and fully customise the next available positions, the first of which is in July 2020.  The second available delivery slot is in mid-2021.
Oriens' first PC-24 has been sold to a private UK customer, an existing PC-12 operator, Oriens Aviation CEO Edwin Brenninkmeyer confirmed. "Customers interested in the other two are encouraged to commit with deposits and spec their interiors in good time."
"There is no shortage of interest in the PC-24 in the British Isles," noted Edwin, adding Oriens became a Pilatus sales distributor and ambassador after 2014, when the initial orderbook for the jet had closed.  Prior to Oriens' engagement, Pilatus handled prospective British Isles PC-24 customers directly.  "We have since taken on those in our region and duly inherited a sizeable base of interest from owners, from both the UK and Ireland," he added.
Edwin Brenninkmeyer intends to learn to fly the aircraft, just as he does the Pilatus PC-12, regularly performing demo flights for prospective customers.  Oriens has also recruited a highly experienced jet instructor and examiner for the type.
On the MRO side, Oriens Engineering has ramped up its tooling and has been sending engineers to Stans, Switzerland in readiness of adding the twin-engined jet to its Part 145 MRO approvals. It expects to complete this process by the end of the third quarter.
Oriens' current PC-12 NG demonstrator G-DYLN, is on display at Aero Expo this week at Booker Airfield, High Wycombe during 13th to 16th June.
Pilatus PC-24 Super Versatile Jet
Image credit: © Pilatus Aircraft Ltd – www.pilatus-aircraft.com
Euramec develops Airbus A320 Flight Simulator with newly-recycled A320 Cockpit to support global demand for qualified pilots
HAMME. Belgium, June 13, 2019 – Euramec, the European flight simulation manufacturer, today announced the development of their Airbus A320 Flight Simulator Series with an innovative Second Lifecycle Design.
Using newly-recycled A320 cockpit sections, Euramec will offer its signature high ROI flight training solutions on a meticulously detailed cockpit design for the commercial aviation industry.
The Euramec A320 Full-Glass Cockpit Flight Training Device (FTD) will be certifiable under EASA FNPT Level II MCC specifications.
Euramec provides 45 x 240 degrees Field of View and high-resolution imagery capable of distinguishing environmental conditions experienced during all phases of flight, from taxi and takeoff to landing for its A320 Family Flight Simulator Devices.
Bert Buyle, CEO Euramec: "We believe in Balanced Simplicity. Recycling an Airbus A320 cockpit that flew commercial flights only a few months earlier, makes perfect sense to all parties.
"We provide a perfect tool at the right time at the right price with our A320 Flight Training Device to meet the strong demand for quality flight and maintenance training."
An A320 takes off or lands every 2 seconds
With one aircraft in three sizes (A319, A320 & A321), the A320 Family is the world's most popular single-aisle aircraft family as it is the preferred choice with airlines, from the low cost carriers for which it is now the aircraft of choice, to new business models taking benefits of new levels of performance and comfort, and with passengers across the globe.
Airbus confirmed 14,639 orders from 300+ customers with 8,788 deliveries and 5,851 in backlog with a monthly production rate of 60 aircraft.
The A320neo, A321neo and the A321LR has 95 % airframe spares commonality with the A320 Family, according to Airbus.
The Euramec Airbus A320 FTD roadmap is scheduled to produce the first A320 Family Cockpit by the end of 2020 with deliveries to start in 2021.
Satcom Direct completes Bravo phase of Data Center expansion
 Melbourne, Florida / 11 June 2019 – Satcom Direct, the business aviation solutions provider, has completed the Bravo phase of expansion of its SD Data Center. The second stage of a four-part expansion has doubled the existing footprint to 10,000 square feet at the Melbourne, Florida headquarters. The extended facility has added capacity for a further 120+ server cabinets providing secure data storage for aviation and terrestrial clients of all sizes. As planned, the Bravo phase was initiated when the existing data center was close to reaching targeted capacity goals.
The Bravo phase mirrors the existing facility providing category five hurricane-proof construction and adheres to the same high compliance standards already in place. The SD Data Center enables the creation of private networks for clients when connected to SD hardware, software and satellite connectivity. Through the infrastructure available via the SD Data Center, existing compliance and security protocols can be applied to the aircraft network like any other corporate location. The installation of the infrastructure is already underway as customer server cages and cabinets are in process. Phase three expansion, Charlie, is now in the planning stage and will further support customized solutions for aviation clients when completed.
"The SD Data Center provides efficient and secure transport of data across a self-owned, fully redundant and highly-scalable network. It serves our own family of companies and allows us to provide robust cybersecurity monitoring and protection. The latest figures collated from our exsiting threat monitoring subscribers show that this is is becoming more and more necessary," says Chris Moore, President Business Aviation, about the expansion. "We can now further leverage the capabilities of our Data Center to support current and future internal and customer-facing services which will result in more data management options for our aviation clients."
SD hosted an open house on 22 May to mark the second phase completion. Attended by civic leaders, government officials, clients and employees, SD invited guests to tour the upgraded facility and discuss the importance of data security to business continuity.
High five! Planet Nine Private Air ("P9PA") takes fifth and latest Falcon 7X
June 5, 2019 – Planet Nine Private Air ("Planet Nine"), the Van Nuys, California based private charter operator and aircraft management company, announced today the arrival of its fifth ultra long-range Dassault Falcon 7X aircraft onto its Part 135 certificate, just in advance of its first anniversary of operations.
The latest aircraft, registration no. N999PN, brokered by Freestream Aviation Limited is a 2012 model and is sporting the distinctive Planet Nine 14-seat luxury executive interior, with a crew rest area, Swift Broadband Wi-Fi and IFE. Like its four sister aircraft, this Falcon 7X will be positioned for charter globally between Van Nuys, Teterboro, Miami and London available for multi-leg and one-way domestic and International missions.
"We said at the outset our goal was to steadily grow to support a fleet of five company owned ultra long-range aircraft to complement our managed aircraft fleet and we are delighted to have accomplished that inside of a year of revenue operations," said Planet Nine's Matt Walter, Co-founder and Head of Business Development.
Attending NBAA's Regional Forum in White Plains, NYC, this week Kirti Odedra, Director of Sales added:  "This growth would not have been possible without the dedication and hard work of our now 63-strong Planet 9 team; the terrific response we have received and continue to foster from International charter brokers and loyal customers, who keep coming back to us because of the highly personalised, relationship-driven service we offer."
Planet Nine flies corporations, family offices and UHNWs from the West and East Coasts of the USA to destinations including Europe, Russia and the Middle East.
Omni Handling, newly rebranded, eyes new FBO opportunities
June 4, 2019 – Omni Handling, Portugal's leading executive aircraft handling company, is ready to expand in its local and regional markets, reflecting the strong growth in business aviation growth these past 12 months.  Already holding a 50%-plus market share in Lisbon, Cascais, Porto and Faro, the company has positioned itself in readiness with a revamped brand image and logo, together with an enhanced website.  https://omnihandling.com/
"To boost our growth and maintain our leadership, we believe the time is now ripe to widen our offering," said CEO Ricardo Pereira.  "We have some exciting new projects and territories planned. Top of the agenda is a brand new 150 sqm FBO in Faro and new stations in Santa Maria (Azores) and Madeira."
Bizav movements up 22.2%
Business aviation movements in and out of Portugal have grown 22.2% in the first quarter of 2019 (source WingX data). That period saw over 500 large jet movements. Bombardier Globals topped the leader board with 92 departures in the period, representing a 33.3% growth (18% of the total), Gulfstream G650/G600 departures were up 150% during the first three months of 2019. In the light bizav category, Pilatus PC-12 movements were up 14% in the first quarter of 2019, delivering a 10% year on year growth.
Faro, capital of the Algarve is doing especially well with a 10.4% in movements, while Cascais, another main Omni Handling station, grew 19.5% in the same period. "We want to capitalise on the growth, support our existing customers and attract new ones," Mr Pereira concluded.
Sapphire Pegasus Awards honoring the elite of business aviation
3rd June 2019, Prague; The esteemed Sapphire Pegasus Awards are a unique series of international Aviation awards given to honor outstanding performances, efforts, and inputs by individuals, teams and aviation businesses that have distinguished themselves in the industry. Nominees in fifteen categories proofed outstanding development and achievements over the past. Luxaviation, PrivateFly, Jetex and all other winners will be honoured and celebrated during the Awards Gala Dinner held on June 11 at the Simpson Bay Resort on St. Maarten on the Tuesday night of the Caribbean Aviation Meetup conference.
"It was a delight to see the significant increase in nominations for the category 'Women in Aviation' this year," said Antonia Lukacinova, founder of the Sapphire Pegasus Business Aviation Awards. "For the very first time we also have some winning aviation professionals from Africa. The most demanded categories were 'Innovation in Business Aviation', 'Women in Aviation' and 'Business Jet Operators'. Recognizing the wide-ranging expertise in this dynamic industry, we were especially pleased to add more categories this year; the response to it from industry peers has been terrific. We congratulate all these stellar companies and individuals for their outstanding achievements."
For the great achievement and recognition of the highest level of excellence, the Awards went to the following award winners:
Business Jet Operator – Lux Aviation, Luxemburg
Broker – Aircraft Broker, Charter Broker – PrivateFly
Handler / FBO – TAG Farnborough
Service Provider – On Air Dining
Business Aviation Airport – Paris Le Bourget Airport
Innovation in Business Aviation – UAS International Trip Support
Lifetime Achievement – Patrick Hansen, Luxaviation,
Woman in Aviation – Louisa Whyte, Corporate Jet Investor
Young Talent / Start Up – Alexandria Colindres, The Registry of Aruba
Charity / Relief Effort – Refilwe Ledwaba
Business Aviation Journalist / Topic Coverage – Alud Davies, Corporate Jet Investor
Outstanding Design – Jetex, FBO Dubai
Outstanding Communication in Business Aviation – 8020 Communications
Business Aviation Photography – Adriana Rikic
Outstanding Contribution to Business Aviation Winner – Pilatus Aircraft Ltd
Outstanding Contribution to Business Aviation Winner – Jenny Lau, CEO of Sino Jet and Asian Business Aviation Association
"It's a real privilege to be on the judging panel for this prestigious event. Examining the entrants and seeing the public perception is a great barometer of where the industry is heading. All the finalists this year were exceptional and it was a tough choice," said one of Advisory Board judges Liz Moscrop, founder of GearUp Media.
The Award for one of the most demanding categories Innovation in Business Aviation went to UAS International Trip Support. Mohammed Husary, UAS Co-Owner/Founder and Executive President commented on their achievement: "We're delighted to receive this award from Sapphire Pegasus. Innovation is key to our strategy at UAS and we're continually investing in technology development and creating new ways of overcoming challenges to enhance the customer experience. Thank you for this wonderful acknowledgement of our commitment to our industry."
Patrick Hansen, CEO, Luxaviation Group was thrilled to win Lifetime achievement and shared: "I have loved every second of the journey since launching Luxaviation in 2008. So far, it has been an incredible journey, in equal parts educational, challenging and rewarding, and it is going to be exciting to continue along this journey in the coming years. Whilst it's always nice to receive personal accolades, there can be no denying that Luxaviation would not be where it is today without the commitment to quality, service and safety shown on a daily basis by our global workforce of more than 1,400 employees. I can assure that with this team in place, we can achieve so much more and so I am curious to see the next 10 years developing". And he ended it with laughter "I am too young for this :-)" ​
Category of Service Provider recognizes an unrivaled devotion and support to business aviation especially in the aspects of aircraft operation and development and it is the first time when the catering provider company takes pride of Sapphire Pegasus. Daniel Hulme, CEO of On Air Dining was delighted for their team achievement and said: "We are thrilled to win the Sapphire Pegasus Service Provider Award. It is an honour to be recognised by our customers and industry peers for our dedication to providing superior customer support and continually elevating the inflight experience. And a heartfelt thank you to our incredibly dedicated team for their hard work and always putting customer satisfaction first."
Effective communication is critical to driving the success of businesses. This year The Sapphire Pegasus awarded London based company 8020 Communications. Marc Cornelius, founder and managing director of 8020 Communications, says: "Our team is very proud to be part of the business aviation industry and we feel fortunate to count some of its most admired companies among our clients. The successful PR results we achieve are always a collaboration between ourselves and our clients and we're really thrilled to have the hard work and creativity of the 8020 team recognised through the Sapphire Pegasus Awards. We greatly appreciate the honour as it reflects the views of the industry."
Antonia Lukacinova summarised the Sapphire Pegasus Awards by saying: "The increased interest in the Sapphire Pegasus Award shows that the recognition of outstanding performances is widely appreciated and applauded by international business aviation community. Based on previous year's success of Sapphire Pegasus Caribbean Award, we will present the trophy for all winners for their outstanding performances and accomplishments during Gala dinner of the Caribbean Aviation Meetup taking place in Sint Maarten on 11th June."
The Third Annual Sapphire Pegasus Awards in the Caribbean are ready to shine
May 30, 2019 – The Sapphire Pegasus Awards are presented to outstanding performances in Business Aviation for last year to companies, teams and individuals that had showed phenomenal performance and attracted the attention of the Awards' Advisory Board Members. This year, the awards event will be held on 11 June at the Simpson Bay Resort on St. Maarten during Gala Dinner on the Tuesday night of the Caribbean Aviation Meetup conference. There will be a glitzy Award Dinner on which the Awards will be accorded to the prestigious and deserving winners – it will be a star-studded night. This year it will be the third year where the Annual Sapphire Pegasus Awards will take place in the Western Hemisphere.
Cdr. Bud Slabbaert, the Chairman of the Board of Advisors of the Award organization for the Caribbean says, "The Sapphire Pegasus Awards will take place this year at St. Maarten where the inaugural event was also held. Last year, it was the Bahamas because St. Maarten was racked by Hurricanes. Not only the awards are meant to honor the businesses in the aviation industry, but it also serves to thank them for their services and role they play within the field. This year, we will have six recipients who stood because of their performance."
The Sapphire Pegasus Awards work to select and review individuals and entities within the business aviation industry that have displayed trailblazing activities and excellent track records and honor them accordingly. This encourages inroads within the business aviation field on behalf of organizations and businesspersons. The award is rightfully recognized by the key players in business aviation and by gaining useful experience globally, modifications and improvements will be made where necessary.
The conception of the Award to honor the elite of Business Aviation, as well as the worldwide organization of the events is handled by Media Tribune marketing and PR agency in Prague, Czech Republic. The Sapphire Pegasus Award trophy is created in hours of handmade work by the glass masters of Moser; Moser Bohemian crystal is worldwide unrivalled, same as the glassworks itself and its designers.
AVIAA signs up ACC Columbia Jet Service as new supplier at EBACE
AVIAA, the world's leading group purchasing organisation for business aviation, ratified a new supplier agreement with expanding independent Part 145 business aircraft MRO specialist ACC Columbia Jet Service of Germany during EBACE in Geneva last week.
Signing the deal with ACC Columbia's Managing Director Nils Janssen, Irena Deville, AVIAA Managing Director EMEA highlighted: "ACC Columbia is an exciting new addition to our growing supplier support network in Europe, further widening out the expertise AVIAA members can call on."
ACC offers MRO and technical services on a variety of business jets – Bombardier Global, Challenger and Learjet models; Gulfstream G150 and 200; Textron Aviation Cessna Citation marques from the Mustang through to XLS; Dassault Falcon 2000 and 2000 Ex Easy plus the Embraer Legacy 600 and 650.
AVIAA members benefit with discounted pricing and join regular clients with timely MRO slots.
 With its HQ at Hannover Airport and facilities in Cologne and Erfurt, plus a satellite station in Paphos, Cyprus, ACC Columbia is also active in engines and avionics support.  Last year it was named Honeywell's EMEAI Avionics Channel Partner of the year, successfully completing the largest ever single aircraft cockpit and cabin upgrades project on a Global for an Austrian customer.  Its long-standing reputation in this field has made ACC a popular shop for Honeywell high-speed Jetwave/KA Band installations.
"With the worldwide business aircraft fleet getting older and operators / owners choosing to hold on to their aircraft we have become busy of late fulfilling cabin and avionics upgrade work, including ADS-out and KA Band installations.   As an independent MRO provider we applaud how AVIAA is helping operators reduce their costs.  With its growing membership in Europe we are very pleased to bring ACC into their family," said Nils Janssen, Managing Director.
Gogo to launch 5G network in 2021
CHICAGO – May 29, 2019 – Gogo (NASDAQ: GOGO), the leading global provider of broadband connectivity products and services for aviation, today announced its plans to build a 5G network for aviation. The new air-to-ground (ATG) network will be designed for use on business aviation aircraft, commercial regional jets, and smaller mainline jets operating within the contiguous United States and Canada. Gogo expects the network to be available for business and commercial aviation in 2021.
"We expect to launch Gogo 5G at the same time as the terrestrial telecommunications companies are deploying the same generation of technology on the ground – a first in the inflight connectivity industry," said Oakleigh Thorne, CEO of Gogo. "Gogo 5G is the next step in our technology evolution and is expected to deliver an unparalleled user experience, pairing high performance with low latency and network-wide redundancy."
Gogo will build the 5G network on its existing infrastructure of more than 250 towers and will use unlicensed spectrum in the 2.4GHz range, along with a proprietary modem and advanced beamforming technology. Gogo's 5G infrastructure will support all spectrum types (licensed, shared, unlicensed) and bands (mid, high, low), and will allow Gogo to take advantage of new advances in technology as they are developed. Similar to how wireless carriers provide redundancy across their networks, Gogo will continue to employ its 3G and 4G networks throughout the continental U.S. and in Canada that will provide backup to the 5G network when needed.
When compared to satellite technologies, ground-based network technologies in general deliver certain operational advantages – specifically lower cost of operation and lower latency. Gogo is committed to provide easy upgrade paths to 5G for existing Gogo air to ground customers.
F.LIST BRASIL LTDA. opens facility in Sorocaba in exclusive partnership with Embraer
Key interiors capabilities at Embraer's Sorocaba Service Center
Services from in-situ repair to complete retrofits
Sorocaba/Thomasberg, May 22, 2019 – F/LIST and Embraer are pleased to announce their exclusive partnership in Sorocaba City, Brazil, from where Embraer supports its Executive Jet fleet in Brazil and Latin America. The contract has been signed by the end of last year. The Austrian-based, family-run company F/LIST offers unique expertise and premium products and services, which will add key interior capabilities at Embraer's Sorocaba Service Center.
"With our new partnership in Sorocaba we will be able to offer even better services for our customers", said Everton Vicente de Lima, General Manager of Embraer MRO & FBO Sorocaba. "In a highly competitive market, F/LIST provides both creativity and reliability. I'm sure Sorocaba will be the starting point of a very successful journey together."
In Sorocaba, F/LIST will market the entire range of cabin interior services for business jets – from in-situ repairs through upholstery services and cabin interior upgrades all the way to complete retrofits, integrating flooring products in stone, wood, vinyl or leather. "We are proud to be Embraer MRO´s exclusive cabin interior partner in Brazil", said Katharina List-Nagl, CEO of F/LIST. "This is yet another important milestone in our collaboration with Embraer and we are looking forward to expand this exclusive partnership with Embraer to further countries. Simply said: one partner, worldwide."
F/LIST will start operations in July 2019 inside Embraer MRO in Sorocaba City, covering 400 square meters and employing around 15 people.
MILANO PRIME : SEA PRIME AT EBACE 2019 STARTS THE COUNTDOWN TO THE OPENING OF MALPENSA PRIME
EBACE Geneva, 21-23 May 2019 – SEA Prime, managing with the Milano Prime brand the Business & General Aviation airports of the city of Milan, presents at EBACE 2019 the new Malpensa Prime terminal opening in July 2019.
SEA Prime has started the countdown to the opening, scheduled for July 2019, of the new Business and General Aviation Terminal of the international airport of Milan Malpensa. SEA Prime is part of the SEA Group, managing both Milano Linate and Milano Malpensa Airports.
The new Milan Malpensa Prime Terminal stands in a dedicated area of  the airport, situated between Terminal 1 and Terminal 2 and has its own apron of ca 50,000 m2 in addition to the 5,000 m2  hangar,  ready for the latest generation of executive jets. Its polyhedral structure, developed over a surface of approximately 1,400 m2, recalls a "gem" standing amidst its surrounding territory and, thanks to its iconic form, finishing and colours, is recognisable both from the sky and the ground.
The materials have been chosen to amplify the natural brightness of the environments, making them even more comfortable and welcoming.
Five lounges welcome passengers and crew, with customised ultra-luxury services, such as conference centre, limousine service and concierge, in order to guarantee complete relaxation and the utmost comfort before departing through dedicated security filters.
"Malpensa Prime completes the accessibility for Business & General Aviation passengers and operators not only to the city of Milan but also to Lombardy, to several areas of Piedmont, to the south of Switzerland and numerous other locations that can be reached from Malpensa: the lakes, the ski resorts, a total of 18 UNESCO sites" – commented Chiara Dorigotti, Chief Executive Officer of SEA Prime – "In our vision, Malpensa Prime is a complementary service to the one offered by Milano Prime in Linate; the latter, in fact, benefits from its nearness to the heart of the city, from which it is only 7 km, whilst, with Malpensa Prime, we can also serve passengers reaching Milan Malpensa with first and business class services".
Malpensa Prime opens in time for the closure of Linate airport, for the refurbishment works on the runway and the commercial aviation terminal from 27 July to 27 October and will allow SEA Prime to welcome all its clients to the terminal of Malpensa, as well as to consolidate its leadership position in Italy and Europe, where the Milan-based company ranks fifth.
SEA Prime closed 2018 with approximately 26,000 movements, Euro 11.4 million in revenues, EBITDA of Euro 5.1 million and net profits of Euro 2.5 million, up 7.8% on 2017.
Piaggio Aerospace delivers two aircraft to Swiss and East-African customers
Two factory-new P.180 Avanti EVO are being received by the new owners. At the same time, an Avanti EVO has just entered into service into India, the first one in the sub-Continent, for a customer who already owns and operates an Avanti II.
Geneva, 22 May 2019 – Piaggio Aerospace, a leading Italian aircraft manufacturer active in the business aviation  and defense and security sectors, today announced the delivery of two P.180 Avanti EVO in V.I.P. configuration respectively to a Swiss and an East-African customer.
A first Avanti EVO is being delivered – through the Italy-based aviation company Orion Fly – to Sir Lindsay Owen-Jones. Sir Lindsay already owns, since a decade, the forerunner of the Avanti EVO – notably the first Avanti II manufactured by Piaggio Aerospace – currently operated by Fly Wings SA and managed from an airworthiness standpoint by Alpiwings, two Lugano-based companies.  
"I decided to go for a new P.180 after my positive experience with the first aircraft", Sir Lindsay commented. "I chose the new generation of the P.180, the Avanti EVO, for its extended range capabilities, its environmental friendliness so appreciated by the local community, and its further improved ability to take off and land on short runways."
In the next few days, a second Avanti EVO will perform its ferry flight from Italy to the African Continent, where the aircraft will be taken over by an undisclosed customer. In the meantime, Piaggio Aerospace is actively working at developing a support organization in the area.
"We are honored that Sir Lindsay Owen-Jones has reconfirmed his trust in our company and his satisfaction with the aircraft unique performance, and that a customer based in East-Africa chose Piaggio Aerospace and the Avanti EVO for their operations", said Vincenzo Nicastro, Extraordinary Receiver of Piaggio Aerospace. "This is for us the best award for our efforts to bring back the Avanti EVO – and its unmatched characteristics in terms of performance, efficiency, cabin comfort and versatility – to occupy the position in the market it deserves".
A few days ago, an Avanti EVO – the first in the region – entered into service in India: the aircraft had been delivered, through Piaggio Aerospace partner in India Business Aviation Private Limited (BAIPL), to an undisclosed customer who already owns and operates an Avanti II.
"We are proud of having been a partner of Piaggio Aerospace for so many years", commented Tapan Nandi, Director of BAIPL. "We would like to thank our customer for his continued, positive feedback and confidence in P.180 aircraft, having he selected the enhanced Avanti EVO for their operations. The entry into service in India of the last version of P.180 will help us showcasing the product, whose characteristics perfectly suites the Indian market".
Piaggio Aerospace has now increased its footprint in the country, where the current fleet of P.180 collected 10 thousand flight hours. The combination of speed and fuel efficiency has always been the strength of Piaggio Aerospace flagship, but customers in the region appreciate also airfield performance, which give access to the majority of airports, and cruising altitude up to 41 thousand feet.
BELL 429 BUILDS MOMENTUM WITH CORPORATE CUSTOMERS
 21 May 2019, EBACE – Bell Helicopter, a Textron Inc. (NYSE: TXT) company, is showcasing its corporate Bell 429 outfitted with Mecaer Aviation's MAGnificent interior at EBACE. The aircraft is building momentum in the region with 7 recent sales to corporate customers in Germany, Greece, the Ukraine and Russia.
"The Bell 429 continues to increase its footprint in Europe with about a quarter of the global fleet being operated right here on this continent," said Duncan Van de Velde, Bell Managing Director for Europe. "The aircraft strikes the right balance of comfort, power and operational efficiency which is why it continues to be desirable in the corporate segment. Our customers appreciate the smoothness of the ride paired with the bespoke finishes which takes the experience of flight to the highest level of comfort."
The MAGnificent luxury interior available for the Bell 429 was created by Italy-based Mecaer Aviation Group (MAG), and was configured with four passenger seats and two center consoles. In addition, MAG's signature sound canceling system (SILENS), In-Flight Entertainment (IFEEL) and electro-chromic passenger windows are available as part of this interior package. Passengers control the audio/video and moving map functions along with the electro-chromic windows through their own smart devices, which connect to the internal Wi-Fi in the aircraft.
The Bell 429 continues to be a global success with 330 aircraft currently in operation in 44 countries. As an advanced single pilot IFR aircraft with the ability to adapt to diverse demands without compromising safety and unrivaled service support, the Bell 429 is truly unsurpassed in its class.
Textron Aviation announces new Aircraft Maintenance Data Hub for customers
 GENEVA (May 22, 2019) – Textron Aviation Inc., a Textron Inc. (NYSE: TXT) company, announced a new Aircraft Maintenance Data Hub for owners and operators of Beechcraft, Cessna and Hawker aircraft at this week's European Business Aviation Convention and Exhibition. The new data hub will be available in summer 2019 and will offer a more comprehensive record of all aircraft maintenance performed on Textron Aviation products by working with multiple industry tracking system providers.
"It's important to our customers that they have a clear understanding and record of work done on their aircraft," said Kriya Shortt, Textron Aviation senior vice president, Global Customer Support."This new data hub will offer customers more choices in their tracking system and a comprehensive picture of maintenance records across all their Textron Aviation products."
Textron Aviation named CAMP, Flightdocs, SierraTrax and Traxxall as recommended providers of aircraft maintenance tracking for the new data hub. While previously exclusive to CAMP, customers now have the flexibility to select the recommended provider that best fits their needs.
The data hub will be a new feature in the Textron Aviation Customer Portal. Customers will benefit from receiving a one-year free subscription from their choice of recommended provider for new and pre-owned aircraft purchased from Textron Aviation.
Textron Aviation displays special mission strength; showcasing air ambulance configured Citation Latitude at EBACE
GENEVA (May 21, 2019) – Textron Aviation Inc., a Textron Inc. (NYSE:TXT) company, is showcasing its first air ambulance configuration of the popular Citation Latitude at its static display at the 2019 European Business Aviation Convention & Exhibition,
highlighting the company's strength in special mission capabilities across its wide range of Beechcraft and Cessna aircraft. The Latitude, purchased by Babcock Scandinavian Air Ambulance for aeromedical operations in Norway, delivers the first custom OEM interior solution for medevac missions on the platform. The production-certified interior configuration offers compatibility with a wide range of medical equipment, giving operators flexibility in selecting the perfect fixtures to meet their mission requirements.
"For our mission-centric customers, we are excited about what the medevac Citation Latitude offers by the way of range, cabin size and speed in emergency situations where minutes count," said Doug May, vice president, Special Missions. "Having our medical interior certified in production as part of the aircraft type certificate is another major win for our customers, providing significant cost and risk reduction for those outfitting the Latitude with their medical equipment of-choice as it comes off the line."
With the interior certified in 2018, the medevac Citation Latitude on display also features a single-sled stretcher, expanded cabin door and a SATCOM radio system for emergency communications. Plans for interior certifications on other aircraft, including medevac options for the pressurized Citation CJ4 and Citation XLS+, are also underway. Future aircraft, notably the Cessna Denali and Cessna SkyCourier, are progressing through design phases with technical renderings and engineering expertise from the Special Missions team to incorporate mission capabilities as part of their respective type certifications.
ConnectJets takes it green – New ConnectSkies focuses on sustainability in private jet charter and aircraft sales
ConnectJets is marking its 10th anniversary this summer with the launch of a new division – ConnectSkies. the business aviation charter industry's first independent 'sustainable' aircraft sales, marketing and logistics platform.
With sustainability at the forefront of the industry and the world, especially among millennials, ConnectSkies will explore a range of options in all categories of air travel for environmentally-conscious clients who need to make their private aircraft bookings more compliant with their corporate responsibility.
Kicking off ConnectSkies is the business's newly ratified agreement with VRCO, the Midlands, UK-designer of NeoXCraft  – a hyper luxury multi-modal electric craft.
The XP2 – two-seater, emphasises safety, but with significant attention given to a spacious interior and high performance.  The NeoXCraft XP2 is an all-new electric vertical take-off and landing aircraft, designed to transform urban and rural mobility and take the stress off congested motorways, flying for up to 60 minutes.
With electric motors in shrouded propellers, the NeoXCraft,offers computer supported flight.   It can also launch and land from water.
"The introduction of e-VTOL's, complementing current sustainable business aviation turboprop aircraft such as the Piaggio Avanti EVO and other electric aircraft will empower the private jet traveller to make informed decisions.
The NeoXCraft pledges a seamless transition from more remote locations and airfields, and offers a true point to point service whilst consciously retaining a lower CO2 offset," said ConnectJets founder and Managing Director Gabriella Somerville.
She added: "ConnectJets has built its reputation with a focus on tailored services. Together with our wide network of contacts in the business aviation and luxury sector, this has enabled us to provide alternate options to our clients, bringing private aviation to a wider audience. With increased demand for the Avanti EVO and a raft of aircraft that promise more sustainable and cleaner travel, ConnectSkies is excited to build a platform wholly focused on sustainability."
ConnectJets was a guest at last weekend's Sustainable Alternative Jet Fuel (SAJF) event at TAG Farnborough Airport, organised by EBAA and the SAJF Coalition.   Praising the initiative, she noted: "As a sector we need to adapt and take roles as leaders in the aviation industry, demonstrating to future generations that we are all actively looking to create cleaner skies and lower our emission output."
"We are truly entering the age of AirVolution™ and electrification of the skies will play a big part in improving lives and reducing our carbon footprint globally. The XP2 is fully equipped to recharge from solar energy thus making it essentially powered from the sun. VRCO is a leading innovator in the sector." commented Michael Brown, chairman of VRCO. "We welcome anyone interested in learning more about ConnectSkies to get in touch with the ConnectSkies Team".
As the sales agent and ambassador for the Piaggio Avanti and successor new-generation EVO since 2014, ConnectJets understands the eco credentials and importance of sustainability within the private aviation sector and to support client CSR.
The Avanti EVO was one of a dozen business aircraft that flew in to EBACE Geneva on alternative blended fuel. The twin turboprop EVO delivers a 40% reduction in fuel burn compared with a jet within the same light-class category, saving valuable resources and finances for owners and operators.
"ConnectJets are looking forward to conversing with all the current business aircraft OEMs, e-VTOLs and electric craft manufacturers in aviation to help champion cleaner skies for the future.  Anyone interested in learning more about ConnectSkies should get in touch with us," Gabriella said.
Piaggio Aerospace authorizes two more Service Centers
The Italian Aircraft manufacturer signs two distinct agreements for after sale support respectively in Paris-Le Bourget, France, and Kuala Lumpur, Malaysia. The overall number of Authorized Service Centres gets now to 14.
Geneva, 21 May 2019 – Piaggio Aerospace, a leading Italian aircraft manufacturer active in the business and defense and security sectors, today announced it strengthened its After Sales network by appointing two more Authorized Service Centres in Paris-Le Bourget, France, and in Kuala Lumpur, Malaysia.
The two new partners are respectively the French DV Technik and the Malaysian Asia Aero Engineering (AAE) Sdn Bhd, companies specialized in providing aircraft maintenance services.
In particular, the new center in Paris-Le Bourget – a strategic hub for the European business aviation – brings to five Piaggio Aerospace's Authorized Service Centers in the Old Continent: on top of the factory-owned one in Genoa, Italy, P.180 operators may already count on the presence of authorized service facilities in Germany (Mönchengladbach), The Netherlands (Rotterdam) and Switzerland (Lugano). DV Technik is fully owned by Oyonnair Group, an airline company specializing in medical transportation. Oyonnair operates a fleet of 3 Citation Mustangs and 9 Piaggio Avanti IIs, with four additional Avantis having been just recently inducted.
"We have being operating Piaggio Avanti aircraft for 5 years, now, totaling more than ten thousand flight hours and becoming the fleet leader in Europe", commented Daniel Vovk, Founder and Chief Executive Officer of DV Technik and Oyonnair. "We have thus developed in-house capabilities to mainly serve Piaggio Aerospace captive fleet and to offer AOG recovery assistance also off-site to third parties", he added.
The new maintenance center operated by AAE, at Subang Airport in Kuala Lumpur, adds to the one already active in Singapore, in a market – South-East Asia – that is considered to have the highest potential in terms of future growth. Asia Aero Engineering has currently an active contract to provide maintenance for helicopters of sister company Aircraft Power Lines (APL), an aircraft service provider (including MedEvac activities) both at Governmental and private level.
"We are proud to have been appointed as the first Piaggio Aerospace Authorized Service Center in Malaysia", stated Mohd Shazwan Shaharuddin, CEO of AAE. "We already successfully operate a P.180 Avanti EVO, registered on our AOC, for VIP and MedEvac purposes around South-East Asian countries, and we are now able to consolidate our knowledge of this amazing aircraft and ready to assist all the Asian fleet".
Speedwings plans to expand helicopter operations at Payerne Airport with BHS Helicopterservice/DC Aviation Switzerland
Geneva (21 May 2019). In order to develop business helicopter flights and helicopter management at the Payerne Airport, Speedwings Business SA and Bamberg-based BHS Helicopterservice GmbH with its subsidiary DC Aviation Switzerland of Zurich have agreed to cooperate in the future. The letter of intent was signed by representatives of the companies on 21 May 2019 at the EBACE aviation event in Geneva. The partnership aims to expand the range of services offered at the Payerne Airport in Switzerland by adding business helicopter flights and helicopter management.
The airport serves as an airbase for the Swiss Air Force and is open for general aviation. Payerne facilities include a modern business aviation terminal that opened on 29 March 2019. It has hangars for aircraft and passenger lounges as well as office space, conference rooms and areas for crew members. This infrastructure allows and promotes the basis for the expansion of business aviation services. The terminal is operated by Speedwings Business, a fixed-base operator (FBO) primarily responsible for handling civil flights, but the company also offers other services for private flights. Such services include the leasing of aircraft bays, refueling, aircraft chartering, scheduling and organizing of business flights and providing the appropriate infrastructure.
Speedwings Business will now offer helicopter services through the collaboration with BHS Helicopterservice/DC Aviation Switzerland. "We are looking forward to our partnership with one of the most prestigious companies in commercial helicopter aviation in Switzerland and Germany. This complements our growing portfolio and contributes to business development at the Payerne Airport," explains Damien Piller, President of Speedwings Business.
Combined expertise in helicopter services BHS Helicopterservice has specialized in business aviation with helicopters since 2008 and is in the process of acquiring DC Aviation Switzerland, which was formed from the Swiss carriers Jet-Link and Heli-Link. Like BHS, DC Aviation Switzerland offers a range of passenger and business air travel services with helicopters. In addition, the company has many years of experience in professional helicopter management.
BHS Helicopterservice wants to expand its business in Germany and Switzerland with DC Aviation Switzerland. "The collaboration with Speedwings is another important strategic step for the expansion of business activities in Switzerland. This is why we are very excited about working together on an agreement for helicopter charter flights and helicopter management at the Payerne Airport," explains Maximilian Stoschek, CEO of BHS Helicopterservice GmbH.
Payerne has great growth potential in the field of business aviation. swiss aeropole is the local airport authority and provider of the first business and technology park in Switzerland, which offers companies development opportunities specifically in aviation, aerospace and related industries. swiss aeropole sees the proposed partnership between Speedwings Business and BHS Helicopterservice/DC Aviation Stuttgart as a very positive development: "Speedwings has made an important investment in business aviation at Payerne Airport by opening up the new terminal and offering services for handling civil flights. The future collaboration with BHS Helicopterservice/DC Aviation Switzerland will provide additional services tailored to a discerning clientele. The entire region will benefit from this partnership through even better connections, new jobs and economic growth," says Massimo Fiorin, Director Business Park of swiss aeropole SA.
The Payerne Airport has a 2,800 meter-long runway, which is also used for aircraft testing. The convenient location allows for quick transfers to and from Lausanne, Bern, Fribourg and Neuchâtel.
BELLAWINGS GETS CAYMAN ISLANDS' AOC
Grand Cayman, Cayman Islands (21 May 2019) –The Civil Aviation Authority of the Cayman Islands (CAACI) announces  the issuance of the first Air Operator Certificate (AOC) for fixed wing commercial operations in the Cayman Islands' Special Economic Zone to Cayman Bellawings, an affiliate of Hong Kong Bellawings business jet management company.  HK Bellawings currently operates nine aircraft on the Cayman Islands Aircraft Registry including the Gulfstream G-200 to be operated by Cayman Bellawings under the AOC.
"We are very pleased to announce this milestone development for the Cayman Islands Aircraft Registry.  The strategic partnership between the Civil Aviation Authority of the Cayman Islands (CAACI) and Cayman Enterprise City (CEC) provides key elements required for facilitating jurisdictional establishment for offshore operations and Cayman Bellawings has demonstrated the viability of this arrangement.    We are excited to have Cayman Bellawings operate commercially under Cayman Islands jurisdiction and look forward to their continued growth as they serve the needs of this dynamic industry" said Director General of CAACI, Mr, Richard Smith. .
HK Bellawings is the third largest fleet operator in Hong Kong and provides a diverse array of professional, highly efficient and comprehensive business aviation services and solutions to their clients, which include business jet management, aircraft maintenance, travel concierge service, aircraft acquisition service, and business aviation consultancy.
"We are honored to be the first AOC holder endorsed by the CAACI. Bellawings would regard Cayman Islands as one of our bases in the future to help expanding the diversity of local aviation industry and bring more fly options to clients around the world." Said Mr. YJ Zhang, President of HK Bellawings.
"It is a pleasure to welcome internationally recognised jet management company, Cayman Bellawings to the Cayman Maritime & Aviation City community. We know that the Cayman Islands is a great place to live, work, and do business from, and we're pleased to see that businesses as far away as Hong Kong agree. The growth of the Aviation Services Industry good news for the Cayman Islands as we work towards diversifying our economy, attracting businesses to establish a genuine physical presence, and assist in growing the number of career opportunities for Caymanians," said Charlie Kirkconnell, CEO Cayman Enterprise City.
CAACI and CEC are jointly marketing the Cayman Islands to the aviation industry, promoting its robust regulatory environment, neutral tax status, sound legal and finance systems and first-world life style, touting it as the perfect domicile from which to operate a business aviation company. Clients that qualify are aircraft owners and brokers, technology companies and start-ups engaged in aviation research and development, the head offices of aviation industry businesses, aircraft manufacturing and repair businesses, and businesses that provide management consultancy and other specialized services to the aviation industry.
BELL 505 JET RANGER X CONTINUES GLOBAL EXPANSION
21 May 2019, EBACE – Bell Helicopter, a Textron Inc. (NYSE: TXT) company, announced the signature of a new purchase agreement for the Bell 505 with HUBI-FLY from Austria and the recent certification of the aircraft in the Ukraine and Russia. With over 150 aircraft delivered worldwide, the Bell 505 is already demonstrating excellent performance.
"The Bell 505 is truly a legend reimagined and we are excited to be showing off the aircraft during EBACE," said Duncan Van de Velde, Bell managing director for Europe. "We look forward to welcoming more customers to the Jet Ranger family including HUBI-FLY and making the aircraft a staple for corporate and tourism flights in Europe."
To support the growing Bell 505 footprint, last year, Bell approved Helideal as a Certified Training Facility (CTF) to expand its global training offering in Europe. Helideal, also a Bell Independent Representative based in southern France, provides the highest standard of Bell 505 pilot training with the certification of the renowned Bell Training Academy.
The Bell 505 Jet Ranger X incorporates the familiarity of the Jet Ranger family with new advanced avionics technology. Its reliability, speed, performance and maneuverability are integrated with a flat floor and open cabin that is configurable for a wide variety of missions and payloads.
The new, Mecaer Aviation Bell 505 VIP MAGnificent interior, now available to customers worldwide, includes a variety of materials and seating configurations for a refined design that suits any personal style. Multiple storage consoles and trim options create functionality and sophistication. This new interior brings added value to our customers and differentiates the 505 within the single light segment.
Textron Aviation European parts warehouse expansion highlights continued investment in customer support
GENEVA (May 21, 2019) – Textron Aviation Inc., a Textron Inc. (NYSE:TXT) company, today announced it is doubling the size of its European Distribution Center (EUDC) in Düsseldorf later this year, highlighting the company's continued investment in European customer support that covers all its Beechcraft, Cessna and Hawker products.
"The expansion of the parts distribution center in Düsseldorf will increase available part numbers to nearly 35,000 items across Europe, including all six service center parts rooms," said Brad Thress, Textron Aviation senior vice president, Parts, Programs and Flight Operations. "The additional space keeps us ahead of growing demand and ready to support our customers at any time."
"Our strategy in Europe, and around the world, has always been to provide unrivaled support for the aircraft we produce with centrally located, company-owned service centers and parts distribution centers, mobile service units, and fast AOG response with 1Call," said Kriya Shortt, Textron Aviation senior vice president, Global Customer Support. "Along with service center growth, this is a signal to us that our strategy continues to win customer approval."
Textron Aviation provides complete support for all Beechcraft, Cessna and Hawker aircraft in Europe at its company-owned service centers in Doncaster, Düsseldorf, Paris Le Bourget, Prague, Valencia and Zurich, and offers line service at Biggin Hill, Bremen, Cannes, Geneva, Nice and Stuttgart. Textron Aviation leads the European market with more than 1,800 jet and turboprop aircraft operating in the region. The company recently enhanced its 1Call service in Europe with greater capability during peak hours and multi-lingual support in German, French and Spanish, as well as English.
SD Xperience debuts in Europe following FlexExec switch-on.
Geneva, Switzerland/ 21 May 2019 –SD is proudly showcasing its SD Xperience portfolio of products to delegates at this year's EBACE, 22 – 24 May, Booth W115. The official European introduction of the connectivity suite represents the first opportunity for many aircraft owners and operators to personally review the versatility of the combined product and service offering.
SD Xperience combines SD flight operations software, cabin and cockpit communications services, and aircraft connectivity hardware into one powerful operating system. Existing SD Ka-band, Ku-band and L-band offerings for high-speed data, basic internet, and safety services are also available as part of SD Xperience.  The portfolio is further enhanced by FlexExec – delivered in partnership with Intelsat (NYSE:  I) and Astronics AeroSat – which when introduced on 2 April this year began delivering the first dedicated business aviation high-speed data service which is not shared with commercial, consumer or maritime users.
Notching another first, during a nine-day round the world flight SD performed global network validation of the service on board its Gulfstream GIV making this the first business aviation connectivity offering to undergo global beta testing prior to commercial service introduction. During the testing an average of eight to twelve passengers used their digital devices simultaneously. This complemented an extensive six-month in-service evaluation programme which took place on a further five aircraft, including a Dassault Falcon 7X and Gulfstream GIV, G450 and G550 types.
SD Xperience also introduces simplified "Power-by-the-Hour-Connectivity" pricing. Plans can be customized to the needs of each individual aircraft or fleet to enable more efficient planning and budgeting. Fully integrated with SD's ecosystem, including its SaaS platform SD Pro®, SD Scheduler, and SD's cabin networking hardware, SD Xperience aims to enhance the user experience while simplifying and optimizing flight operations.
"With a strong appetite for efficient connectivity solutions that emulate the on the ground digital experience in the air, the European market has so far welcomed the SD Xperience portfolio and we're looking forward to rolling it out at EBACE. It delivers premium solutions purpose-built for each individual customer at prices that meet operating budgets," said Michael Skou Christensen, VP SD International.  "SD Xperience also synchronizes aircraft with flight departments for improved operational efficiency, expands connectivity options for passengers and simplifies the purchasing process. SD Xperience positions us as the only service provider offering infrastructure, hardware, and software with flexible bundled packages."
OTONOMY AVIATION presents its first prototype of an onboard 4K camera At EBACE – from 21 to 23 May in Geneva (Switzerland)
OTONOMY AVIATION, specialist in optronic equipment and systems (cameras, calculators, sensors, etc.) for business aviation, presents the first proof of concept of a 4K camera purpose built for this sector at the European Business Aviation Convention & Exhibition (EBACE) – an essential European meeting.
 Innovation is second nature to OTONOMY AVIATION
The company develops equipment (cameras, video management boxes, control panels, sensors and batteries) and systems to offer its customers ground control services (services Parabellum* and Sentinel*) and in-flight comfort (service Visionomy*). The company has international certifications (AS9100, PART 21 and PART 145), and it has found a place in the surveillance and security market as well as entertainment thanks to 360° images retransmitted inside the craft (in avionics in the cockpit and in the passenger cabin).
After being the first to develop a FULL HD 1080 aeronautical onboard camera, the company and its integrated design office are presenting a new prototype for a 4K camera with multiple objectives: to support customers in their innovation to provide the best possible performance, but also to increase the camera's functionality (viewing angle, resolution, speed, quality, etc.), to expand its usage modes (better resolution improves analysis and performance).
The challenger on the way to become the leader?
Tier 1 supplier in aeronautics, the company created in 2007 near Bordeaux and established in France and the United States is in full development: fundraising 2.35 million euros last April and entering two French investment funds – OUEST Croissance and Expanso Capital – alongside the historic partner Sofimac Régions; 5th framework contract with an aircraft manufacturer is to be announced in June; construction of a new production site near Bordeaux to be completed in early 2020, doubling staff numbers within 2-3 years. With more than 500 in-flight cameras to date, OTONOMY AVIATION has an annual turnover of €4 million (multiplied by 2 in 2 years), 100% in export (United States 70% of turnover, Germany 15% and Switzerland 15%), with 4 major customers (Gulfstream, DASSAULT, Lufthansa and Comlux). The company currently holds 36% of the market share, and it aims to become the leader of the sector by 2025 – on a market where 700 business jets are delivered each year.
*Parabellum: onboard security system for intrusion prevention and remote control for business jets (reactive alarm with real-time analysis with automatic transmission of data to a dedicated security centre). Sentinel: flexible system for detecting potential ground collision both while moving and when stationary on the parking area. Visionomy: high-definition and ultra-high definition onboard cameras enabling real-time streaming with coverage "beyond 360°" of the flight.
Gogo and ForeFlight Enable GPS and Other Features on ForeFlight Mobile Application
GENEVA (EBACE, stand U95) – May 21, 2019 – Gogo Business Aviation and ForeFlight have partnered to bring new GPS location information and altitude to the ForeFlight Mobile iOS-based application for business aviation.
Using an onboard Gogo AVANCE system or an ATG 4000/5000, ForeFlight Mobile can now deliver flight location information throughout the cockpit and cabin using Wi-Fi – it's information typically provided via a separate GPS system that requires additional onboard hardware and antennas.
"Our goal with this initiative was to simplify the overall on-aircraft systems configuration, and reduce the number of onboard systems that passengers and crew are required to interact with and use on a regular basis," said Lisa Peterson, senior vice president of marketing and digital (IoT) for Gogo Business Aviation. "It not only makes operating the aircraft more efficient, it saves a significant amount of time and money for the owner or operator because the aircraft doesn't have to be taken out of service for installation of new antennas or equipment which GPS systems require."
Through this new service, the ForeFlight iOS mobile application on a passenger device can use flight location information – specifically longitude, latitude and altitude – sent to the onboard Gogo system from the aircraft's FMS that is then made available via the cabin Wi-Fi network."
"With this new capability, ForeFlight customers can get position data directly from the Gogo system which provides additional insight for passengers and crew about the aircraft's location," said Tyson Weihs, CEO of ForeFlight.
ARGUS International Announces Free Market Intel & Flight Tracking Tool
GREENWOOD VILLAGE, COLORADO, USA – ARGUS International, Inc. (ARGUS), the worldwide leader in specialized aviation services and creator of the popular aviation market intelligence software TRAQPak is pleased to announce a free market intelligence and flight tracking tool, TRAQPak Essentials.
This release is a pared-down version of the popular TRAQPak FBO offering and equips users with numerous features and limited analytical data for the United States and European regions. Essentials provides an opportunity for users to evaluate TRAQPak and determine how their business can benefit from the data.
Executive Vice President, Shirley Mason, states, "We are pleased to offer TRAQPak Essentials to the aviation community.  We hope this version of our program will provide FBOs, and other airport service providers access to the basics of TRAQPak FBO to facilitate their evaluation of the software, view the data and functionality it provides, and determine if it would be a good fit for their operation".
In addition to live flight tracking, TRAQPak Essentials will provide users with seven days of historical flight activity data, traffic volume reports for nearby airports and a distance analyzer. Users will also benefit from:
Reports that provide a one-week snapshot of all aircraft that have arrived or departed a specified airport.
Aircraft registration information for tracked aircraft.
A 30-day estimate of fuel uplift for an airport (Jet-A and 100LL).
Local fuel pricing trends over 12 months.
TRAQPak Essentials along with other ARGUS products and services will be on display at booth U90 during the European Business Aviation Convention & Exhibition (EBACE) in Geneva, Switzerland from Tuesday, May 21st to Thursday, May 23rd. Visitors will receive a guided hands-on look at all the TRAQPak solutions with a knowledgeable team member who will be able to answer questions related to how TRAQPak can accelerate the growth of their operation.
"What we would like users to take away from their experience with Essentials is how TRAQPak separates itself from the competition in data quality, ease of use, and insights." Stated Charles Cunningham, VP of Sales and Marketing. "The market continues to see an influx of offerings that are simply flight tracking software. On the other hand, TRAQPak is genuinely a must-have business tool for FBOs and airport service providers looking to effectively target potential customers and increase sales."
Boeing Launches New Boeing Business Jet Services Bundle with Customer Metrojet
New services bundle offers customers a tailored solution for Boeing Business Jet support
Metrojet signs five-year agreement for new services bundle
GENEVA, MAY 21, 2019 — Boeing [NYSE: BA] today launched a new Boeing Business Jet (BBJ) services bundle and signed the first multi-year agreement for this service with Hong Kong-based business jet operator Metrojet.
 The new services bundle provides essential digital aviation tools for BBJ flight and maintenance crews which includes 24/7 technical support, onboard performance tools and maintenance planning data, all tailored to meet customer needs.
 "We are very delighted to see Boeing bundle the tools to enhance the administration and execution efficiency," said Gary Dolski, Metrojet CEO. "At Metrojet, we are committed to providing the utmost service and convenience to our customers. This new agreement with Boeing will allow us to strengthen the services we provide, and promote the service our customers expect and deserve."
Metrojet's five-year agreement for the new services bundle will streamline procurement of the products and services needed to reliably and efficiently operate their BBJ fleet.
"We are thrilled to provide this comprehensive services solution for Boeing Business Jet customers," said William Ampofo, vice president of Business & General Aviation for Boeing Global Services. "Readiness is critical, and this solution creates a true one-stop shop for customers like Metrojet to get the support they need to keep their jets in peak operation."
 Boeing is the world's largest aerospace company and leading provider of commercial airplanes, defense, space and security systems, and global services. As the top U.S. exporter, the company supports commercial and government customers in more than 150 countries. Boeing employs more than 150,000 people worldwide and leverages the talents of a global supplier base. Building on a legacy of aerospace leadership, Boeing continues to lead in technology and innovation, deliver for its customers and invest in its people and future growth.
Established in 1995, Metrojet (www.metrojet.com) pioneered business aviation services in Hong Kong and remains one of the most renowned safety and customer-focused business jet operators and maintenance providers in Asia Pacific. The company provides all-inclusive aircraft management, maintenance and aviation consultancy services.
Honda Aircraft Company to Expand its Production Operations in Greensboro, NC
Company to Break Ground on 82,000-Square-Foot Facility in July 2019
GREENSBORO, NC – May 20th, 2019 – Honda Aircraft Company today announced plans to expand its global headquarters in Greensboro, NC by investing an additional $15.5 million in a new 82,000-square- foot facility on its 133+ acre campus in Greensboro. This will bring the company's total capital investment in its North Carolina facilities to more than $245 million.
Scheduled to break ground in July 2019, the building will house a new wing assembly process for the HondaJet Elite, the fastest, farthest and highest-flying plane in its class. The new facility will allow for more wings to be assembled concurrently, resulting in a major increase in production efficiency. Additionally, this expansion will add more storage for service parts for the growing fleet of HondaJets around the globe. The facility is expected to be completed in July 2020.
"As the HondaJet's popularity and presence continues to increase around the world, it is necessary for our facility to meet our production and service needs while operating at the highest level of efficiency," said Michimasa Fujino, president and CEO of Honda Aircraft Company. "We are proud that Honda Aircraft Company is expanding its footprint in North Carolina and in the aviation industry."
Federal, state and local officials offered perspectives on what the company's expansion at its Greensboro facilities will mean for the region and the aviation industry.
"Honda Aircraft Company has invested millions of dollars and created thousands of jobs in the Greensboro region, and the expansion of their headquarters is great news for North Carolina families," said Senator Thom Tillis (R-NC).
"The announcement today by Honda Aircraft Company is a huge boost for Guilford County," said U.S. Representative Ted Budd (R-NC). "This new $15.5 million dollars in investment shows that our area continues to be a place where businesses thrive."
"Honda Aircraft Company is the latest example of a manufacturer enjoying the benefits of doing business in North Carolina and expanding their footprint here," Governor Roy Cooper (D-NC) said. "Their investment in the Triad is a testament to our state's commitment to economic development and the aerospace industry."
Executive Director of the Piedmont Triad Airport Authority Kevin Baker stated, "We are thrilled that Honda Aircraft Company will expand its facility here at the airport. This expansion further solidifies the Triad's reputation as the center of the aerospace industry in North Carolina, and exemplifies Honda Aircraft's commitment to the aviation industry, the region and the state."
EBAA accepting applications for 10 delegates to represent business aviation at One Young World 2019
Geneva, Switzerland. 20 May 2019. Following a positive response to business aviation's participation in One Young World last October, the European Business Aviation Association is accepting applications from its Members for the next class of leaders ages 18 to 30 to attend One Young World 2019 in London, from 22-25 October. The 10 delegates will join youth from 190+ countries for four days of presentations, panels, networking and workshops focused on how industries can help address pressing societal issues.
"This is the best thing I've done in my life! For the first time in a long time I really feel like change is possible in my business."
Patrick Müry, CAT Aviation and 2018 One Young World Ambassador
Influenced by their experiences during One Young World 2018, last year's delegates have subsequently collaborated to design a new programme for adoption by the business aviation industry. Called S.T.A.R.S – Standards and Training for Aviation Responsibility & Sustainability – the project will be presented during EBACE2019 on Tuesday 21 May, in Geneva.
Like their predecessors, the 2019 One Young World delegation will not only engage with leaders in other industries, government officials and NGOs during the four-day event, but will work to define new ways that business aviation can offer solutions to environmental and social challenges.
The 2019 delegates will be chosen based on their views about the future of business aviation and the impact they believe they can make. The delegation will be selected by EBAA in collaboration with the British Business and General Aviation Association (BBGA), Swiss Business Aviation Association (SBAA), German Business Aviation Association (GBAA), Malta Business Aviation Association (MBAA), Austrian Business Aviation Association (ABAA) and EBAA France.
"Business Aviation is a progressive and proactive sector that is keen to both attract and empower talented young professionals. Opportunities like One Young World inspire youth to be catalysts for innovation and change; sponsoring it demonstrates our industry's commitment to their growth and achievement. We are therefore delighted to send another delegation to represent business aviation in London."
Athar Husain Khan, Secretary-General of the European Business Aviation Association (EBAA)
This initiative is part of the 'Next Generation' outreach within EBAA's #ExpandingHorizons programme. More details on the One Young World event and the application process can be found on ExpandingHorizons.com. Applications must be submitted by 5 pm CET on 17 June. The final delegation will be announced by 1 July.
Daher's TBM 910 very fast turboprop aircraft is flown with a biofuel mix to the EBACE show
Geneva, Switzerland, May 20, 2019 – The Daher TBM 910 very fast turboprop aircraft exhibited at this week's European Business Aviation Convention & Exhibition (EBACE) was flown to the Geneva aviation show using Jet A fuel blended with biofuel.
This demonstration flight was organized by the business aviation coalition for sustainable alternative jet fuel (SAJF) utilizing a Jet A/biofuel mix produced by Neste – a world-leading renewable products producer – and made available to Daher by Air BP.
The fuel meets the industry's ASTM D7566 aviation turbine fuel containing synthesized hydrocarbons standard specification and has been approved for the TBM's PT6A turboprop engine by Pratt & Whitney Canada, the powerplant manufacturer.
By combining the Jet A/biofuel mix with the low fuel consumption of Daher's TBM 900-series aircraft (37 U.S. gallons per hour/139 liters per hour at long-range flight settings), the flight from France's Caen Carpiquet Airport to Geneva created 80% less greenhouse gas emissions than a light jet burning regular Jet A fuel on an equivalent trip.
The SAJF coalition was formed two years ago to promote fuels that can reduce emissions – a long-term goal for the business aviation community. Its participants include the primary industry organizations worldwide, such as the European Business Aviation Association (EBAA), the General Aviation Manufacturers Association (GAMA), the International Business Aviation Council, the National Air Transportation Association (NATA), and the National Business Aviation Association (NBAA).
"As a coalition member, Daher welcomed this opportunity to demonstrate our support for development and adoption of sustainable alternative jet fuel," explained Nicolas Chabbert, Senior Vice President of Daher's Airplane Business Unit. "We flew our team in confidence to EBACE aboard the TBM 910. It's now on to the next steps: the production and distribution of biofuel; and expanding its use in meeting aviation's goal of carbon-neutral growth from 2020."
Daher representatives will be at EBACE during the May 21-23 event, present at Booth #P99 in Hall 5 of the Geneva Palexpo exhibition center, as well as with the TBM 910 on static display at Position #200.
Cessna SkyCourier advances through development; prototype assembly underway
GENEVA (May 20, 2019) – Textron Aviation Inc., a Textron Inc. (NYSE:TXT) company, today announced new milestones in its Cessna SkyCourier twin utility turboprop development program, with assembly underway for the prototype aircraft and the additional five flight and ground test articles. Component testing also continues for the new propeller, nose landing gear and fuel system.
"When we began designing and developing the Cessna SkyCourier, we engaged a number of mission-centric customers for technical input to best meet their unique needs in one platform," said Chris Hearne, senior vice president, Engineering. "We are building this aircraft with the flexibility and reliability needed for a variety of high-utilization operations including cargo, passenger or special missions and we are excited that the customers and the market are responding positively to its capabilities."
Endurance and functional testing for the new McCauley 110-inch propeller consists of nearly 150 hours of operation and includes a variety of simulated flight profiles. The propeller is mated with the proven PWC PT6A-65B, 1100-shp engine, mounted on a test stand. Simultaneously, assembly of the fuel system test article and nose landing gear drop test article is underway, with testing to start later this month.
The Cessna SkyCourier is the latest clean-sheet design from Textron Aviation and will be offered in various configurations including cargo, passenger or a combination of both, all based on a common platform to meet the needs of a wide range of customers. The cargo configuration is designed to accommodate three standard air cargo containers (LD3) with a payload of up to 6,000 pounds while the passenger version carries up to 19 passengers.
FedEx Express, the world's largest express transportation company and longtime Textron Aviation customer, signed on as the launch customer in late 2017 for up to 100 aircraft, with an initial fleet order of 50 cargo aircraft and options for 50 more.
Daher's TBM 940 receives EASA certification at EBACE
Geneva, Switzerland, May 20, 2019 – Daher today announced that its new TBM 940 has been certified by the European Union Aviation Safety Agency (EASA), enabling deliveries to begin with this latest very fast turboprop aircraft version.
EASA's certification paperwork will be formally provided during the European Business Aviation Convention & Exhibition (EBACE) at Geneva, Switzerland, where Daher will be exhibiting at the May 21-23 event.
The TBM 940's airworthiness authority approval comes two months after the aircraft's launch in March, with 25 orders already booked for the version. Initial deliveries will be to customers in Europe and Asia, followed by North America and other markets after subsequent certification by the U.S. Federal Aviation Administration.
"We are grateful to the EASA for the quick certification process following the hard work of our teams. The European authorities consider it a priority to make major safety items available to the pilot," commented Nicolas Chabbert, Senior Vice President of the Daher Airplane Business Unit. "We are proud to have developed an aircraft that combines power, safety and comfort – building on Daher innovation for continual improvement to the TBM very fast turboprop aircraft family. The TBM 940's positive feedback from customers underscores that we're on the right path."
As Daher's top-of-the-line TBM version, key TBM 940 features are the integration of an automated throttle and an automated icing detection system – both of which are installed for the first time on a standard production turboprop aircraft weighing less than 12,500 lbs. (5.7 metric tons). The cabin also incorporates further enhancements to style, ergonomic and comfort elements in the cabin.
The automated icing detection system and cabin enhancements are shared with Daher's Model Year 2019 version of the entry-level TBM 910, with whose cockpit benefits from the latest functionality with Garmin's flight deck. They are: Surface Watch™, which helps the pilot maintain enhanced situational awareness in the airport environment; Baro VNAV, allowing approaches with vertical guidance when Wide Area Augmentation System (WAAS) navigation is not available; and visual approach assistance for the TBM pilot in performing visual approaches on non-controlled airports with vertical guidance.
During this week's EBACE event at Geneva, Daher also is highlighting its TBM Care concept, which brings additional enhancements to the TBM ownership and operating experience. This is underscored by Daher's latest version of its "Me & My TBM" cloud-based application, which enables pilots and operators to share their flight plan and performance directly through different media.
The application's ergonomics and features are enhanced with the introduction of analysis modes allowing flight and time optimization, along with the aircraft's landing approach, as well as new average block speed calculation and monitoring. With its highly accurate graphics, feedback is provided during every phase of a TBM's flight, from key parameters of the engine and other systems to a full range of statistics accessible wherever the aircraft goes.
TBM owners and operators can check the identity card of their TBM in the app's new "My TBM details" section. Utilizing an enhanced banner for the CAMP tracking tool, scheduling for the next maintenance visit is now highlighted directly on the app's home page in terms of days or flight hours. Daher's TBM Care team also can be contacted through the app to answer questions whenever needed.
At EBACE, Daher experts will be on hand to provide additional information on the latest TBM family members and answer other questions about owning and operating the very fast turboprop aircraft. Daher is present on Booth #P99 in Hall 5 of the Geneva Palexpo exhibition center (located adjacent to Geneva Airport), and the company is exhibiting a TBM 910 on the static display (Position #200)
Cessna Denali propels to next stage of development; engine tests exceeding expectations
GENEVA (May 20, 2019) – Textron Aviation Inc., a Textron Inc. (NYSE: TXT) company, announced today it is nearing completion of the Cessna Denali prototype as well as the first two flight and three ground test articles, the latest milestone in the development of the company's new clean-sheet, high-performance single-engine turboprop.
"The result of the work we are doing now in design, production and testing is going to provide a mature configuration that will help us move through certification and flight testing, ultimately bringing a proven aircraft to the market," said Chris Hearne, senior vice president, Engineering. "The Denali is being designed and built to outperform the competition in capability, pilot interface, cabin experience and total ownership costs."
The prototype and the first two production conforming aircraft will be used in the flight test program set to begin later this year, where the three ground test articles will be used for the company's airframe static and fatigue tests, and for cabin interior development and testing.
Iron Bird Component Integration
In preparation for first flight, the company also recently completed component integration for the Denali iron bird, a full systems simulator test rig laid out in the configuration and size of the Denali. Leveraging unique Textron Aviation engineering and manufacturing techniques, the test rig incorporates the design of the aircraft's avionics, electrical and engine control systems, then positions them in a framework that makes the systems easy to access during testing. The iron bird will play an important role in testing the Denali's Full Authority Digital Engine Control (FADEC), which controls both engine power and propeller pitch with a single lever.
Catalyst 1300 Testing
Additionally, GE Aviation announced it has successfully achieved full power and max RPM with the new 1300 shp Catalyst engine and the state-of-the-art 105-inch, McCauley composite propeller at its facility in Prague – where it has completed more than 1,000 hours of testing on three test articles.  The engine and propeller demonstrated the full range of pitch using a FADEC with integrated propeller control. Initial altitude chamber testing was completed this month validating the engine performance.
"This new turboprop engine design will give the Denali a number of key advantages over other aircraft in this class and we are pleased to say that test engine performance is meeting or exceeding performance expectations" Hearne said. "New technology allows for a much longer time between overhaul, quieter operation and because of the first-ever digital engine and propeller control, it will reduce pilot workload and have greater fuel efficiency than similar aircraft in its class."
VALCORA fuels wildlife conservation portfolio at EBACE
Geneva, Switzerland/ 20 May 2019. VALCORA, the Switzerland-headquartered aviation fuel supplier will use EBACE 2019 – booth G29 –  as a platform to launch a new initiative supporting the industry's aim of working towards a carbon neutral future. As VALCORA showcases its support for a growing number of wildlife conservation projects around the world, delegates will be invited to participate.
Daniel Coetzer, CEO and Valerie Bouthiaux, General Manager have carefully selected a number of smaller conservation organisations dealing directly with animal protection, to lend support.  To date, the VALCORA conservation portfolio includes two rhinoceros' orphanages in South Africa, as well as  chimpanzee and orangutan refuges in Africa and Indonesia. Daniel and Valerie area also eyeing a number of future projects including pangolin, the world's most trafficked mammal, protection, as well as reforestation projects.
The new initiative complements its existing "Be Smart, Fly Bio" initiative which encourages operators to switch to biojet fuel where available using the VALCORA online platform at selected airports. With the new initiative customers uplifting fuel using the VALCORA system will be able to select an option to make an additional payment to donate funds to one of the projects. This is in addition to the existing carbon offsetting option in the system, and further demonstrates VALCORA's commitment to supporting the industry's support of the environment.
During EBACE the VALCORA Green Corner will feature success stories, images, and highlight the importance of getting involved as well as explaining to delegates how they can play a part.  "We wanted to raise awareness of these issues and draw attention to reforestation as it makes a big contribution towards a carbon neutral world. It not only helps the planet breathe; it provides essential habitat for endangered species. With this in mind we decided it was our duty to get involved which is why we're adding the  conservation portfolio to our environmental offering," said Coetzer.  "EBACE is the perfect place for us to make people and companies conscious of the ways in which we can preserve the planet for future generations  Every single delegate can actually make a difference through simple gestures."
AMAC Aerospace to build fifth Hangar at Euroairport in Basel
Geneva, May 20, 2019 – AMAC Aerospace is expanding the headquarters in Basel by building a fifth hangar at their facilities at Euroairport. The new hangar floor will be 4850m2 and mainly dedicated to maintenance work for Bombardier and mid-size aircrafts.
More than 10 years ago, AMAC started building the first hangar in Basel, Switzerland and the business commenced with the first completion project, when the hangar was completed in 2008. The company started an unparalleled growth story for the last 11 years and expanded the headquarters in Basel by building two further hangars in 2010 and 2012. Since 2015, AMAC's facility comprises four hangars with a total facility size of 91'000m2.
And growth resumes. Construction work for hangar number 5 has started and will be finished in Q2 2020.
The property of AMAC Aerospace at the Euro Airport will be extended by approximately 22'000m2. This fifth hangar will be dedicated mostly to Bombardier's products and other mid-size aircrafts, as AMAC is the Authorized Service Facility (ASF) of Bombardier, and the request for maintenance support is constantly growing.
The design of hangar 5 will be completely different than the other hangars. Due to safety margins of the Euroairport, the new hangar will not have the round roof, as the position will be next to the runway 26. Wood will be the dominating material inside the hangar, resembling the other four hangars.
Hangar 5 will be the longest hangar AMAC has ever built. It will be 120-meter-long; the largest made by today is 90 meters. The new hangar floor will be 4850m2. The space allows AMAC to position 3-4 Bombardier, Global 7500 or 6-7 Bombardier, Challenger 350.
Lufthansa Technik and Bombardier celebrate installation of the 1.000th »nice« system
Geneva, May 20,2019 – Media reception at EBACE static display on »nice«-equipped Challenger 350 aircraft
Lufthansa Technik AG and Bombardier are celebrating the installation of the 1,000th »nice« cabin management (CMS) and inflight-entertainment (IFE) system. Representative »nice« systems are installed on the Bombardier Learjet 75, Challenger 350 and Challenger 650, and the Global 7500 aircraft at the static display of this year's European Business Aviation Conference and Exhibition
(EBACE) in Geneva.
To commemorate the recent milestone, Bombardier and Lufthansa Technik will host a catered media reception Tuesday from 12:30 to 13:00 at the Challenger 350 aircraft parked at the static display – lot #SD_400. Representatives from the media will have the opportunity to take photos and meet the key people behind the »nice« cooperation between Lufthansa Technik and Bombardier.
"Bombardier aircraft are renowned for their impeccable design, superior comfort and their use of the latest advanced technologies, including the »nice« system, which ensures exceptional cabin efficiency," stated Brad Nolen, Vice President, Marketing and Product Strategy, Bombardier Aviation. "Providing instant access to an array of cabin entertainment and connectivity settings, Lufthansa Technik's cutting-edge »nice« system allows for effortless control and elevates the overall in-flight experience of our customers."
"This year, at least one »nice« shipset leaves our Hamburg base every second day on its way for installation in a new business jet," stated Andrew Muirhead, Vice President Product Division Original Equipment Innovation at Lufthansa Technik. "Thanks to the trust placed in us by Bombardier, it has become what it is today, the leading line-fit CMS/IFE system for business aircraft all over the world."
Being at the forefront of CMS/IFE since its introduction on the market, »nice« has been continually enhanced over the years, adapting not only to current technology but also introducing advanced features which are well ahead of the competition. Meanwhile, the fourth generation of the system is in development – »niceMe« targets customers who wish to personalize or customize their onboard
experience, to a level yet to be experienced in a business jet cabin.
K5-Aviation adds a third 2Ku System from Gogo Business Aviation
GENEVA (EBACE, stand U95) – May 20, 2019 – Gogo (NASDAQ: GOGO), the leading global provider of broadband connectivity products and services for aviation, today announces it will install a third 2Ku system on an Airbus A319 business jet operated by K5-Aviation, a leading operator of ACJ aircraft. The installation will be the first to be done on an Airbus ACJ319neo, and it is scheduled to be completed this summer.
The installation design and system integration will be managed by Fokker Techniek B.V. under its ACJ319 EASA STC, and will be completed at its facilities in Woensdrecht, The Netherlands as part of the green ACJ319neo aircraft VIP completion.
"Today's announcement shows how strongly K5-Aviation believes in our 2Ku system and underscores how well the first two of our 2Ku systems they installed are performing," said Sergio Aguirre – president of Gogo Business Aviation. "2Ku is the best performing connectivity solution in commercial aviation and we are pleased that our customers who fly large business jets are now able to enjoy the same terrific experience."
Gogo's 2Ku technology is the leading in-flight connectivity technology available to business aviation customers flying larger private aircraft and on commercial airlines operating globally.
"Our passengers can stay connected virtually anywhere we fly around the globe and they are having an incredible connectivity experience thanks to Gogo's 2Ku system," said Luca Madone of K5-Aviation. "The capabilities of Gogo's 2Ku system and network are unmatched anywhere else in business aviation which allows passengers to do virtually anything online while in flight that they do on the ground. Gogo's 2Ku system seamlessly integrates with our ultra-modern Alster Aero CMS/IFE system which we have installed on our aircraft to give our passengers an online experience never before seen in aviation."
"We've installed and certified the Gogo 2Ku technology successfully on two of our completed Airbus VIP aircraft and the EASA STC has greatly enhanced our business," said Johan van Dorst, director of sales for Fokker Techniek B.V. "Having access to the internet, plus being connected and available, is critical for passengers, and the demand for bandwidth will only increase. We are proud to be able to provide our customers with an excellent connectivity experience."
Gogo's 2Ku technology delivers industry-leading performance globally with peak antenna speeds of 70 Mbps – enabling passengers to do the same online activities while airborne that they do on the ground. For business aviation, that means live video conferencing, fast Internet browsing and streaming video. 2Ku is designed to take advantage of innovations happening in space and is compatible with newer high-throughput and other anticipated satellites, which means that the technology and user experience can continue to improve without the need for invasive changes to the aircraft. This flexibility means Gogo's customers can be confident the system is future ready and ahead of the curve from a technology perspective.
2Ku is a unique dual antenna system developed by Gogo to bring global streaming-capable Internet to large aircraft. The technology benefits from global coverage and the redundancy of more than 100 satellites in the Ku-band. In addition, the proprietary antenna design gives 2Ku a significant cost and performance advantage over other global solutions.
Gogo has more than 1,100 2Ku aircraft online and has a backlog of approximately 900 2Ku aircraft across 18 of the largest airlines around the globe. 2Ku remains one of the most successful in-flight connectivity products ever developed.
SD confirms significant rise in frequency of cybersecurity threats to business aviation.
 Geneva, Switzerland / 20 May 2019 – Ahead of EBACE 2019 Satcom Direct (SD), the business aviation solutions provider, notes a year-on-year increase of attempted cybersecurity attacks on business aviation aircraft subscribed to the multi-layered SD Threat Monitoring service. Eighty-one percent of the nearly 600 subscribed aircraft have experienced a cyber event that has been thwarted by the SD service.
In addition, the seriousness of the attempted hacks has amplified, with a 54% increase in critical and high-level threats from the same period last year. A critical threat represents activity that can affect default installations of widely deployed software resulting in the compromise of servers and devices, as well as leaving the "door open" for other hackers. Trojans, viruses and operating system vulnerabilities all fall into the critical category. A high level represents a threat from web browser exploitation or malware, which can be elevated to a critical status. This type of threat can potentially cause serious long-term damages to corporate networks.
In particular, SD has identified a trend that shows an increase in attacks from advanced persistent threat groups such as the well-known Fancy Bear, as well as sophisticated hackers, which are often commissioned by nation states or criminal organizations to specifically target VIPs.  Josh Wheeler, senior director of cybersecurity at SD says, "These perpetrators making particularly damaging threats invariably involve a group of black-hat hackers working in a closed network that continuously attack aircraft. This determined, networked approach is harder to mitigate, but our sophisticated threat monitoring approach combines technology with human intervention to effectively detect, block, and prevent threats."
The SD Threat Monitoring module, accessible through the SD Pro® dashboard, constantly monitors all inbound and outbound threats from aircraft subscribed to the 24/7 monitoring service. Delivering a real-time, centralized in-flight view of the cabin network, it makes aircraft data activity visible to flight departments and the SD cybersecurity experts. Abnormal network behavior is highlighted using a variety of threat analysis and prevention solutions, as well as human expertise. Potential threats, attacks, and intrusions are blocked before they reach the digital devices or aircraft. If a compromised device is identified in flight, threats can be blocked before they propagate to other passengers or "call home" to the malicious actor. Operating in real-time, the system alerts users, identifies causes, and provides remedial steps. The systems works for all level of threats from low through to critical.
"As the digitization of aviation trend continues, aircraft are becoming operating systems in themselves so mitigating data risk is imperative," adds Wheeler, "Regardless of whether you are on the ground or in the air, if you can see the internet, then the internet – and the hackers – are most definitely able to see you. Altitude does not make you safe and we are encouraging existing and new customers to be prepared," adds Wheeler.
Flying Colours Corp. steps into Europe with appointments and expansion as it marks 30 years of business.
Peterborough, Ontario/ 20 May 2019. Flying Colours Corp., the international maintenance, repair, overhaul and completions business arrives in Geneva in buoyant mood – booth Y107 – celebrating thirty years of successful MRO and interiors operations with new appointments and facility expansions.
Ahead of EBACE it announced the appointment of its first European Sales Manager, Andrew Pearce, and the creation of a new executive role promoting Paul Dunford to the newly created position of Managing Director, International Operations.
Andrew will, for the first time, join the team during EBACE to promote its full range of MRO services, completions, refurbishment and avionics expertise. As the mandate for ADS-B Out in the North America's draws close Flying Colours will encourage European owners to begin thinking about the impending European mandate which comes into effect in June 2020. With more than 70 ADS-B Out installations under its belt, it is well positioned to support European owners in meeting the targeted date either as an individual installation, or as part of wider maintenance and avionics upgrade.
The Flying Colours team will also mark the successful momentum of its ambitious international expansion plans as they begin to take shape. The privately owned, family run company began 2019 announcing the addition of a 100,000 squared-feet to its Peterborough, Ontario facility.  As a Bombardier ASF, and authorized completion centre Flying Colours is experiencing unprecedented demand for its high-quality work. The construction of its largest hangar yet will accommodate aircraft up to executive airliner size for maintenance and interiors work. A second dedicated aircraft paint shop, and expanded design suites for customer meetings will complement the expansive facility. Construction is well under way with a summer-end inauguration expected.
Complementing the expansion at Peterborough, in January Flying Colours' St. Louis, MO. facility moved into a fifth hangar at the Spirit of St. Louis airport to support the growing demand for heavy maintenance on Bombardier Global aircraft as well as other types. This is in addition to the opening of 40,000 squared feet, state-of-the-art-cabinetry facility which manufactured its first monuments in 2018.
The team are also be celebrating confirmation of the renewal of its agreement with Bombardier to support its full interiors service at the Bombardier Seletar facility which further cements the strengthening relationship between the two companies.
"We are pleased to be celebrating thirty years of business here at EBACE. It's an even bigger celebration now that we have Andrew working with us, and we are delighted that he's joined the team. We know he will add value to our existing customers in Europe and spread the word to potential new ones. Europe is a growing market for us, and we are looking forward to strengthening our presence here," said Sean Gillespie, Executive VP, Flying Colours Corp.
Flying Colours plans to mark its thirtieth year with further internal and external events with customers, partners and its growing in-house team to demonstrate its gratitude to those that have worked and supported the business through the years.
hullo Aircrew expands into securing permanent roles – Looks to take action on pilot shortage problem
 May 18, 2019 – Two years after the launch of its industry-first software platform connecting operators with aircrew for freelance and contract flights at EBACE 2017, hullo Aircrew is pleased to report a 200% growth in its membership.  It holds 3,000 candidates on its database and recently moved into offering permanent air crew positions, in response to demand.  The London Oxford Airport based company will have a presence on the stand of their new collaborative partner Jet Aviation (Stand A18) and will be available to discuss how smooth the process is for operators to source aircrew.
Since February, Edward Cousins has been back on the team as Director of Business Operations, overseeing widening out its reach through the EMEA region. He has now brought in Andrea Jilkova as Business Development Manager, a seasoned professional within the business aviation industry, already proving a valuable member of the team exploring new markets. The whole team is geared up to solve obstacles when it comes to all things crewing.
Edward is also passionate about pro-actively addressing the industry's reported pilot shortage.
"We are looking to approach local authorities to encourage standardisation on training across the industry, using hullo Aircrew's skillset in building a network to help build a consortium of operator training agreements," he comments.  This, Edward believes, would play a part in alleviating the pressure on commercially competitive flight operations – and also help to drive down costs.
He highlights that the variation in standards from country to country is vast – even across the UK it leads to widespread differences in operational procedures.  hullo Aircrew is already in dialogue with the British Business General Association (BBGA), which has its own flight training working group and BACA.   Edward is looking to further this discussion with the various associations and interested parties during EBACE.
hullo Aircrew is doing this from a position of strength.  It supports nearly 50 business aviation operators, a growing number of flight support companies, maintenance organisations, operator owners and charter brokers.   Membership covers 130 aircraft types from the Mustang to Boeing Business Jet and its reach extends to 190 airports globally.
hullo Aircrew has expanded into permanent pilot recruitment
The Bermuda Aircraft Registry Reaches a Historic Milestone
May 17, 2019 – Bermuda is home to the oldest and largest offshore Aircraft Registry and this month achieved a historic milestone by registering its 900th aircraft to the current Registry. This registration marks the most aircraft to ever be registered to an offshore aircraft registry at one time.
The Bermuda Aircraft Registry consists of a mix of both private and commercial aircraft located all over the world. The 900th aircraft to be added to the registry was a Dassault Falcon 8X.
Director General, Thomas Dunstan, comments on the latest milestone "The Bermuda Registry has earned a solid reputation internationally, and we continue to build on that year on year. We work hard to establish trusted relationships with our global partners and this is how we have been able to achieve building the current registry up to 900 aircraft.
"There are several offshore registries that offer some unique advantages, so it's our job to make Bermuda the more attractive option. First and foremost, we focus our efforts on overall aircraft safety. We work closely with international organisations, such as ICAO, to ensure we comply and surpass all safety requirements."
 Since the Registry's inception in 1931 over 2,000 aircraft have been registered, which ranks it as the largest offshore Aircraft Registry and 10th in size worldwide.
The Bermuda Aircraft Registry is owned and managed by the Bermuda Civil Aviation Authority (BCAA). Last year, BCAA launched a marketing campaign to highlight their personal approach and customer-centric business model using the tagline "Putting you at the centre of everything we do". The campaign highlights BCAA team members from various departments and gives insight into different roles and personalities in a humble, friendly way.
Mr. Dunstan comments further, "We believe that the service we provide is only as good as the team that provides it. Ultimately, we strive to be flexible, transparent and responsive to make the process of registering an aircraft as quick and easy as possible, while maintaining the highest standards of regulations, professional service and courtesy.
Our marketing campaign has had a great response, and people have even come to our booth at events like EBACE and recognised us from the ads."
Flyops is launching its brand new application
Mérignac (France), MAY 17, 2019 – Flyops, the French flight support specialist, is launching the first app dedicated to the business aviation at EBACE Show in Geneva from the 21st to the 23rd of May 2019.
Flyops Online app enables business & commercial aviation operators to order all flight services.
Your Flight Plan (FPL) or Dispatching, all handling services like VIP Lounge, Catering and Hotel and Accommodation (HOTAC), and much more in a one for all application.
Give a prompt answer to Pilots about Security, Schedules and Flight Process,…Just Click and Select !
K5-Aviation to debut Bombardier Global 7500 to worldwide charter market
 May 17, 2019 – K5-Aviation GmbH is preparing to be among the first few operators in the world to introduce Bombardier Aviation's new extra long-rangeGlobal 7500  to the charter market.  The K5-Aviation management team is scheduled to take delivery of the aircraft in Montreal this August.   The aircraft, with a 7,700 nm range and 16 hours' flying time, and max speed of Mach 0.925*, will be the German company's third VIP large cabin aircraft available for charter, joining two Airbus Corporate Jets.
The Global 7500 will be available for charter based out of Munich International
Airport, luxuriously fitted with 14 VIP seats.  K5's aircraft will be the first Global 7500 with a shower.  Its spacious cabin will also feature a full-size galley and four cabin zones including a full bedroom in the rear.  Ka-band internet in combination with Lufthansa Technik's "nice" entertainment system for inflight streaming and video conferencing will add to the passenger experience.
"We are very excited to be introducing this stunning new aircraft under our management and AOC.  The charter brokers we work closely with are eagerly awaiting it too," commented Luca Madone, K5-Aviation's Accountable Manager.
"The Transoceanic capable business jet will open up a wealth of new city pairs for our discerning clientele that we haven't been able to reach before, including direct routes such as Miami to Dubai," added K5 Head of Charter Sales Lorenz Baur.
*Under certain operating conditions
Global 7500 is a trademark of Bombardier Inc. or its subsidiaries.
Privilege Status introduced for regular clients
Luca and Lorenz will support K5-Aviation's presence at EBACE in Geneva this week (May 20-23). They will also be rolling out a new loyalty 'Privilege Status' category for its regular clients.  The status offers such perks as no cancellation fees for bookings up to 12 hours before travel and other benefits for regular customers.  The loyalty programme will be attractive to K5-Aviation clients, with the company also introducing another new type – a brand new Airbus ACJ319Neo in the first quarter of 2020.  The aircraft, powered by CFM International LEAP-1Aengines, made its maiden flight from Hamburg on April 24th.
IDAIR awarded two B777 Head of State aircraft
May 16, 2019 – Hamburg IDAIR has been awarded two more B777 by an undisclosed end customer after the successful delivery of two aircraft of the same type in the second half of 2018. IDAIR has proven its system and delivery capabilities on large aircraft and continues to further develop and implement its expertise on this aircraft platform.
The system provided is a tailored IFE/CMS solution including 4K UHD displays, overhead surround and in seat audio, window shades control, a dynamic lighting system, a moving map, AVOD and much more. All this complemented by the intuitive graphical user interface allowing passengers and crew to experience an easy and elegant method of controlling the cabin environment with seamless accessibility from mobile devices.
Alan Cumming, Managing Director of IDAIR, says "This award underlines the positive results of our previous installations and deliveries and on behalf of all in the company I would like to express our profound gratitude for the trust of our customers and partners in helping shape the continued success of IDAIR".
IDAIR Connectivity redelivery on governmental B787 aircraft
May 16, 2019 – Hamburg IDAIR has redelivered a connectivity solution for an undisclosed B787 Head of State aircraft.
Wi-Fi Access, wireless & wired Ethernet, passenger device integration and a satellite broadband internet solution provide passengers with an experience they would expect from an environment on the ground.
Dr. Wassef Ayadi and Alan Cumming, Managing Directors of IDAIR, say "IDAIR continues to demonstrate the flexibility of its product and service portfolio from standalone to fully integrated IFEC/CMS systems on narrow and wide body aircraft alike. Each customer enjoys individual tailored service providing the best solution possible fully utilizing the expertise of IDAIR and its business partners".
Bell at EBACE 2019
May 16, 2019 – Bell will be showcasing its Bell 429 with the Mecaer Aviation MAGnificent interior and HELIALPS' Bell 505 helicopters this year at EBACE.
With over 150 delivered worldwide, the Bell 505 Jet Ranger X is already demonstrating excellent performance. The aircraft incorporates the familiarity of the Jet Ranger family with new advanced avionics technology and the option of the new Mecaer Aviation VIP MAGnificent corporate interior. Its reliability, speed, performance and maneuverability are integrated with a flat floor and open cabin that is configurable for a wide variety of missions and payloads.
The Bell 429 continues to be a global success with 330 aircraft currently in operation in 44 countries. As an advanced single pilot IFR aircraft with the ability to adapt to diverse demands without compromising safety and unrivaled service support, the Bell 429 is in a league of its own. The aircraft on display is outfitted with Mecaer Aviation MAGnificent luxury interior, showcasing technology and bespoke features perfect for corporate flight.
Vertis Aviation bringing seat-only, empty leg and charter booking App–iness to EBACE.
Zug, Switzerland/ 16 May 2019.  Vertis Aviation, the Switzerland-headquartered charter specialist will bring a touch of App -iness to this year's EBACE when it officially launches its powerful new booking App on Booth B71.
Vertis Aviation App users will have access to near-real time charter flight information, empty leg data and uniquely, the ability to book individual executive jet seats with Austria-based JetClass. The Book Seat feature enables users to join an existing business jet flight at rates competing with business class fares. Vertis anticipates this feature will attract more passengers to the business jet charter market and will particularly appeal to the increasingly strong buying power of the sharing generation.
In an industry where the need to reduce CO2 emissions is becoming imperative the App includes the Empty Leg Watchlist which gives information about available aircraft flying a specific route without paying passengers, i.e empty. Details provided include departure and arrival points, aircraft type, how many passengers can fly, and availability. In addition, the empty leg feature enables users to set up alerts for when specific routes, maybe those they regularly fly, or particularly want to try, are available.  This gives instant access to competitively priced charters and Vertis expects this will be a popular feature for existing charter clients
In addition, users can charter a whole aircraft via the traditional Vertis channel, generate quotes for charter flights, compare pricing, and communicate with the Vertis team for specific requests and needs.  Confirmed availability and trip fees will appear in the My Quote section.  Users can then select the flight that best suits their needs. In Version One the commercial transaction will be made via traditional payment methods, but Vertis plans to add real time payment functionality in later versions.
A year in the making, the App has been developed in response to the growing trend for using digital technology to supplement personal service. Designed to maintain the boutique characteristics of the company, deliver the deep knowledge of the charter service team, and provide useful functionality to simplify aircraft charter on the go, the free Vertis Aviation App is now available through the App store for Android and IOS platforms.
"We are not a tech company as we've always focused on providing a boutique and personal service, but equally we recognise the convenience a well-developed App can give to our customers. We have combined our charter heritage with technology to add value to our customer service. The App aims to really enhance our customer experience," said Julian Burrell, Chairman, Vertis Aviation.
Burrell also predicts the App will bring a new potential stream of revenue from a wider range of customers. "We've been known for our long–range expertise but we've always arranged charters on smaller aircraft too. This App will highlight our full range of services, broaden our client base and hopefully attract new users to the industry, particularly from the luxury leisure market. This is good for the operators, the passenger and will benefit the business aviation sector by simplifying the charter booking process to attract more users." The Vertis team will be demonstrating the wide functionality and personalisation options of the App throughout EBACE.
Piaggio Aerospace Gets Ready for EBACE 2019
 Villanova d'Albenga, May 9, 2019 – After inviting Expressions of Interest for a possible buyout, Piaggio Aerospace is ready to participate in the European Business Aviation Convention and Exhibition (EBACE 2019), to be held in Geneva, Switzerland from May 21st-23rd.
In collaboration with AirGO Private Airline, a European charter company operating one of the largest P.180 fleet in Europe, the Italian company will showcase an Avanti EVO at the Geneva International Airport (Booth SD307), where they are going to meet partners and potential customers from around the world.
"Piaggio Aerospace's participation in EBACE is an indispensable opportunity to promote our flagship product and scope out new business opportunities in order to relaunch the important segment of the business aviation", states Vincenzo Nicastro, Extraordinary Commissioner of the company. "We are putting all actions in place to allow the company to resume full operation, and this starts with our presence in Geneva", added Nicastro. "My intention is to make the company attractive once again and identify the ideal buyer interested in taking it over. However, we are only at the beginning of the process".
On April 30, 2019, Piaggio Aerospace, in Extraordinary Receivership since December 3, 2018, –published a paid announcement with the intent to identify potentially interested candidates to date. This started with an initial survey to best assess the (not yet binding) interest of the market for the acquisition of the company.
Organized by the European Business Aviation Association (EBAA) and the U.S. National Business Aviation Association (NBAA), EBACE is the main European event dedicated exclusively to private and business aviation, with over 13,000 professionals in attendance and more than 50 aircraft on display in an 18,000 m2 space.
Entirely designed and manufactured at the Aerospace Excellence Center in Villanova d'Albenga, the aircraft to be presented at the show will represent the latest generation of the legendary P.180 Avanti. This technologically advanced model is ideal for business and charter travel and is already being operated for special missions of the Armed Forces, Government agencies and private operators in numerous applications.
Pegasus Universal debuts its new 'vertical take-off' business jet concept at EBACE  
May 15, 2019 – Pegasus Universal Aerospace from South Africa is making its debut at EBACE 2019 next week (May 20 to 23) to showcase the pioneering work it has achieved with Pegasus One, its revolutionary Vertical-Business-Jet VBJ™.   Founding Chairman and visionary Dr Reza Mia is showing a two-by-two metre model of the ground-breaking design, which combines the convenience of helicopters with the benefits of jet travel, at the Show's InnovationZone, adjacent to the main entrance.
The all-composite airframe Pegasus One is targeted for certification and deliveries in five to seven years' time from its Pretoria, SA facility, where it has engaged an engineering partner who will provide the engineers and designers.
In offering Pegasus One, Pegasus Universal Aerospace is pledging to bring speed, comfort and style to travellers looking for transportation between busy urban airports, small and unpaved landing areas, yachts and regular helipads, amongst others.
Its jet design has the possibility of landing and taking off vertically in the same locations as a helicopter, but it can travel further, propelled like a jet, more quickly, presenting a unique offering for owners /operators.
Pegasus is targeting a 4,400 km range from runway take-off or 2,124 km in VTOL with a planned cruise speed of 796 km per hour.  The aircraft will carry six to eight seats with power provided by two 2,300 shp (specific horsepower) turboshaft engines.
Demo tour planned next year
"We are working hard to build a full-scale cabin mock-up of Pegasus One which we plan to bring to London to start a demonstration tour of Europe in 2020 to drum up interest. We look forward to meeting forward thinking investors and of course potential operators during the tour," said Dr Reza.
Pegasus has identified a customer base that spans the civil and executive aerospace sectors, offering operational benefits unlike any other aircraft.   Along with Europe, India and China are key markets, he believes.
The company is close to identifying key suppliers for avionics, (its retractable) landing gear and the engines that will be the best fit for its highly evolved control systems and automation sub-systems.
Depending on take-off option – VTOL or runway – Pegasus One will be able to fly for three and a half to six hours, supporting direct, point to point travel.  The operational costs are competitive when compared with jets of similar range, but with lower fuel burn and CO2 emissions. The noise levels are lower than comparative rotary machines, and passenger and pilot comfort, security and safety, are all integral in the design, the company says.
To date, the business has been predominantly self-funded, together with angel investment. Pegasus is now seeking new investment and looking for interest from industry influencers and leaders.  Pegasus estimates its needs around US$400 million to bring the aircraft to market.
"We are delighted to be attending EBACE as it is the premier event for business aviation and there is a firm emphasis on future travel this year," said Dr Reza.  He has been a guest futurologist speaker in London recently, at Corporate Jet Investor's Revolution.aero conference and at the end of April, at the Royal Aeronautical Society's Business Aviation 2030 evening.
Premium Jet selects SKYLEGS ONLINE FLIGHT operations and sales SOLUTION
ANTWERP/GENEVA, May 13, 2019 – Premium Jet, the Swiss-based Business Aviation charter operator has entrusted Skylegs to be the partner of choice for the provision of its unique flight operations and sales software thus allowing Premium Jet to further elevate a world-class flying experience.
Marcel Wepfer, Managing Director Premium Jet: "We found the ideal partner in Skylegs as we both share this strong commitment to excellence. Our clients expect and deserve the best operational performance in the business. I look forward to working closely with Maxim and his team in building on our offering to drive business growth for the long term."
Skylegs, the European specialists in cloud-based solutions for the Business Aviation industry, delivered an effective cloud strategy and transformation roadmap based on the thorough assessment of the BA charter operator.
Maxim Schelfhout, Managing Director Skylegs: "As we speak, the Skylegs system is up and running at Premium Jet and we're very happy to see how smooth the integration took place."
Skylegs seamlessly migrated all Premium Jet's historic data to the cloud and into the Skylegs suite of digital flight operations solutions.
Also, Skylegs made unique customisations for Premium Jet's pricing methods. This way, quote requests coming out of Avinode, the world's largest and most responsive network of air charter buyers and sellers that exists today, are handled at the press of a button.
Global Jet announces three new additions to the Charter Fleet
May 9 – 2019.  Since the beginning of the year, Global Jet is proud to announce three new additions to the Charter Fleet including an exceptional Legacy 650 with a base at the Nice Cote d'Azur airport. The aircraft is designed to welcome 13 passengers with optimum comfort. Read more
Euramec Addresses Market Call for Smart Cost Efficiency with new Business Aviation Flight Simulator Line Up
HAMME, Belgium/, May 7, 2019 – Euramec announced a new line up of Flight Simulators for business aircraft types and further explore technologies to help operators reduce initial and recurrent training costs.
"Training optimization is a major focus for all operators," Bert Buyle, CEO Euramec says. "Recurrent training costs take up a large portion of the budget for business jet operators, due to limited availabilities of (full) flight simulators. Upcoming changes in EASA regulations allow to make use of fixed base training devices for certain recurrent training programs.  Our devices will dramatically reduce the cost of this training."
"Euramec Flight Simulators are an integral part of such a highly effective Simulation Training Platform and operators express much excitement in our future proof devices."
Procedure Trainers Drive Costs Down
Other than initial and recurrent pilot training, Euramec also targets to build procedure trainers to train business aircraft mechanics. Aircraft mechanics are currently sent around the world to learn particular tasks – e.g. engine start-up/shutdown – and these training costs can be significant. There is absolutely no need to make use of full flight simulators for this, a fixed base procedure trainer is adequate for this type of training.
The Next Logical Step
"We deliver high-quality type-specific cockpit simulators with 230 degree wrap around visuals that matches their urgent requirement for individual training, and significantly reduces the overall cost of training in both the short and the long term."
Euramec's Business Aviation FTD platforms include a range of EASA certified Flight Training Devices (FTD) that significantly reduce training and operating costs for Business Aviation operators when compared against Full-Flight Simulators (FFS).
Initially the company will offer flight training devices for business jets, i.e. the Cessna Citation, as well as the Beechcraft King Air turboprop; and with the company's focus on integrating new technologies – smart training devices for other aircraft types will follow.
Euramec is a fixture in the General Aviation industry with strong demand for its Diamond DA-40 and DA-42 flight simulators as well as customized cockpit trainers of other major manufacturers.
Recently, the company secured a federal grant to develop an Airbus A320 Flight Simulator.  The certifiable device will hit the market in 2020.
Leslie Hart joins Vertis Aviation business development team in Africa.
Johannesburg, South Africa/6 May 2019.  With immediate effect Leslie Hart will join the business development team of Vertis Aviation, the Switzerland-headquartered, Argus-Certified, charter specialist. Based in Johannesburg, and with a focus on Africa, Leslie is responsible for identifying new markets of opportunity, growing the charter market for aircraft currently within the Vertis portfolio, as well as strengthening the suite of marketed aircraft through the Vertis Charter Management Programme.
Existing and new African partners will benefit from having an additional local presence as Hart's appointment complements the success of Mark Abbot in Africa, as they continue to develop the company's continental presence. Hart's initial focus will be on countries where increased economic, social and political stability is enabling economic growth, particularly in east, central and west Africa. The resulting increase in high-net-worth-individuals supports the need for business aviation and Hart anticipates this will bring new customers to the sector.
"Growth is predominantly driven by commodity prices on the whole in Africa as the oil, gas, gold, and minerals sectors need business aviation to thrive. In addition, industries such as construction, telecoms and general infrastructure development are driving demand. There is huge potential across the continent, and we see a lot of opportunity for the Vertis business model to support the increased needs," said Hart. "It is a huge task to manage business development across the continent, but one that I'm looking forward to taking on."
Hart's background in the multinational consumer electronics business saw him opening subsidiaries and brands across Africa as well as creating distribution channels into, and within, Africa. The last three years saw him dedicated to charter aircraft management. As he steps into his role at Vertis his international and continental skill-set position him well to support the company's further growth in Africa.
"It seems that Africa is one of the last continents where there is still massive potential for investment from local and international companies. Confidence has grown as economies have strengthened. Commercial airline travel still has many limitations and business aviation is often the only means of travel between point to point destinations. We know that Leslie's experience with international business, combined with his local knowledge in the air charter field, adds massive value to our team. We're excited about the possibilities," said Jeffrey Emmenis, CEO, Vertis Aviation.
Zeusch Aviation successfully completes first broadcast relay flight
 Amsterdam, The Netherlands/2 May 2019 – Netherlands-based Zeusch Aviation completed its first broadcast relay flight this month when it worked with media technology company NEP The Netherlands (NEP) to support live television coverage of this year's Volta Limburg Classic single-day bicycle race in Limburg, The Netherlands. The aircraft flew above the circular route as live images were captured from the ground, relayed to the base station which immediately sent footage to the Outside Broadcast Vehicle ready for broadcast.
To support the aerial relay Zeusch deployed its King Air C90A which is specially outfitted with dedicated antennas on the underside of the fuselage and wings to capture the images and relay them to the NEP ground station. A two-meter relay boom can be extended and retracted during each mission to strengthen the relay reception range. An extra camera fitted to the belly of the plane ensures pilots can verify the boom is retracted prior to landing. The Zeusch aircraft formed an integral part of the broadcast team working alongside two motorcycles tracking the race and a helicopter filming the event.
With the start and finish of the race in Eijsden, just south of Maastricht, the Zeusch Aviation aircraft flew a circular route above the race for the three-hour broadcast. The skies above Maastricht are well known for being some of the busiest in Europe. In addition, its location on a three-border triangle between The Netherlands, Belgium and Germany, involved continuous flying across three separate air traffic control spaces. Careful flight planning was undertaken by the crew to ensure uninterrupted relay services during the three-hour 45-minute flight.
"Our mission is to act as a satellite for the camera operators on the ground and in the helicopter as we provide an aerial bridge between the film crew and the director. The operational capabilities of the King Air make it the perfect aircraft for the relay role. It's endurance, flexibility and capacity to fly for hours at a time supports the requirements to conduct reliable relay missions. We even landed back at base with fuel to spare," said Boudewijn Schaapveld, first officer for Zeusch Aviation.
The NEP relay-flight was the first of many confirmed on the books for Zeusch.  NEP has already confirmed 10 European sporting events this year with Zeusch providing aerial relay support in the skies above Slovenia, Norway, Hungary, Croatia and Germany. The next relay flight will be providing broadcast support the Hammer race, a three-day cycling event, in Norway in May.
"NEP is known for providing robust, reliable broadcast services and media solutions. Our people and know-how facilitate viewing of some of the world's largest live broadcast events. We need to provide an end-to-end  workflow, from capturing images to delivering them to the viewers, and must have reliable relay services to ensure seamless content delivery on any platform and on any device. We were completely satisfied with the efficient, effective performance of Zeusch Aviation and now consider the aircraft a regular part of our broadcast services unit. In fact, we have signed a five-year agreement with them and are looking forward to the next race already," said an NEP spokesperson.
MedAire – 2019 TRAVEL RISK MAP
The Latest Medical and Travel Security Risk Ratings Revealed
May 1, 2019 – Volatility in the world demands vigilance and awareness to rapidly evolving circumstances. The 2019 Travel Risk Map provides a comprehensive overview of risks by destination and helps organisations and their flight departments in mitigating travel risks.
The Travel Risk Map is produced annually by MedAire's parent company, International SOS, and Control Risks.
"The Travel Risk Map captures risk from a global perspective, allowing businesses, managers, and the individual traveller to visualize potential trouble spots associated with upcoming travel destinations," said John Cauthen, Director of Security, MedAire and Control Risks.
MedAire and Control Risks provide aviation security services to mitigate risks to crew, passengers, and aircraft.
"In an increasingly volatile but interconnected world, aviation operators need to ensure they have access to the most pertinent security information and services for their operations," continued Cauthen. "Referencing the Travel Risk Map is the first step, beginning at the macro-level, to proactively build proper situational awareness."
Medical Risk Ratings are determined by assessing a range of health risks and mitigating factors, including: infectious diseases, environmental factors, medical evacuation data, the standard of local medical care, availability of quality pharmaceutical supplies.
Travel Security Risk Ratings are based on the current threat posed to travellers by political violence (including terrorism, insurgency, politically motivated unrest and war), social unrest (including sectarian, communal and ethnic violence) as well as violent and petty crime. Infrastructure and environment are also considered where they are of sufficient magnitude to impact risks to travellers.
View the 2019 Travel Risk Map here.
MedAir eand Control Risks – BEST PRACTICE POSITION PAPER ON AVIATION SECURITY
New paper proposes holistic approach of Insight, Preparedness and Assistance
Mai 1, 2019 – MedAire and Control Risks released a joint position paper on best practices to proactively prepare for – and mitigate – risks within the aviation industry.
The paper, A Holistic Approach: Insight, Preparedness and Assistance, proposes that aviation organisations incorporate these three critical elements to best secure their resources, operations and people.
The three elements featured in the paper are core to an integrated approach to aviation security; accounting for the complex interdependencies among aviation stakeholders.
A Holistic Approach defines Insight as the process a company undergoes to fully understand their operations and business needs in a volatile, complex and/or uncertain environment. Preparedness is the application of appropriate mitigation efforts to ensure vulnerabilities are minimised or, best case scenario, eliminated. Assistance is centred on supporting their people during security breaches and/or incidents.
John Cauthen, Aviation Security Director at MedAire:
"Real world issues need real world support. At the core of all aviation operations are people. Flight departments must have processes in place, as part of their aviation security programmes, to mitigate and respond to risks affecting their people and operations."
MedAire has assisted the aviation industry for more than 30 years. Today, they support business flight departments around the world.
Download the paper at http://learn.medaire.com/AVSEC2019.
Valcora extends global footprint with opening of Johannesburg, South Africa office today.
 Geneva, Switzerland / 1 May 2019. Valcora, the Switzerland-headquartered fuel purchasing service, is further expanding its international presence with the opening of a new office today in Johannesburg, South Africa. The nation's capital city is one of the main hubs for business aviation on the continent, making it the ideal location for Valcora's first African venture.
The two-person operation will be responsible for raising Valcora's profile, as well as highlighting the benefits of the technically sophisticated, yet simple to use fuel purchasing system across the continent. With Africa home to some of the world's most rapidly expanding economies, the decision to open was informed by the growing need for reliable fuel purchasing options for local, intra- and intercontinental operators and owners. The existing strength of the South African business aviation fleet, the removal of operating restrictions in the skies over east Africa and the growth of the business aviation fleet in countries such as Angola, Ethiopia, and Kenya also supported the decision.
Of particular benefit to African operators flying to Europe is Valcora's extensive experience handling the complexities of European taxes. The intelligent system automatically calculates fiscal obligations in Europe ensuring customer tax commitments are correctly and fairly determined to optimise operating budgets.
"The growing business aviation sector needs access to easy, international, fuel purchasing options to support continued economic growth in Africa. Johannesburg provides the perfect spring board from which to support this need.  South Africa has an established business infrastructure, reliable banking institutions, and an excellent pool of people to hire from which will all support our own business growth, and enables us to better serve our clients," says Daniel Coetzer, Valcora CEO.
Valcora's continually enhanced fuel purchasing system delivers a fuel service which is already used by individual aircraft owners, corporate fleets, and some the world's largest business aviation operators.  Customers value the powerful combination of an intuitive system, pricing transparency, a reliable fuel card, a team of multi-lingual 24/7 account managers and a talented inhouse team, to support fuel requirements around the globe. The new office joins a growing network of Valcora locations which already includes offices in Switzerland, Ireland, Singapore, and North America.
As a South African national Coetzer is committed to raising the standards of fuel purchasing across the continent. "We are very excited to realise the potential in South Africa and beyond, it is an exciting time for business aviation in Africa, and we are pleased to play our part in its sustainable growth."
DAHER – Longtime EAA 'Young Eagles' selected for the 2019 Daher internship
Tarbes, France, April 30, 2019 – Daher's internship initiative, which provides first-hand aviation industry experience to two U.S. college or university students each year who have participated in the Experimental Aircraft Association's Young Eagles (YE) program, has selected Benjamin Van Handel and Jordan Paulson as the internship's 2019 recipients.
Both Van Handel and Paulson are from Wisconsin, home to EAA  – which partners with Daher for the internship program. EAA hosts the annual EAA AirVenture Oshkosh  fly-in at Wittman Regional Airport.
The two students will work at Daher Aerospace's Tarbes facility in southwestern France during five weeks in June and July. Also included is a tour of the Airbus production facility at Toulouse, France, as well as attendance at the Paris Air Show, followed by their participation with the Daher team in the EAA AirVenture Oshkosh event.
The internship covers the students' costs, and puts the focus on work experience as well as a deeper understanding of the aviation industry's career opportunities.
"This opportunity is a one-of-a-kind experience for the internship recipients," said Nicolas Chabbert, Senior Vice President of Daher Airplane Business Unit and CEO of Daher Aircraft Inc. "Spending time with our team in France will enable them to gain expertise in their aviation industry fields of interest. We hope the experience will make a difference in their future careers, while also benefitting our company by working with the next-generation of aviation industry decision-makers."
Paulson is a student at the University of Wisconsin Oshkosh, studying business management and economics. Thanks to the introductory flight provided by the EAA Young Eagles program, he was inspired to earn his  FAA multi-engine private pilot license, while  also a volunteer for EAA AirVenture Oshkosh.
Van Handel studied at Saint Norbert College in De Pere, Wisconsin, and already is familiar with the international environment having spent a semester abroad at Bond University in Australia for studies leading to a bachelor's degree in business administration. He holds a single-engine private pilot's license, having earned the rating through a Phillips 66 Aviation Scholarship.
Dave Chaimson, EAA's Vice President of Marketing and Business Development, recognized Daher's commitment to the annual internship opportunity for former Young Eagles , noting that "Nothing is more important than first-hand aviation industry experience to help students explore future career opportunities. With industry exposure and cultural exchange, the impact on these former Young Eagles' lives is tremendous."
The EAA Young Eagles program inspires young people age 8-17 to explore through flight through an introductory flight experience provided by volunteer EAA-member pilots. More than 2.1 million youth have flown as part of Young Eagles since 1992.
Flightworx continues to evolve its services, to be one of the leading innovative flight support providers.
April 30, 2019 – Global flight support provider Flightworx Aviation Ltd has launched a new fuel portal web application through its independent fuel comparison and procurement division, Fuelworx.
The portal offers users the ability to view worldwide fuel pricing at the click of a button through the web-based system, as well as a 'create and save' quotation function for referencing purposes. Upon reviewing the multiple fuel options in any given location the user can request a fuel release through the portal with ease. Pricing is continually updated ensuring the most up to date information is always available, this allows the users to make an accurate assessment of the pricing at any given time.
"The portal is so convenient for all users due to its web-based nature which means that you can access it anywhere in the world at any time of day," explained James Kossick, the UK-based company's Fuel Manager. "We are continually expanding the database with new locations being added daily, and we hope to achieve more than 5,000 locations by the end of the year."
Flightworx is constantly evolving its services, to be one of the leading innovative flight support providers. With Flightworx all of your flight support solutions are in one place. From Flight Planning to Fuel, Crew Rostering to Car Hire, Aircraft Handling to Accommodation or Permits to Post Holder Services they have you covered.
"Whatever you need, whatever aircraft you intend to fly, we'll have you flying with ease as quickly, efficiently and cost effective as possible," said Jennette Bentley, General Manager at Flightworx.
Geneva Airpark is celebrating its 10-year anniversary at Ebace
Geneva, may 2019 – On June 12 at noon, the first plane made its entry in the brand new hangar, which had been specially built to provide premium parking and services for business aviation. Ten years later, Geneva Airpark has chosen to celebrate its anniversary during a landmark event: the Ebace convention in Geneva. On Tuesday, May 21 through Thursday, May 23, 2019, clients, partners, journalists and visitors are invited to visit the Geneva Airpark booth in order to exchange with its team in a friendly atmosphere. A moment of sharing to become acquainted or strengthen relations that have been developed over the last ten years. On this occasion, a book will present the company's history, its development, its facilities, its services and its values… A demanding evolution which was rewarded in 2019 with the IS-BAH certification. By starting a whole new decade together, Geneva Airpark is treating itself to the greatest of all gifts!
Geneva Airpark in 4 key dates
March 4, 1996: the Swiss State Council announces its favourable decision for granting a surface right
July 9, 2007: DETEC (Swiss Federal department of the environment, transport, energy and communication)  publishes its decision to approve the hangar construction plans.
November 2007: beginning of the construction
Duration of the construction project: 19 months
January 2019: Geneva Airpark 9th Swiss company to obtain the IS-BAH certification/ the 160th worldwide
FAI Technik receives FAA approval for EASA MRO licence
April 23, 2019 – FAI Technik GmbH, the maintenance division of Germany's FAI Aviation Group, announces that it has now received FAA approval for its EASA Part 145 licence. With the certificate in place, the company is fully authorized to perform maintenance, repair and overhaul on US registered business aviation aircraft at its Albrecht Duerer Airport headquarters in Nuremberg. This latest licence follows similar approvals from the Nigerian authorities in October 2018 and from the Cayman Islands and Bermuda in 2017.
Siegfried Axtmann, Founder and Chairman of the FAI Aviation Group, comments: "This latest approval from the FAA is yet another milestone for FAI Technik as it continues to see growing demand. We look forward to serving some of the many US-registered aircraft operating in Europe and on the African Continent as we continue to extend our remit and capabilities and deliver excellent results for our customers."
Last month, FAI Technik started work on its sixth in-house Global Express cabin refurbishment which marked one of the most extensive refurbishment projects for the type.  Named 'Project Pearl', the Bombardier BD700 will include 60, 120- and 240-month inspections and feature Collins Aerospace's latest VenueTM cabin management system and high definition entertainment system.
FAI Technik provides MRO services for Bombardier Learjet, Challenger and Global Express aircraft, including the FAI rent-a-jet AG operated fleet. It also supports FAI´s dedicated fleet of air ambulance jets. The division is supported by some 60 full time staff.
FAI Aviation Group will return to EBACE next month (Avinode Stand #B71) as it celebrates 30 years of business jet operations.
 Photo caption: FAI Technik's latest Global Express refurbishment, Project Pearl, undergoes inspections at its Nuremberg headquarters.
Schöne Grüße! Daher's new TBM 940 makes its first public appearance at AERO Friedrichshafen
Friedrichshafen, Germany, April 12, 2019 – Daher's latest addition to its very fast turboprop aircraft family – the TBM 940 – is receiving a warm welcome for its public debut at the AERO Friedrichshafen general aviation show in Germany.
This ninth evolution of the TBM product line is characterized by an increased level of automation in the cockpit. Aligned with Daher's TBM e-copilot® strategy of introducing increased functionality for operational safety improvements, the TBM 940 features an automated throttle and automatic icing detection system – both of which are firsts for a production turboprop aircraft in the TBM's weight category.
"Building on the TBM 940's first public appearance at AERO Friedrichshafen only one month after its official announcement, we are now awaiting certification by the European Aviation Safety Agency (EASA) and the U.S. Federal Aviation Administration (FAA) to start initial deliveries," said Nicolas Chabbert, Senior Vice President of the Daher Airplane Business Unit. "The aircraft's new features represent a further evolution of our TBM e-copilot® concept, providing assistance in single-pilot operations."
Chabbert added that customer response to the TBM 940 is promising, with 25 orders already booked and discussions underway for many more. One of the sales was made today at the AERO Friedrichshafen show by Rheinland Air Service, TBM Authorized distributor for Austria and Germany, to a German customer, for a september delivery.
The TBM 940's integrated autothrottle system automates the engine's power control and monitoring. Fully integrated with the aircraft's autopilot, the GMC 711 AT controller decreases a pilot's workload with such new modes as the selection of vertical speed (VS) or indicated airspeed (IAS). During the climb phase, the pilot no longer needs to continuously adjust the throttle to reach the optimum torque – thereby providing improved safety in flight and additional protection for the engine.
In addition, the engine parameters are now displayed on an intuitive smart engine indicator on the Garmin G3000 flight deck that indicates the limits with different color codes (green, amber and red) for torque, interstage turbine temperature (ITT) and gas generator RPM (Ng).
The TBM 940's automatic icing detection system provides automated protection while keeping the pilot fully in the loop. When icing or ice accretion is detected by an externally-mounted sensor – and if the pilot does not take action – the automatic icing detection system will activate deicing devices on the airframe, windshield, propeller and the engine's particle separator. An amber CAS (Crew Alerting System) message is displayed by the avionics, advising the pilot to clear the automatic activation and revert to the manual control mode.
In the TBM 940's cabin, an enhanced interior combines comfort and aesthetics with redesigned seats and the addition of practical amenities. Among these is a new central shelf with side storage and USB ports, bringing the total number of USB ports available for passengers to six, with three for pilots. A 115 Volt universal plug complements the 14 Volt cigarette lighter socket, allowing occupants to use a wide range of electrical devices in the cabin.
The TBM 940 offers the same range, performance and technical features that have contributed to the success of the TBM 900 and its derivatives.
Daher introduces the latest version of its "Me & My TBM" application with an enhanced experience for pilots
Friedrichshafen, Germany, April 10, 2019 – The latest upgrade to Daher's "Me & My TBM" cloud-based application for owners and operators of TBM very fast turboprop aircraft was introduced today at the AERO Friedrichshafen 2019 general aviation show during a keynote presentation.
With this third version of the "Me & My TBM" app, feedback for users is provided during every phase of a TBM's flight, from key parameters of the engine and other systems to a full range of statistics accessible wherever the aircraft goes.
Enhancements include information updates on aircraft status (fuel, the addition of oil and its consumption, and battery voltage), flight reporting with an enhanced logbook that provides a detailed flight analysis from engine start to shut down, as well as the ability to share flight data with fellow pilots and others on social media. Also incorporated in the Version 3.0 application is a new analysis of landing approaches, complete with a profile graph.
New elements have been added for "My TBM Challenge" – the friendly competition that enables pilots to compare their flight performance with others in the TBM community. The app is now able to make new determinations, such as whether a transatlantic flight has been accomplished, and if the proper aircraft attitude was established during landing approach. In addition, trophies are earned by attending airshows.
Pilots now have the possibility to share their flight data via such social media channels as Facebook, as well.
"This third version of our 'Me & My TBM' application underscores Daher's commitment of applying innovation and the latest technologies for continual improvements with the TBM ownership experience," commented Nicolas Chabbert, Senior Vice President of the Daher Airplane Business Unit. "By evolving the app, we're enhancing the TBM flying experience and motivating pilots in the TBM community to further develop their piloting skills."
To enhance the customer experience, primary information about a TBM owner's aircraft is displayed as a "TBM identity card" in the updated app's new "My TBM details" section.
Additionally, a new banner for CAMP computerized maintenance tracking is included on the app's home page, highlighting the remaining days or flight hours before the next scheduled maintenance operation/inspection. As another feature, the latest "Me & My TBM" app version includes a direct link to Daher's TBM Care support resource, as well as for the reporting of TBM aircraft on ground (AOG) situations.
Illustrating Daher's innovation capacity and digitalization advances to deliver value to its customers, this application benefits from Daher Analytics's Big data expertise to collect, process and analyze over four billion data generated daily by the fleet in operation.
All new TBM 910s and TBM 930s delivered by Daher since January 2018 – along with the upcoming TBM 940 – are outfitted with the FAST™ flight data retrieval and transfer solution, and therefore are compatible with the "Me & My TBM" app.
For earlier production TBM aircraft, Daher is including the Bad Elf "Wombat" accessory in the TBM catalog of options and upgrades. This portable SD Card reader can wirelessly transmit data for use by the "Me & My TBM" app. With it, the application could be used with more than 400 previously-produced TBMs by using a non-automated process.
Daher's enhanced TBM 910 makes its world debut at SUN 'n FUN
The Model Year 2019 version benefits from increased protection for operational safety, along with new style features in the cabin
Lakeland, Florida, USA, April 2, 2019 – Daher today unveiled the latest definition of its TBM 910 single-engine very fast turboprop aircraft, debuting the Model Year 2019 version at Florida's SUN 'n FUN International Fly-in and Expo.
In a new step aligned with Daher's TBM e-copilot® strategy of introducing increased functionality for operational safety improvements on the TBM product line, the TBM 910 has an automatic icing detection system that provides automated protection while keeping the pilot fully in the loop.
When icing or ice accretion is detected by an externally-mounted sensor – and if the pilot does not take action – the automatic icing detection system will activate deicing devices such as the airframe, windshield, propeller and the engine's particle separator. An amber CAS (Crew Alerting System) message is displayed by the avionics, advising the pilot to clear the automatic activation and revert to the manual control mode.
"This added protection – which also is incorporated on the recently-unveiled TBM 940 – is part of our constant drive to use intelligent functionality in further improving safety and operability, and are firsts for production aircraft in the TBM's category," said Nicolas Chabbert, Senior Vice President of the Daher Airplane Business Unit. "These new standards redefine the ultimate private aircraft: user-friendly, safe and efficient for both pilots and passengers."
As the entry-level member in Daher's TBM product line, the TBM 910's 2019 definition also includes G1000 NXi avionics suite features that are incorporated in the high-end G3000 advanced flight deck of the TBM 930 and the TBM 940. They are: Surface Watch™, which helps the pilot maintain enhanced situational awareness in the airport environment; Baro VNAV, allowing approaches with vertical guidance when Wide Area Augmentation System navigation is not available; and visual approach assistance for the TBM pilot in performing visual approaches on non-controlled airports with vertical guidance.
In the TBM 910's cabin, Daher has incorporated ergonomic and style upgrades changes for 2019 that range from redesigned seats, additional thermal insulation for the cabin sidewalls and a new central shelf with side storage to an additional 115V electrical outlet at the right rear seat panel, and USB ports (bringing the overall total of USB ports to six for passengers and three for the pilots).
FAI Aviation Group marks 30 years
 Builds on a successful year and wider breadth of expertise
April 4,2019 – FAI Aviation Group, Germany's leading global provider of mission-critical aviation services, offering fixed-wing air ambulance, special missions, charter and aircraft management, as well as full MRO services will return to EBACE next month (Avinode Stand #B71) as it celebrates 30 years of business jet operations.  Founded in 1987 as a private repatriation club flying helicopters, FAI moved into business jet flying two years later.
Over the past three decades, Nuremberg-based FAI has grown its fixed wing fleet from a single Citation 500 and two rescue helicopters (Eurocopter AS 350 and Airbus BK 117) to become Germany's largest business jet operator with 25 jets and over 13,500 hours logged in 2018.   FAI's air ambulance business has grown too and today FAI is a global market leader in air ambulance patient transport by jet aircraft, having logged more than 200,000 total hours of ambulance missions inside 30 years.
Siegfried Axtmann, FAI Aviation Group Founder and Chairman, comments: "Reaching 30 years is a great achievement for our company and I am very proud of how far we have come. The company's growth and success is testament to our commitment to safety, service and continued investment.  It also highlights the importance of our tremendous team of people, now 200-strong, who have made our business what it is today.  I look forward to continuing to grow our business to meet the needs of our customers."
Endorsing FAI's success Jeffrey Emmenis, Founding Partner of Switzerland-based Vertis Aviation, adds: "We value responsiveness, dependability and knowledge.  As an operator that strives to deliver the same high quality of standards consistently as we do, FAI is one of our go-to operators. Siegfried and his team have been consistently supportive of our business and remain the consummate professionals.  We salute them on their 30-year anniversary and look forward to working with them in decades to come."
Irena Deville, Managing Director EMEA of AVIAA added: "In its 30 years of operation, FAI has grown into and firmly established itself as an operator that always strives to do better operationally, commercially and financially.  It is no surprise they saw AVIAA's potential early on and we are extremely proud to be working with the forward thinking, energetic FAI team."
FAI over the decades
 FAI has grown significantly since its inception in 1989 through the acquisition of a small repatriation business, focusing on the air ambulance market.  That same year, FAI purchased a Cessna Citation 500 which was followed by the purchase of two Falcon 20´s two years later. Going from strength to strength in 2004 the company expanded into special mission services in hostile areas for the world´s largest NGO.
In 2011 with revenues in excess of €50m for the first time, the company inaugurated its new headquarters at Albrecht Dürer Airport in Nuremberg.  The company expanded again in 2012 with the launch of its dedicated MRO division, FAI Technik. In 2014 it opened its second maintenance hangar 7 which was followed in 2017 with the inauguration of its latest 4,500sqm hangar 8.  The three hangars together represent the largest general aviation hangar complex in Germany, capable of accommodating up to four BBJ´s or ACJ´s simultaneously.
International presence in Dubai and Miami, USA
Over the years FAI Aviation group has grown organically – and today the company has revenues in excess of €80m.  It has offices in Dubai and Miami, FL and is a market leader in fixed wing air ambulance operations. Last year, the company was further strengthened by a significant minority stake investment by Bahrain Mumtalakat Holding Company (Mumtalakat), the sovereign wealth fund of the Kingdom of Bahrain, further opening up the Middle East market.
Recent new collaborations have also followed with FAI working with the world leading group purchasing organisation Convolus (now AVIAA) and inflight broadband provider, Gogo. Additionally, in January 2018, FAI became an Authorized Collins Aerospace Distributor for avionics and cabin electronics equipment.
FAI Technik continues to see growing demand. Last month, FAI´s started work on its sixth in-house Global Express cabin refurbishment which marked one of the most extensive refurbishment projects for the type.  Named 'Project Pearl', the Bombardier BD700 will include 60, 120- and 240-month inspections and feature Collins Aerospace's latest VenueTM cabin management system and high definition entertainment system.
Satcom Direct begins commercial implementation of FlexExec as "Power-by-the-Hour" connectivity becomes reality for business aviation
Melbourne, Florida / 2 April 2019 – Today Satcom Direct (SD) announces the commercial service introduction of Intelsat FlexExec as part of its SD Xperience portfolio. The first high-speed, managed, end-to-end broadband service designed specifically for the business aviation sector, FlexExec is now being commercially delivered in partnership with Intelsat (NYSE: I) and Astronics AeroSat. At service introduction, four aircraft types are utilizing the system including a Dassault Falcon 7X and three Gulfstream models, GIV, G450 and G550. In addition to the customer aircraft, SD has performed global network validation with its Gulfstream GIV, making this the first business aviation connectivity offering to undergo global beta testing prior to commercial service introduction.
"Business aviation now has a dedicated connectivity system that can be tailored for customers to suit specific mission needs. The flexibility and resilience of the FlexExec system will bring enhanced connectivity to the industry, paired with SD Xperience at a time when synchronizing data across all aspects of flight operations to improve efficiency and safety is becoming increasingly important. The service introduction is the next step in the evolution of the digitized aviation industry," said Jim Jensen, CEO and founder of Satcom Direct.
Significantly, the new service gives business aviation operators the ability to budget hourly connectivity rates for the first time ever. The "Power-by-the-Hour" plan, only available through the SD Xperience portfolio, provides clients with greater flexibility to plan for maintenance and down time. The hourly rate is inclusive of the full ecosystem of SD services, meaning cabin connectivity, datalink, scheduling, cybersecurity, post-flight reporting and more are all included, on a single consolidated monthly invoice. As well as maximizing operating budgets, SD Xperience synchronizes aircraft with flight operations through its integrated software, hardware and connectivity.
Mark Gardner, Crew Chief and Client Account Maintenance Manager for Meridian Air Charter, one of the FlexExec in-service evaluation operators, and now customer, comments, "SD Xperience, combined with the FlexExec service, provides a much-needed, flexible connectivity option that we know delivers a high-performance, global, reliable service.  Passengers expect constant connectivity and now we can deliver this while simultaneously enhancing the management of our dynamic operations through the real-time visibility delivered by SD Pro. We're excited to be one of the first to maximize the new service. It is an invaluable and welcome solution to the complexity of fulfilling customer expectations, improving efficiencies and managing operational costs."
FlexExec is powered by Intelsat's global, high-performing, multi-layered Ku-band satellite fleet using the Intelsat EpicNG high-throughput satellite (HTS) platform with layers of inbuilt redundancy. Uniquely, customers are not subject to data speed caps as consistent delivery of up to 10Mbps into the cabin, and 2Mbps out, gives enough bandwidth to support streaming, large file transfers, and video conferencing on multiple Wi-Fi devices simultaneously. Consistent delivery is augmented by the secure SD network infrastructure consisting of the SD Data Center and global Points of Presence (POPs) around the world.
"FlexExec was designed with business jet operators and their passengers in mind," said Intelsat's Senior Vice President, Global Sales and Distribution, Mark Rasmussen. "While traveling, passengers expect fast, reliable broadband connectivity with a consistently high level of service – from take-off to landing. By virtue of Intelsat's FlexExec global, managed service, built upon Intelsat's multi-layer, redundant network, Satcom Direct can reliably deliver on passenger expectations. The flexibility and economies of scale inherent in FlexExec enable Satcom Direct to differentiate its services and deliver an end-user experience that is second to none."
As the Master Distributor of the FlexExec service, usage is also supported via the SD Xperience end-to-end business infrastructure. In the air, SD provides the cabin networking hardware to give customers advance network management options. The software delivered by the SD Pro Operating System delivers a variety of benefits including predictive connective mapping, cybersecurity threat monitoring, flight tracking and account management tools amongst other options. On the ground, the FlexExec service is integrated with SD's support team who are available for activation, provisioning and troubleshooting 24/7, 365 days a year ensuring bandwidth is available wherever customer aircraft are flying. The network architecture is delivered to aircraft via the AeroSat FlightStream™ (T-310) tail-mounted antenna system. The system is initially available for aftermarket aircraft, and installations are offered through approved service centers.
Jet Maintenance International Launch Citation and Dassault-focused MRO
at London Oxford Airport
April 1st, 2019 – A new aircraft maintenance company, Jet Maintenance International (JMI), is to be established at London Oxford Airport from the start of May.  Headed by principals Neil Plumb and Ed Griffith, the MRO (Maintenance, Repair and Overhaul) and aircraft management business will be primarily focused on Textron (Cessna) Citation and Dassault Falcon aircraft product support with line, base and AOG capabilities.
Veterans in the business aviation sector with over 40 years' combined experience, the JMI team expects to tap into the ever-growing demand for high quality and personalised customer service for some of the more popular models in the UK and wider European business aviation fleet where demand for quality technical support is beginning to exceed capacity.
Ed Griffith's experience includes running hangar MRO operations at Gama Aviation Plc, Textron, Kinch Aviation and transforming the London Luton Airport Line Station for CSE Citation Centre (now Signature TECHNICAir).  Neil Plumb was the General Manager of a large MRO at Cranfield before going on to set up his own business managing and flying numerous business aircraft, predominantly Citation and Falcon types.
Moving into London Oxford Airport's most recently completed facility, Hangar 14, Bay 4, they start with a brand-new £2m facility with around 16,000 sq.ft. (1,500m2) along with bespoke external offices and dedicated customer parking.
Welcoming JMI to London Oxford Airport, the airport's MD, Andi Alexander commented: 'We are delighted to have Neil and Ed set-up this new MRO at Oxford, very much complementing all the other types already supported at Oxford, both fixed wing and helicopters.   With our great opening hours, competitive costs and hassle-free access with no slot, noise-related, weekend or capacity constraints, we hope Oxford will prove a popular choice for visiting aircraft for MRO support with JMI."
James Dillon-Godfray, Head of Business Development at the airport added, 'With our close proximity to Heathrow or Birmingham airports, access back home for positioning crews is simple, but for those staying with their aircraft locally, Oxford is a really-user-friendly base with superb local amenities and plenty to see locally from Blenheim Palace to Bicester Village or indeed the beautiful university city of Oxford itself.'
Neil Plumb from JMI adds, 'Having operated out of London Oxford for over 20 years, the airport works very well geographically and from an ease-of-use perspective for our prospective clients, it is close to London but with sensible costs.'
Initial operations will be focused on the more popular Citation 510 (Mustang), 525 Series (CJ Series), 560 (Excel/XLS), Falcon 2000 and 900 models but will evolve to meet customer demand.
Photo Caption: In the Hangar at London Oxford Airport with Principals of JMI, (Left) Ed Griffith and (Right) Neil Plumb with Head of Business Development, London Oxford Airport, James Dillon-Godfray (Centre)
AVIAA Establishes Global FBO Network
110+ VIP facilities sign up with the expanding GPO
March 28, 2019 – AVIAA, the world's only global group purchasing organization for business aviation, has added an important new pillar to its business aviation services – a 110+-strong global FBO network.
The US and European-based company invited a variety of FBOs to participate in an RFP process in December, responding to demand from members to obtain valuable savings on their fuel costs in North America and associated FBO services worldwide.   "We had an amazing response," said AVIAA CEO Gillian Hayes, noting that after two months of close evaluation the full line up of participating partners have now been loaded on to the AVIAA Dashboard, enabling members to enjoy a range of preferred pricing, as and when they use them.
The newly selected US and Canadian locations join AVIAA's established FBO partners in the UK, Europe, Middle East, and Asia for a robust network of over 100 locations and growing. Through the network, AVIAA members will receive exclusive pricing on fuel uplift at North American locations, in addition to discounts on handling and other services at all other destinations.
"Our preferred FBO network is a big part of our community building. Just like our jet owners and operators want to join together and aggregate their volume to streamline purchasing, these FBOs are committed to joining together and supporting our community as partners," Gillian added.  In the US, the growing FBO network includes big brands like Jet Aviation at Washington Dulles, Fontainebleau in Oppalocka, and Castle and Cooke, as well as small independent locations. Partners abroad include TAG Aviation, Jetex, Omni Handling, and Aviapartner Executive.
Irena Deville, now Managing Director, EMEA of AVIAA, based in Munich, Germany was previously instrumental in building up preferred FBO suppliers in Europe and commented "It is wonderful to be able to join our FBO networks just as we joined our fleets during the AVIAA acquisition of Convolus. The combined community is truly something special in business aviation."
FAI selects Collins Aerospace's VenueTM  
for 'Project Pearl' – a significant Global Express Refurbishment
March 27, 2019 – Nuremberg, Germany-based MRO, FAI Technik GmbH, part of the FAI Aviation Group, has selected Collins Aerospace's latest VenueTM cabin management system and high definition entertainment system for its latest Bombardier BD700 Global Express cabin refurbishment project, named "Project Pearl."
Project Pearl represents one of the most extensive refurbishment projects for the type. The five month project will include 60, 120 and 240-month inspections and a full cabin refurbishment featuring the new Collins Aerospace Venue.  Passengers can enjoy watching HD movies and listen to enhanced digital audio throughout the cabin. Venue can broadcast a range of other high-resolution content. The project also includes the installation of Honeywell´s Ka-Band broadband technology, delivering ultra-high-speed satellite connectivity.
The architect of the cabin project is German designer Tim Callies, who is well known for his work on Airbus ACJ, Boeing BBJ and Bombardier Global Express interiors.  The luxury interior will feature VIP seating for 12 passengers and include stylish two tone leather seating and two three-seat sofas covered in Armani fabric. Additional modifications and upgrades include new cabinetry, cobalt black metal plating, granite table tops, the latest galley appliances to include a wine cooler, coffee maker and oven and stylish heated stone floors in the galley and toilet area. This will be followed by a newly designed exterior paint scheme.
Priced at USD $ 10.95 m, this unique turnkey Global Express should be very attractive to potential clients flying on business or leisure trips.
Siegfried Axtmann, Founder and Chairman of FAI Aviation Group comments: "We are very much looking forward to presenting this unique aircraft to the pre-owned Global Express market in April.  FAI Technik continues to stretch the boundaries to extend its remit in MRO and this latest project demonstrates our outstanding capabilities in refurbishing Global Express aircraft."
Project Pearl is FAI´s sixth in-house Global Express cabin refurbishment and its third installation of Honeywell´s Ka-band technology on a BD700.
In January 2018, FAI Technik was appointed as an Authorized Dealer for Collins Aerospace avionics and cabin electronics equipment.
 The FAI Aviation Group will participate at EBACE in Geneva 21-23 May, 2019, Avinode Stand #B71.
Caption: Renderings of FAI's latest Bombardier BD700 Global Express cabin refurbishment project.
Vertis Aviation bolsters business with creation of two new team roles
Zug, Switzerland/25 March 2019.  Vertis Aviation, the Switzerland-headquartered charter specialist has created two new team roles. Christian Stokes has been appointed as Business Development Manager with a remit to develop the Vertis Charter Management Programme in Europe and Anna Smahlli has stepped into the role of Charter Sales Executive. As the business continues to grow it is taking the opportunity to merge all its charter and aviation consultancy capabilities into one global offering and the recent appointments support the strategy.
In the newly created role of Business Development Manager Christian is responsible for enhancing brand awareness and attracting new clients to the well-established Vertis Charter Management Program. The tried and tested Vertis model supports owners and operators looking for outsourced professional charter sales management, enabling them to maintain focus on the core competency of aircraft operations. Previously, Christian has helped develop a number of hospitality businesses and joins Vertis after working with a private aviation membership company. Located in Dublin he is geographically and professionally well positioned to use this experience to support Vertis growth on both sides of the Atlantic.
Anna Smahlli joins Vertis as Charter Sales Executive based at the company's Zug, Switzerland, headquarters. The Ukrainian national has worked for more than eight years in the business aviation industry in a variety of positions including flight dispatcher, operations coordinator, as well as in management and business development fields. Using her understanding of the industry Anna is finding new customers, liaising with business partners and maintaining the high-level of customer service standards Vertis is known for as she grows the European and CIS business.
Complementing the team expansion Daniella Dawson, who has worked as Charter Sales Manager for two years in London, moves to the Dubai office to grow the team there. The Middle East has proven a  fertile ground for the highly bespoke, customised service Vertis offers. As the Dubai location enters its seventh year of business the growing regional work load requires additional resources. Daniella will work alongside Vertis Chief Commercial Officer, Catherine Buchanan.
The Vertis team now numbers 12 in total with Vertis offices in Zug, Boston, Dubai and Cape Town. "It is an extremely exciting time for Vertis as we shift our balance from being known for our long-range expertise. This will continue, as will our Vertis Charter Management Programme, but these activities  will be complemented by the development of our short- to mid-range charters. We've always offered them, but we are now strengthening this part of our business to ensure our clients, and the market, can maximise our charter expertise whatever their needs", said Founding Partner, Jeffrey Emmenis.
Vertis markets on behalf of the owner/operators a select portfolio of business aircraft including two Boeing Business Jets BBJ, an Airbus ACJ319, two Bombardier Global 6000, a Gulfstream G450 and a Bombardier Challenger 350
Planet Nine Private Air ("P9PA") places fourth Falcon 7X into service
March 19, 2019 – Planet Nine Private Air ("P9PA"), the Van Nuys, California based private charter operator and aircraft management company, announced today the addition of its fourth ultra long-range Dassault Falcon 7X aircraft to its Part 135 certificate.
The aircraft, registration no. N996MS, is a low-time aircraft with less than 500 hours flown.  It is offered with the distinctive Planet Nine 14-seat luxury executive interior, with Wi-Fi and IFE from Swift Broadband.
"We are proud to be placing into service our fourth Falcon 7X just ahead of our first anniversary in June," commented Matt Walter, Co-founder and Head of Business Development.  "Our customers, whether flying for business or leisure, are attracted to the layout and quiet cabin of the 7X.  With our sharp focus on operational reliability, we are steadily building up a strong base of returning clients."
"As we approach our one year anniversary – on June 22 – we are building trust in the industry, working with a rapidly expanding number of charter brokers, corporations, family offices and UHNWs who are choosing us primarily for flights from the West and East Coasts of the USA to Europe, Russia and the Middle East.  Flights are averaging nearly five hours per sector," he added.  "Our premium business model centers around the Falcon 7X and we are benefitting from the operational efficiencies and low carbon print associated with this type of aircraft."
"Our winter bookings were strong and the remarkable short runway performance of the Falcon 7X gave us an advantage, allowing us to operate to and from airports such as Samedan, Chambery and Aspen.  This summer we are looking forward to flying to Cannes in the south of France," said Director of Sales, Kirti Odedra.
"Planet Nine has become a notable ambassador for Dassault Falcon Jet and our popular, 5,950 nm-range 7X.  Bringing four aircraft into service, three of them under outright ownership, inside of a year, is very admirable.  We congratulate Matt Walter; James Seagrim, Director of Operations and the team for reaching this milestone," said Dassault Falcon Jet President and CEO, Jean Rosanvallon.
"Our close working relationship with Dassault Falcon Jet has been a major factor in achieving a positive nine months of operations," noted Planet Nine Director of Maintenance Joe Ponce.  "Furthermore, the recent strategic move by Dassault Aviation to acquire the MRO facilities of both TAG Aviation and latterly ExecuJet, will further boost the level of support we are receiving."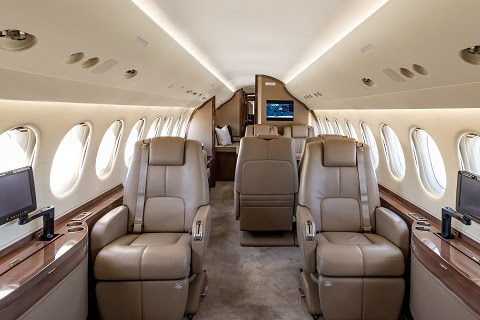 Caption: Planet Nine places fourth Dassault Falcon 7X into service.
Two pilot-owners of TBM very fast turboprop aircraft set a New York-Paris speed record with a TBM 930
Paris, France, March 12, 2019: Daher congratulates the success of two TBM pilot-owners – Dierk Reuter and Phil Bozek – in setting a new world speed record between New York and Paris aboard a TBM very fast turboprop aircraft.
Flying the TBM 930 owned by Reuter, they crossed the Atlantic Ocean in 8 hours and 38 minutes with an average speed of 364 kts., taking off from Westchester County Airport (KHPN) north of New York City, and landing at the historic Le Bourget Airport (LFPB) near Paris – where Charles Lindbergh landed after his pioneering transoceanic crossing.
The TBM 930 beat the previous 325.2-knot record in the C1e category (turboprop aircraft with a maximum takeoff weight under 13,200 lbs./6,000 kg. as established by the Fédération Aéronautique Internationale), which was held since 1985 by the renowned test pilot, Chuck Yeager, on a twin-engine airplane.

"You are true trailblazers," stated Daher CEO Didier Kayat, who greeted them at the airport. "With a spirit of true pioneering aviators, combined with extensive preparations, you demonstrated our TBM aircraft's capabilities – and beat the previous record by nearly one hour. What a performance!"
Planning for the speed record attempt took the crew one year and included such elements as weather prediction over the Atlantic, definition of a route within commercial air traffic corridors, and technical aspects.
Daher CEO Didier Kayat (at right) welcomes Dierk Reuter (center) and Phil Bozek at Le Bourget Airport following the two pilots' record-setting transatlantic flight from New York to Paris
"It was 366 days ago when we first discussed the potential of attempting an around-the-world speed record with the Daher team, which suggested that we could begin with a transatlantic speed record," Reuter explained. "After a detailed examination, we found that the current record in the TBM aircraft category was achievable."
The weather analysis was facilitated by the use of custom-built software created by Reuter, which provided good estimation of favorable winds. His TBM 930 was equipped with a custom-made fuel tank to carry 300 U.S. gallons of jet fuel – bringing the aircraft's total usable fuel quantity to 600 U.S. gallons, ensuring more than 10 hours of flight time.
The additional fuel increased the TBM 930's 7,398-lb. maximum certified takeoff weight to 9,200 lbs., which required an approval from the U.S. Federal Aviation Administration.  The FAA's authorization was issued just a few days before the flight, which took off from Westchester County Airport at midnight on March 8.
"My thanks go to those involved in obtaining the airworthiness approval, in particular Joe Robbins from the Rice Lake TBM Service Center, who was instrumental in dealing with the FAA," Reuter added.
For traffic management, Reuter and Bozek were assisted by air traffic control agencies, primarily from Canada's NavCanada and the French DGAC civil aviation authority and its navigation services, to obtain the most direct routes. In addition, the TBM 930 was equipped for satellite communications and inflight tracking using an Iridium GO! device, and with dedicated support from Iridium Communications. This enabled them to stay in permanent contact with transoceanic control centers.
The two pilots said their flight went well, although the departure was delayed two hours by severe frost in New York area – requiring a full ground deicing at Westchester County Airport.
"After encountering moderate winds during the first part of the trip, we experienced very favorable winds later, which propelled us at astonishing ground speeds up to 458 knots," explained Bozek.
They landed at Le Bourget Airport 2:38 p.m. on March 9, having consumed a total of 520 U.S. gallons – near to the previsions – with sufficient fuel remaining to reach an alternate airport if needed.
Upon their arrival, they were welcomed at Luxaviation lounge, and its partner of the SkyValet handling agent. Greeting them were Daher executives, as well as Jacques Lemaigre du Breuil, a winner of the Lindbergh trophy who flew a similar New York-Paris trip 25 years ago in a TBM 700 at an average speed of 287 kts.
Reuter, 58, is a Chicago-based global finance expert and currently flies his TBM 930 after owning a TBM 850 version for nearly 10 years. He has amassed 4,500 flight hours, half of which have been logged while operating his two TBM aircraft throughout the world – including an exciting trip to Antarctica in December.
The 31-year-old Bozek is a Michigan-based serial entrepreneur and real estate investor who has the distinction of being the youngest owner of a Daher TBM very fast turboprop aircraft. Bozek has flown nearly 3,400 hours (including 800 in his TBM 900) and is a passionate aviator that frequently flies aerobatics and formation demonstrations using his own collection of piston-engine and turbine-powered warbirds.
Nicolas Chabbert, the Senior Vice President of Daher's Airplane Business Unit, saluted Reuter and Bozek for their achievement. "These two pilots have joined others in making aviation history, and are pleased they demonstrated the real capabilities of our very fast turboprop aircraft in setting this new record."
Flying Colours Corp. celebrates employee service anniversaries
Peterborough, Ontario /11 March 2019. Flying Colours Corp., the North American maintenance, repair, overhaul and completions business, recently celebrated employee service anniversaries with a luncheon at its Peterborough, Ontario, headquarters. Debbie Amman, senior vice president finance and administration was acknowledged for working with Flying Colours President John Gillespie for more than 40 years, as was Tony Barrett senior vice president technical services, who has worked with John for 37 years. Both were present to witness the company evolution to a full MRO, interiors and modification business in 1989.
Achieving his AME (Aircraft Maintenance Engineer) license in 1985, Barrett became Flying Colours Director of Maintenance in 1988. He has mirrored the company's development growing from a single hangar and a small team, as he progressed from AME to DOM to VP Maintenance. As the size of the aircraft increased from Pipers and Beech 99s through to Bombardier Challenger types up to Bombardier CRJ size, so Barrett's career progressed to where as Senior Vice President he is supporting the company's ambition to be a team of 500 by the end of the year. "It has been a tremendous journey for me personally and professionally over the decades at Flying Colours. The opportunity to develop a career path through to Senior VP at the same business is a rare one. It is an honour to have worked here for so long. I'm still excited to see what the future brings for Flying Colours as it continues its exponential growth," said Barrett.
At the celebration, Flying Colours provided a catered lunch for employees and honoured 5, 10, 15, 20, 25 and 30-year employees. In all, 111 employees from operations, production, engineering paintwork, maintenance, administration and management groups celebrated a milestone anniversary and received a customized plaque. The ceremony was preceded by a town hall-type discussion where employees were encouraged to ask questions of senior leadership; a hallmark of Flying Colours commitment to transparent management.
"We're proud that we've created a culture where employees are valued and where they choose to stay. We're fortunate to be in a growth mode right now and we're looking for additional people to join our work family, especially skilled craftspeople and aircraft technicians. We're confident that once they join our team, we'll one day be celebrating their service anniversaries, too," says Sean Gillespie, Executive VP Flying Colours Corp
AVIAA Grows Its Customer Success Team
 March 11, 2019 – AVIAA, the expanding group purchasing organization for business aviation is growing its Customer Success team and enhancing its data infrastructure to support a widened membership of nearly 500 aircraft. The move follows hard on the heels of AVIAA's acquisition of Convolus and establishment of an office in Munich, Germany, headed by Managing Director Irena Deville.
AVIAA's Customer Success Team works closely with members to help them understand the process and analytics of the cost savings they are accruing. "We advise members as they move into new sectors, whether they are transferring from Part 91 to 135 operations; adding a new aircraft type or introducing new capability that may justify adding a new pillar of spend," explains AVIAA COO Rick Tilghman.  The Customer Success team also advises members on when there are available slots in training and when best to plan maintenance visits, working on a day to day basis with its supply chain.
AVIAA has just welcomed Don Hitch into the dedicated role of Vice President – Customer Success.  Don joins the business with a firm understanding of how to optimize luxury assets, having established and successfully ran the (Part 91) flight department for California's The Wonderful Company LLC as Vice President of Aviation. He brings 35 years' experience in Part 91, 135, and 125 flight operations as both pilot and manager.  Senior leadership roles include serving as President of AMI Jet Charter, a TAG Aviation subsidiary.  Don has also served on various NBAA Committees and currently serves on the Business Aviation Managers Committee (BAMC), which supports the prestigious CAM program.
Dn leads a stellar team of aviation professionals. Lori Jones is Director of Customer Success in the US, having joined AVIAA last summer from charter specialist West Coast Aviation. Sarah Holian, formerly with StrataJet in London, supports AVIAA's UK, European, and Middle Eastern members. AVIAA's most recent hire, Matthew Suedkamp, was most recently Director of Flight operations for Elon Musk's rocketry company SpaceX.
"AVIAA works with preferred partners in every supply category, from fuel, handling, insurance, maintenance, satcom, and more," AVIAA EMEA MD Irena commented about the added capabilities the AVIAA acquisition has provided. "Having a dedicated Customer Success Team is a great benefit to our members, ensuring that they're supported at every level of the procurement process."
AVIAA CEO Gillian Hayes at Revolution.aero
Gillian Hayes, AVIAA CEO, is speaking at Corporate Jet Investor's Revolution.Aero Conference on Monday 11th March on the panel:  Making Business and Personal Aviation More Efficient.  www.revolution.aero
 Photo caption: Left to right, AVIAA grows its Customer Success Team with Matthew Suedkamp, Don Hitch and Lori Jones.
Falcon Aviation to showcase at first Saudi International Airshow
 Eyes helicopter/business jet charter opportunities and MRO/FBO customers in Saudi Arabia
March 10, 2019 – Falcon Aviation, a leading business aviation services company in the UAE, is exhibiting at the new Saudi International Airshow (12th to 14th March) to highlight its helicopter and business jet VIP air charter services, together with its MRO and FBO capabilities.
"We are very pleased to participate and showcase our various capabilities," said Captain Raman Oberoi, COO of Falcon Aviation.  "We are especially looking forward to meeting prospective customers, and building strong partnerships."
The region is ideal for helicopter activity, Capt Raman suggests, emphasising Falcon Aviation's considerable experience in the sector.  Its helicopter touring operation in the UAE has grown substantially. Likewise, Falcon Aviation's helicopter filming activity out of the UAE has experienced growth and in Saudi Arabia (KSA) it is a regular visitor with its fleet of VIP/VVIP charter helicopters and business jets.
GACA approval for Falcon Aviation MRO
Falcon Aviation is looking forward to building on a strengthened aviation relationship with Saudi Arabia.  Early in 2019 it won approval from Saudi Arabia's General Authority of Civil Aviation (GACA) to provide MRO services on Saudi registered business jets.   "We have been approached by a number of Saudi business jet operators and have started taking bookings for base maintenance at our MRO facilities in UAE," said Nicolas Tejera, Director of Maintenance of Falcon Aviation.   "We also offer line maintenance support, parking, hangarage for business jets at our Abu Dhabi and Dubai DWC bases," he elaborated.
Falcon Aviation is looking forward to formally opening its new MRO for business jets at DWC Al Maktoum International Airport in Dubai South soon, complementing its established MRO and HQ at Al Bateen Executive Airport in Abu Dhabi. The newly built hangar in over 24,000-sqm land, includes workshops, wash bay and landside office space with an additional 13,000 sqm of apron, providing plenty of aircraft parking spaces.  The new facility complements Falcon Aviation's VIP FBO at Dubai South and heliport (also run and managed by Falcon under its AOC).  At the same time, Falcon Aviation's Al Bateen facility is being expanded to become a leading centre for third party regional turboprop aircraft MRO, supporting Bombardier Q400 aircraft and eventually, other types. Falcon Aviation also offers extensive Helicopter MRO capabilities at the base too.
During the MEBAA Show at the end of 2018 Falcon ratified a new partnership agreement with Honeywell Aerospace to become an authorized Channel Partner in the region.  (This programme was created by the OEM to help its regional dealerships to market the company' solutions more efficiently.) Falcon offers part programmes and technical support.
Kuwait Helicopter Oil Contract commences with Leonardo AW169s
Reinforcing it is open to exploring new opportunities in new regions, with new partners, Falcon Aviation has just commenced a new offshore and onshore operation in Kuwait with three new Leonardo AW169 helicopters dedicated to the Kuwait Oil Company (KOC).  Falcon built the new 2,000-sqm hangar at the 160,000 sqm heliport located in the oil company's premises last year to support the operation.
Over the last four years Falcon Aviation has successfully introduced 19-seat AW189 helicopters for the Abu Dhabi National Oil Company (ADNOC) and is now the world's lead operator of this helicopter type. Similarly, in 2016, to meet the OGP standards for TOTAL oil and gas operations in UAE, it introduced an eight-seat AW169 and is now world leader on the type.
Falcon Aviation's Managing Director leads the strong Falcon Aviation contingent attending the Saudi International Airshow, which includes senior management from Falcon's Engineering, FBO and Sales Divisions.
Daher follows TBM customers tentative to break the New York-Paris speed record for light turboprop aircraft
Tarbes, France, March 9, 2019: Daher is following the attempt of two TBM pilot-owners using a TBM 930 very fast turboprop aircraft to break a world speed record between New York and Paris, which has been held since 1985 by the famous test pilot, Chuck Yeager.
The record attempt began yesterday, March 8, at Westchester County Airport (KHPN) north of New York City, with a takeoff at midnight local time.  They are expected to land at Paris' historic Le Bourget Airport (LFPB) this afternoon. Paris –  where Charles Lindbergh landed after his pioneering North Atlantic crossing.
They will be hosted at Le Bourget Airport, by Luxaviation, which is a business aviation services company and his  partner SkyValet will provide handling support for the speed record aircraft.
"We are ready to host the arrival of this milestone flight and are proud to be a part of an exciting aviation adventure," commented Barbara Prieto, Sales Executive Manager of Luxaviation France.
Pilots Dierk Reuter and Phil Bozek have worked extensively over the past year with officials on both sides of the Atlantic to challenge the record in the C1e category (turboprop aircraft with a maximum takeoff weight under 13,200 lbs./6,000 kg.) as established by the Fédération Aéronautique Internationale (FAI) – the world governing body for air sports. They also expect to break the New York – Paris speed record in a TBM 700 established on June 27th, 1994, 25 years ago by Jacques Lemaigre du Breuil with an average speed of 287 kts.
Reuter, 58, is a Chicago-based global finance expert and currently flies his TBM 930 after owning a TBM 850 version for nearly 10 years.  He has amassed 4,500 flight hours, half of which have been logged while operating his two TBM aircraft throughout the world – including an exciting trip to Antarctica in December.
"Phil and I are excited to fly a TBM 930 across the Atlantic non-stop for the first time ever," Reuter said.  "We're confident in the TBM's capabilities to challenge the speed record – and succeed."
The 31-year-old Bozek is a Michigan-based serial entrepreneur and real estate investor who has the distinction of being the youngest owner of a Daher TBM very fast turboprop aircraft. Bozek has flown nearly 3,400 hours (including 800 in his TBM 900) and is a passionate aviator that frequently flies aerobatics and formation demonstrations using his own collection of piston-engine and turbine-powered warbirds.
Bozek stated: "The advances in aviation efficiency and technology over the past 35 years are astounding, especially considering that the TBM didn't even exist when the New York-Paris speed record was last set. Using the TBM – with less fuel and one less engine than the previous record-holding aircraft – we are traveling the same distance significantly faster. I'm completely confident in the TBM and its Pratt & Whitney Canada PT6 engine…even when we are thousands of miles from shore."
Nicolas Chabbert, Senior Vice President of Daher's Airplane Business, acknowledged the extraordinary aspect of the upcoming speed record attempt, thanking Dierk Reuter and Phil Bozek for their commitment to the TBM as passionate owner-pilots. "Dierk and Phil can count on the Daher team's full support as they demonstrate the real capabilities of our very fast turboprop aircraft. We look forward to greeting the new record-holders after they retrace the steps of other pilots who have made aviation history."
To fly the 3,139-naut. mi. route non-stop from New York to Paris, Reuter's TBM 930 has been fitted with the additional fuel tank, which will carry 300 U.S. gallons of jet fuel – bringing the aircraft's total usable fuel quantity to 600 U.S. gallons, ensuring more than 10 hours of flight time.
A permit for the record attempt has been delivered by the U.S. Federal Aviation Administration, allowing the aircraft to take off at an increased weight of 9,500 lbs. compared to the TBM 930's certified maximum takeoff weight of 7,398 lbs.  In addition, the airplane is equipped for inflight tracking using an Iridium GO! device, and with dedicated support of Iridium Communications.
BBGA honours Penny Stephens, CEO of Inflite The Jet Centre, with its prestigious Michael Wheatley Award
8 March, 2019 – Penny Stephens, CEO of Inflite The Jet Centre and vocal proponent of business aviation, was heralded yesterday by the British Business Aviation Association (BBGA) as the recipient of its prestigious Michael Wheatley Award for Outstanding Services to the general aviation industry.  The award was presented by BBGA Chairman Marwan Khalek and Marc Bailey, CEO of BBGA, during the Association's annual conference at Luton Hoo, attended by over 140 industry delegates and guests.
"This award is in recognition of the remarkable contribution Penny has given and continues to make to our industry.  She has successfully helped evolve a family-run, independent business into a thriving, international focused concern in MRO and executive aviation handling for over three decades, without losing any of those family-held values.  Her selection for this accolade was unanimous," said Marc Bailey, BBGA CEO.
Penny's interest in aviation began aged 17, when she learned to fly at the Southend Flying School.  Her first aviation job was with Thurston Aviation in Stapleford, working alongside the legendary Eric Thurston.  Serving initially as a secretary, she swiftly moved into administration, then took on a dual operational role in ATC and as a pilot assistant.  This is where, aged 20, she met her future husband, Ray Stephens, whose Piper Chieftain was based there.
After a career break to have a family, Penny joined Ray at his fledgling aviation company, Inflite in 1992.  She quickly took on all aspects of the MRO business and was instrumental in signing up legacy airlines such as Aer Lingus and Lutfhansa to support their BAE 146 regional jets.  A strong relationship with BAE Systems saw the 500th C check pass through Inflite's hangar.
With a keen flair for design, in 2005 Penny completely re-designed the Inflite offices, lounges and FBO facility.  (To anyone who has ever visited the Inflite FBO and MRO the outstanding quality of these facilities is testament to Penny's attention to detail).
Penny has always been swift to recognize an opportunity, acknowledges her daughter Pauline Monksfield, Director of Operations at Inflite.  In 2006 prolific business entrepreneur Lord Alan Sugar and Managing Director of Amsair Daniel Sugar contacted Penny.   Daniel wanted to have their brand new Embraer Legacy 600 aircraft maintained in the UK rather than Europe.  Could Inflite help?  The Legacy was brand new to the market, but taking it on and training engineers on the type proved to be a smart decision by Penny and Ray.  Today, Inflite The Jet Centre is the largest EMEA Authorised Service Centre for the Legacy, Lineage and Phenom family.
In 2012, as CEO, Penny transformed Inflite The Jet Centre into a luxurious dedicated FBO and MRO, responding to a gap in the market for larger 'VVIP' lounges to host executive flights.
Gene Willson, Chairman of Titan Airways echoes Pauline's endorsement.
"There are many businesses that have made their mark in the UK aviation industry for their high levels of customer service, loyalty and professionalism. Often there are individuals behind these businesses that have made these qualities stand out because of their care, attention and dedication.  With over three decades running the Inflite FBO at London Stansted, Penny has built her business to be one of the most successful and respected in the sector.
I have had the privilege of watching Penny develop her business, in parallel with our own, and have seen the Inflite FBO become one of the most stunning facilities available.   Penny is remarkable, a true professional in her field, who cares passionately about her business, her staff and her family.  Titan Airways takes on many challenging operations, World record breaking flights, Government and Royalty, unusual charter operations, rock and pop tours, and Penny, along with her colleagues, always rises to the challenge of handling these flights.  I am very pleased that Penny has achieved this accolade for her services to the aviation industry. It has a been an honour and pleasure to have been alongside her on this amazing journey." 
Alan Barnes, Head of Customer Service, who has worked with Inflite for 20 years in various engineering and senior leadership roles, adds: "There is an unsurpassed drive to achieve the impossible and offer solutions to this demanding sector.  That drive is within Inflite's DNA and that DNA is derived from Penny and other members of the family's Board. Penny installs responsibility, confidence and exactly the right level of accountability.  She is exceptionally thoughtful and respectful to her 70-strong employees.  This award is well deserved."
Inflite The Jet Centre's expansion continues.  Last month the business acquired Bombardier Challenger and Global Express specialist, Excellence Aviation of Farnborough, adding capability in Bombardier Global and Challenger MRO, CAMO and aircraft management to Inflite's long-established activity on Embraer and Boeing BBJs.
Two pilots will attempt to set a New York-Paris speed record with a TBM very fast turboprop aircraft
Chicago, Illinois, USA, March 7, 2019: Pilots Dierk Reuter and Phil Bozek will use a TBM 930 in an attempt to break a world speed record between New York and Paris, which has been held since 1985 by the famous test pilot, Chuck Yeager, and Jacques Lemaigre du Breuil's performance on a TBM 700 in 1994.
Reuter and Bozek have worked extensively over the past year with officials on both sides of the Atlantic to challenge the record in the C1e category (turboprop aircraft with a maximum takeoff weight under 13,200 lbs./6,000 kg.) as established by the Fédération Aéronautique Internationale (FAI) – the world governing body for aeronautical and astronautical records.
Currently targeted during the first half of March – weather conditions permitting – the attempt will use Reuter's TBM 930. It has been equipped with a custom-made fuel tank to carry 300 U.S. gallons of jet fuel – bringing the aircraft's total usable fuel quantity to 600 U.S. gallons, ensuring more than 10 hours of flight time.
Reuter, 58, is a Chicago-based global finance expert, while the 31-year-old Bozek is a Michigan-based serial entrepreneur and real estate investor.
The flight is to begin at Westchester County Airport (KHPN) north of New York City, and will conclude at Paris' historic Le Bourget Airport (LFPB) – where Charles Lindbergh landed after his pioneering North Atlantic crossing.
Daher unveils the TBM 940
The new model will bring more automation in the cockpit to ease handling of the very fast turboprop aircraft with a smart and stylish cabin
Pompano Beach, Florida, USA, March 7, 2019 – Daher today introduced the latest version of its single-engine very fast turboprop aircraft – the TBM 940 – which sets new standards with the integration of an automated throttle and automatic deicing system, along with enhancements to style and ergonomic elements inside the cabin. Succeeding the current TBM 930 as the upper-end product in Daher's TBM family, the TBM 940 marks important steps forward in further upgrading aircraft performance, safety and comfort. The TBM 940's launch was announced today during the Safety Seminar meeting of the TBM Owners and Pilots Association (TBMOPA), held in Pompano Beach, Florida, USA. "The TBM 940 redefines the ultimate private aircraft: user-friendly, safe and efficient for both pilots and passengers," said Nicolas Chabbert, Senior Vice President of the Daher Airplane Business Unit. "This newest TBM family member underscores our firm commitment to constant improvement for the ownership and operational experience with our very fast turboprop aircraft." One key TBM 940 feature is its automated throttle – the first ever installed on a standard production turboprop aircraft weighing less than 12,500 lbs. (5.7 metric tons). Fully integrated with the autopilot, this single power lever autothrottle automatically adjusts the aircraft's speeds based on the preset flight profile – from climb-out to the landing approach. In addition to reducing pilot workload, the autothrottle enables a TBM 940 to be operated to the edge of approved power regimes for its Pratt & Whitney Canada PT6A-66D turboprop engine, providing optimum performance and efficiency from the powerplant. Engine parameters display is also simplified through an intuitive single smart gauge. Also introduced on the TBM 940 is increased automation for the deicing system – another first in the TBM's aircraft category. When icing or ice accretion is detected – and if the pilot does not take action – the system is automatically activated for deicing of the airframe, windshield, propeller and the engine's particle separator. An amber CAS (Crew Alerting System) message
is displayed by the avionics, advising the pilot to clear the automatic activation and revert to the manual control mode. The automatic deicing protection and autothrottle are fully aligned with Daher's e-copilot® strategy of introducing functionality for improved operational safety on the TBM product line.
Inside the TBM 940's cabin, Daher has incorporated ergonomic and style upgrades that include redesigned seats, additional thermal insulation for the cabin sidewalls, a new central shelf with side storage, an additional 115V electrical outlet at the right rear seat panel, and USB ports (bringing the overall total of USB ports to six for passengers and three for the pilots).
The TBM 940 retains the same range and handling qualities that made Daher's TBM 900 series a true success, with more than 267 aircraft in this product line delivered from the overall production to date for the very fast turboprop aircraft.
Certification of the TBM 940 by the European Aviation Safety Agency (EASA) and the U.S. Federal Aviation Administration (FAA) is expected to be received at Aero Friedrichshafen 2019, the largest European airshow for general aviation, allowing new aircraft deliveries late spring this year.
Aero Asset helicopter brokerage debuts at HAI
 Presents industry's first Pre-owned Market Trends report
 HAI Heli-Expo, Atlanta, GA, March 4, 2019 –  Aero Asset, the new global helicopter brokerage from established international helicopter sales professionals Emmanuel Dupuy, William Sturm and Valerie Pereira, formally launches today (March 4th) at HAI Heli Expo in Atlanta.
Headquartered in Toronto, Canada, with a global reach, the entrepreneurial and multi-lingual trio, pledge a fully immersive approach to marketing pre-owned heavy, medium and light twin helicopters, drawing on their deep understanding of the market over a combined 50-plus years.
Emmanuel and William lead sales and Valerie, a renowned specialist in aircraft market research, is business development and research director.
"We believe the time is right for an independent, advisory-focused helicopter brokerage.  The pre-owned market took an upturn in 2018, after several years of flatlining and we look forward to that trend continuing on an upward curve," said Aero Asset co-founder and Sales Director William Sturm.  "We are looking forward to pushing boundaries with our new business and intend to deliver an unrivalled level of customer service."
Unveils Pre-owned Helicopter Market Trends Report (2018)
Central and distinctive to Aero Asset's business is its ground-breaking 'Pre-owned Helicopter Trend Report (2018).'  Drawing on its proprietary intelligence and close knowledge of the market, the Aero Asset report analyses 15 twin-engine models in the light, medium and heavy categories, from the Airbus H135 to Sikorsky S92A.   It is published to coincide with HAI Heli-Expo, the premier global helicopter showcase.
"We are ranking pre-owned helicopter markets by liquidity, and outlining drivers and highlights for each market segment," co-founder Emmanuel Dupuy explained.
"Brokers and dealers cultivate a short view of the markets, leveraged by intel from past deals and best buys available for sale.  The data is very refined.  This report aggregates 2018 helicopter trading intel and compares it with the previous year. The Report focuses exclusively on twin engine pre-owned markets, leveraging key comparative indicators to establish a ranking of the best and the worst performing pre-owned twin engine markets in 2018."
Light twin market, led by the Airbus EC135/H135, market leader in terms of trading activity
Twin-engine helicopter trading was up 9% in 2018 versus 2017, Aero Asset's Report highlights, with the light twin market generating the most activity, up 13% over 2017.  Average absorption rate decreased 40%, compared with 2017, with the most significant reduction showing in the medium twin market.
Out of the 13 pre-owned markets covered:  Nine had lower absorption rates than 2017, two were on par and two had a higher rate.  Nine had higher trade volume than 2017, two were on par and two had lower trade volume
The No 1 performer in 2018 was the AirbusEC135, with 30% of models traded being less than 10 years old and 80% less than 15.  Only 10% of buyers were outside the US and EU and 80% of transactions involved EMS/or EMS conversions. The EC135's absorption rate in 2018 was one year.  A total 33 preowned EC135's were traded in 2018.
The Leonardo A109E Power ranked second, with nearly twice the absorption rate of the EC135.  With 24 units sold in 2018, the type maintains strong liquidity, according to Aero Asset's Report.  A total 40% of these aircraft were sold in Africa, Latin America and Asia, with a minority (15% of the total sales) as EMS variants.
Ranked third is the Leonardo A109S / AW109SP.  GrandNew sales doubled, while classic Grand sales declined 40%.  Dealer purchases accounted for one third of all pre-owned transactions in this market.
The Bell 429 topped Bell Helicopters' liquidity line up in 2018.  Trading activity was dominated by VIP models and less than five-year-old aircraft.  Half of the buyers were from the US; 50% from Asia and Europe.  With an absorption rate of two years and seven units sold, 30% up on 2017, the Bell 429 is ranked 6th.
Sikorsky's S76C+ and S76C++ are ranked seventh, with an absorption rate of 3.5 years.  S76C++ sales doubled in 2018, while S76C+ sales declined slightly.  Eleven were sold in 2018, the same as 2017.
In its retail sales and supply analysis (by weight class) Aero Asset's Report shows light twin helicopter transactions totalling 90 – up 13% over 2017.
Medium helicopters are unchanged at 44 and heavy helicopters (the EC/H225 and Sikorsky S92) up 30%, with three pre-owned models sold in 2018. The contrast on sales / versus supply is most noteworthy on the Sikorsky S76C+/C++ (11 v 38) and Bell 412 (seven sold / versus 30 available).
"We are very pleased to present this Report at this week's HAI Heli Expo and are already working on the next edition, which we plan to publish Q2," Emmanuel added.
Bestfly becomes first business aviation company in Angola to achieve IS-BAO Stage 2
Luanda, Angola/4 March 2019– Bestfly, the Angola-based aviation services company, has achieved IS-BAO, International Standard for Business Aviation Operators, Stage 2. This is the first time an Angolan business aviation company has been awarded the status, which is designed to help flight departments and operators achieve a high level of safety and professionalism. It also makes Bestfly one of the very few companies in Africa to achieve the standard.
The IS-BAO Stage 2 audit assessed the maturity of Bestfly's Safety Management System (SMS), and the subsequent certification confirms Bestfly is successfully implementing the highest levels of operational safety, and mitigating risk by adhering to its robust SMS. It also acknowledges that Bestfly is delivering a level of service that meets the sector's exacting international standards. IS-BAO Stage 1, awarded to Bestfly in May 2017, confirmed the business had closely reviewed its operations to establish, and follow an SMS to meet the necessary standards required for IS-BAO certification.
The accreditation, which is managed by the International Business Aviation Council, IBAC, is only awarded to an operator following an independent audit that examines all areas of business operations. Holding IS-BAO status is commonly thought of as achieving the pinnacle of industry standards for business aviation operators and gives confidence to customers that specific levels of day to day operational procedures are being followed and met. As with Stage 1 the audit required Bestfly to invest significant amounts of time, money and personal effort from the local team to achieve the goal.
"The certification demonstrates our continued commitment to safety and professionalism and is a credit to all our employees. It also gives our international clients and partners confidence in our operating capabilities. We want customers to automatically associate Bestfly with best-in-class operations and to choose us when travelling in Angola. The Stage 2 accreditation gives them the assurance that we operate to the same high standards as other leading international business aviation organizations," said Nuno Pereira, CEO, Bestfly. "As Angola, and Africa, continues to develop its business aviation sector we hope that more African companies will be inspired to achieve the IS-BAO accreditation," added Pereira.
Switzerland-based GCS Safety Solutions conducted a thorough audit which took approximately two months to complete, with minimal recommendations made. The company has also been certified by the Angolan CAA, and the Aruban Department of Civil Aviation and holds AOCs from each. As well as being audited and approved by leading oil and gas companies Bestfly holds Third Country Operators approval from EASA all of which supports its work operating and assisting foreign-registered aircraft. The awarding of Stage 2 supports Bestfly's continued operations of these aircraft and positions the company as a leading African company committed to adopting international standards for aircraft flying in and out of Angola.
Airpart Supply Ltd appointed as an Authorised Factory Distributor for Meggitt Wheels and Brakes
February 27, 2019 – Airpart Supply Ltd, the expanding UK aircraft parts distributor supporting commercial airliner, business and general aviation aircraft, is pleased to announce a new contract with Meggitt Aircraft Braking Systems effective January 2019 as authorised distributor for wheels and brakes in the territories of Europe, Middle East and Africa.   A large inventory of Meggitt wheels, brakes and parts will be available for same day shipping from Airpart's warehouse and corporate HQ at High Wycombe, Bucks, close to London's Heathrow Airport.
"We are very pleased to be appointed a distributor by Meggitt Aircraft Braking Systems, a world-renowned industry innovator and manufacturer" commented Airpart Supply Chairman David McHugh.   "It is a great start to the yearto be adding Meggitt Aircraft Braking Systems to the portfolio of original equipment product lines we proudly represent."
Airpart Supply, a privately owned company, established in 1984, has a very active sales force who travel extensively worldwide, specialising in turbine, corporate, regional and airline support.   They work closely with operators and MROs on bespoke supply solutions and a variety of conversions and upgrades
Krimson marks handling of 150th flight since operations began in 2015
Addis Ababa, Ethiopia/20 February 2019 – Krimson Aviation, the Ethiopia-based trip planning and flight support company marked the handling of its 150th flight  since inception this month. The company based at Addis Ababa Bole International airport (HAAB) welcomed a flight from Angola-based aviation services company Bestfly, for its 150th milestone. The Bombardier Global Express, which is one of 17 managed aircraft including two helicopters, in the Bestfly fleet, landed in to Addis Ababa on the 5th February. A regular Krimson client, the Bestfly crew required landing permits, fuelling, crew hotel accommodation and ground transportation.
The handling of its 150th flight demonstrates the exceptional growth Krimson has experienced, from managing 15 flights in its first two years to reaching its 150th flight this month. It also reflects the rapid growth of the African aviation business aviation sector. Dawit Lemma, Founder and Managing Director, attributes the rise in activity to a number of factors. An increase in clients from international handling companies which recognise the value of using a local company that understands regulatory, cultural and business nuances. The ability to meet international expectations within the local environment making flight operations more efficient and giving passengers and crews a better Ethiopian experience, and an expansion in locations served.
The business began handling requests solely for Addis Ababa Bole airport but in 2018 started serving all major points of entry in and out of Ethiopia including Bahir Dar Airport, (HABD), Dire Dawa Airport, (HADR), and Mekelle Airport, (HAMK). Trip planning and flight handing for flights originating or departing from a number of smaller Ethiopian airports,  including Arba Minch, (HAAM), Dessie (HADC), and Gondar (HAGN), airports strengthened its position. Business growth has also been fuelled by expansion beyond Ethiopia as Krimson now regularly supports flight operations in Djibouti, Eritrea, South Sudan and the Democratic Republic of the Congo.  A strong financial structure, and a good commercial reputation continue to provide solid foundations for further organic business growth.
"I'm proud what we've achieved, but I'm even more proud of our culture of service," said Switzerland-originating Lemma. "We've introduced Swiss efficiency to the Ethiopian landscape which gives our clients real confidence and enables us to manage even the most complex of challenges. One that really sticks in my mind is a medical evacuation out of Gondar. It required significant coordination with multiple authorities, the medevac operator and a local air ambulance service. We used both our flight support and charter brokerage services in the same operation, and the passenger was able to receive the medical attention she needed. We also established precedents now used by all operators and agencies when faced with similar circumstances."
Lemma identifies the biggest operational challenge as obtaining clearances for aircraft landing outside of HAAB, especially when it is a non-point of entry. These clearances require a significant amount of documentation to be submitted to the Civil Aviation Authority and the Ministry of Defense. By establishing trust with both, Krimson has reduced the time to obtain the clearances and built a customer base which values access to the permits.
"We have managed to show all of them that we are a company that operates ethically, and follows the right guidelines and laws," he says.  Looking forward, Krimson is on a trajectory to manage 200 flights and obtain 300 permits in 2019 alone as the business continues to offer full flight support, ground handling, charter brokerage and other aviation services within Ethiopia and East Africa.
Inflite The Jet Centre acquires Excellence Aviation
Expands into Bombardier Global and Challenger MRO, CAMO and aircraft management
Inflite The Jet Centre, part of the Inflite group of companies, based at London Stansted Airport, is pleased to announce today (20th February) the acquisition of Bombardier Challenger and Global Express specialist Excellence Aviation Services.  The purchase includes Excellence Aviation Services Ltd, its Part 145 organisation and CAMO, as well as Excellence Aviation Ltd, its Part NCC aircraft management business.
With fresh investment and a dedicated home within Inflite's 250,000 sq ft hangar space, Excellence Aviation Services' line station activity will expand to offer full base maintenance at Stansted for Challenger and Global Express aircraft.  Inflite, meanwhile, will continue to grow its Embraer executive jet MRO, together with its BBJ work.
While London Stansted will be EAS's new HQ effective immediately, it will continue to offer line maintenance at London Oxford, Luton. Stansted and Farnborough Airports.  Its 12 staff, to be joined shortly by two more licensed engineers, will further strengthen Inflite's 60-strong MRO team.
EAS Founder Colin Solley and partner Mike Smith will remain with the business and play a significant role in shaping the group's growth plans, said Christoffer Creutz, Inflite The Jet Centre's Managing Director, who joined from Lufthansa Technik two and half years ago.
"This strategic acquisition is a perfect fit for us," said Christoffer Creutz, acknowledging the two businesses have been in collaborative talks for some time.   "Excellence Aviation Services' Bombardier capabilities and services complement our long-established activity on Embraer and Boeing BBJ platforms and together with our dedicated VVIP Corporate FBO at Stansted, we can offer a full turnkey solution to EAS' customers too."
"Future proofing our business"  – Christoffer Creutz
 "The deal future proofs our business and we will duly be setting about cross training and sharing manpower to further expand our capabilities and UK coverage," Mr Creutz added.
"We are both delighted and honoured to be joining the Inflite family.  We had a couple of potential suitors, but Inflite was certainly the right partner for us," commented Colin Solley, founder of EAS.  "I have known Penny Stephens, the owner and CEO of Inflite The Jet Centre, since 1995 when I was director of maintenance for a Family Office flight department and the company has always had a terrific reputation for professionalism and outstanding commitment to their customers."
Colin Solley founded Excellence in year 2000 with Mike Smith joining in 2007, between them they have over 55 years of experience in the business aviation sector.
Inflite The Jet Centre  provides an extensive range of aircraft handling, engineering and support services from purpose built and newly refurbished premises.  With 30 years' experience the company's success has been built on the pursuit of excellence and a total commitment to maintaining the quality of its highly skilled workforce and state of the art facilities.  Its MRO and VVIP award-winning FBO and MRO facilities are located at London Stansted Airport.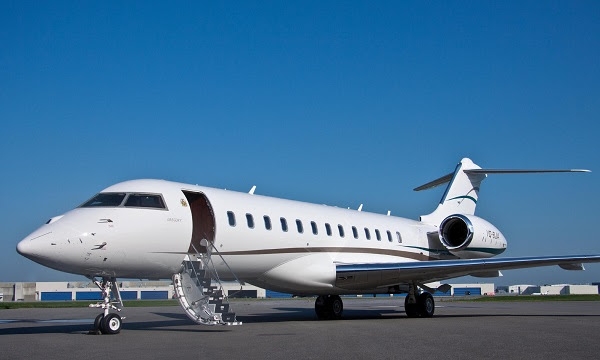 Caption: Through Excellence Aviation Services Inflite moves to Bombardier Global Express MRO.
Oriens Aviation expands into Pilatus PC-24 sales and support
Oriens Aviation announced today (20th February) it has signed an agreement with Pilatus Aircraft Ltd to extend its exclusive UK and Ireland Authorised Pilatus Centre at London Biggin Hill Airport to the PC-24 Super Versatile Jet, effective immediately.  In readiness, it is ramping up tooling and sending engineers to Stans, Switzerland for training to add the twin-engined jet to its Part 145 MRO approvals. It expects to achieve this by the end of the third quarter.
"We are delighted to be widening our partnership with Pilatus with the new PC-24 and looking forward to creating a sales centre showcase at our Biggin Hill home," said Oriens Aviation CEO Edwin Brenninkmeyer.
He added: "The aircraft is a real game-changer in the light jet market, blending the short field performance of a turboprop, the speed of a light jet and a generous cabin, akin to that offered by mid-sized jets. The large cargo door, 10 passenger seats and unique unpaved field performance capable of landing and taking off from both paved and unpaved runways of 893m and above makes this jet unlike any other."
"We are very pleased to extend our relationship with Oriens Aviation to the PC-24.  Edwin and his team have proved to be a terrific partner supporting the PC-12 since the outset and naturally we endorse their credentials as a valued Pilatus family ambassador," commented Ignaz Gretener, Vice President General Aviation of Pilatus.
Oriens marks first year as Authorised Pilatus Service Centre
Oriens' announcement today comes on the first anniversary of the business opening its Authorised Pilatus Service Centre and a successful four years as the OEM's representative, facilitating the introduction of 10 Pilatus PC-12s into service in its region.
Oriens' mission is to deliver a high quality, responsive, end to end service to all Pilatus Customers – from sales, AOC and aircraft management advisory, MRO and most recently, pilot training.
Its MRO activity was recently bolstered with the addition of Stuart Locke, from TAG Farnborough Maintenance Services as General Manager, at the beginning of this year.   He plans to triple the number of productive manhours, 90% of which is devoted to the Pilatus PC-12, versus 2018, through the introduction of new processes and work methods, responding to the peaks in MRO activity. Oriens is also upping its technician and engineering resources.
 Oriens Maintenance is now able to offer swift responsive AOG support at airports and small airfields around the UK & Ireland with the introduction of a fully equipped vehicle as a mobile support centre & workshop.  It is big enough to carry an electrical /air generation system, large components, jacks, even a Pratt & Whitney Canada PT6 aircraft engine.
Late last year Oriens agreed an alliance with Oysterair and secured UK CAA approval to commence pilot training courses at its Biggin base.   To date, one PC-12 Legacy renewal course has been completed and two active PC-12NG courses are currently ongoing.  "The emphasis is to combine traditional teaching methods with modern multi-media platforms in a course that covers EASA and FAA approvals and class ratings. All PC-12 instructors working with Oriens actively fly the PC-12 as line pilots," said Jonathan Shooter, Managing Director of Oysterair, adding he is delighted to bring this offering to London Biggin Hill in collaboration with Oriens.
Through close collaboration with fractional PC-12 operator Jetfly and Bournemouth Aviation Services, Oriens Aviation is now supporting over 20 Pilatus PC-12 aircraft with a number of private UK customers moving over from Bournemouth.  From 1st January 2019 the Bournemouth facility is dedicated solely to supporting Jetfly aircraft.
 Caption: Oriens Aviation to expand Pilatus remit to PC-24.
Enhanced customer support
Ahead of the PC-24 support Oriens is also enhancing its customer service capabilities. Susan Duke, the former MD of Motorcycle UK Ltd joins as Business Support Manager, while Charlotte Wroe, who has served as Executive Assistant since joining Oriens in 2017, is now Customer Relationship Manager.  Prior to joining Oriens she worked as International Marketing Executive in Ireland with the Shannon Group.
Satcom Direct (SD) to provide engine utilization data to Rolls-Royce
Melbourne, Florida / 18 February 2019 – SD has entered a formal arrangement with Rolls-Royce to deliver business aviation engine utilization data directly to the OEM via the SD Pro Operating System, using the SD FlightLogs post-flight data recording module. SD FlightLogs automatically captures flight data and cycle events in real time from the aircraft via its datalink service, and once it is verified by the customer, it will be automatically sent to Rolls-Royce. The result is the recording of extremely accurate and valuable information that Rolls-Royce can use to further understand the utilization of its engines.
"This reporting adds another level of understanding for Rolls Royce by providing automated, current information via our SD FlightLogs and SD Pro tools. Until very recently this sort of information was often hand-written so could be easily mis-understood, mis-recorded or lost. We are aiming to work with Rolls Royce to modernize the process which will eventually enhance the value of our customers assets through better maintenance management. Our digital platform can be a rich source of data, and we hope to develop the agreement further in the near future," said Chris Moore, chief operating officer, SD.
"The service agreement with Satcom Direct is another important part of bringing our pioneering IntelligentEngine vision to life, where product and service become indistinguishable thanks to advancements in digital capability," said Axel Voege, Head of Digital Operations Germany, Rolls-Royce. "SD's platforms auto captures in-flight data such as engine cycles and flight hours, automatically providing extremely accurate and immediate reporting to our dedicated 24/7 Business Aviation Availability Centre. In combination with all the data we have about each of our engines this allows our services team to proactively support our customers based on the latest available information, guaranteeing highest levels of availability and enhancing our market-leading CorporateCare® service."
SD Scheduler is a cloud-based aviation data management system that can be fully customized for a flight department. It features intuitive navigation, integration to third-party vendors, and powerful business intelligence and reporting backed by continuous customer feedback. SD Scheduler incorporates SD FlightLogs, the first web-based system designed to auto-capture and manage aircraft flight-log data, reducing manual input.
Vertis Aviation shows Americas some love with new office and regional launch of Vertis Charter Management Programme, as Argus Certified Broker status confirmed.
Boston, MA./14 February 2019 – Vertis Aviation, the Switzerland-headquartered charter specialist is showing the Americas some love this Valentine's day with three key regional announcements. The business has opened a new U.S. office in Boston, Massachusetts which will be headed-up by General Manager, Robert Coleman, a well- respected business aviation figure in the region. Coleman will be responsible for promoting the boutique Vertis charter service across the Americas, from the furthest northern point of Cape Columbia in Canada, to the ice-runways of the Antarctic.
Vertis is also launching its highly successful Vertis Charter Management Programme in the region. The replication of its original European business model will support owners and/or operators looking for outsourced professional charter sales management, enabling them to maintain focus on the core competency of aircraft operations. "Vertis focuses purely on what we do best, sourcing the right charter aircraft for each client mission. This enables the operators to focus solely on operations, yet still generate revenue from the asset, and it provides the customers with access to a wider range of aircraft through the Vertis boutique charter service," said Jeffrey Emmenis, CEO Vertis Aviation.  It's a formidable combination and Vertis is now in its ninth year of operations which demonstrates the sustainability of the model."
Supporting the office opening is confirmation that Vertis has this week been confirmed as an Argus Certified Broker. The accreditation positions the customer-centric company in the top echelon of  global charter providers, there are currently only 11 Argus Certified Brokers worldwide.  Following the rigorous audit Argus Safety Director, Edward Wandall said, "We were extremely impressed with the quality of the Vertis approach. The audit revealed a well run, professionally structured business that puts the client at the centre of all it does. We are delighted to welcome them to the Argus scheme, particularly in the month they expand their U.S. presence."  The Argus-recognition confirms that Vertis adheres to industry best practices, has a deep and broad knowledge of the executive aviation business, and is committed to the utmost in safety and service-oriented charter services.
"The combination of our new office headed up by Robert, the launch of our Vertis Aircraft Charter Programme, and the trust we know customers associate with Argus, gives Vertis a powerful springboard from which to dive deeper into the Americas market," added Emmenis.  "We are successful pioneers of our specific business model in the EMEA region, we have an amazing international network of clients, and our Argus certification officially recognises the standards we've been delivering for years. We are really very excited about the opportunities in the Americas."
The new U.S. presence strengthens the existing network of offices in Dubai, Cape Town, and the headquarters in Zug, and adds valuable support to Americas originating customers. "Our highly personalised bespoke service generates long term customer relationships and establishes in-depth operator relationships. We get to know aircraft in detail which is knowledge we can use to make the right recommendations for our clients, yet we remain removed from all operational aspects," says Emmenis. Vertis anticipates the Americas customer base will quickly ramp up with existing corporate and private customers utilising the Americas office for their intra-continental needs.
With the expansion of the Americas business Vertis is taking the opportunity to merge all its capabilities into one global offering which supports charter of all aircraft types.  In addition, it will continue to market, on behalf of the owner/operators, a select portfolio of long-range business aircraft including two Boeing Business Jets BBJ, an Airbus ACJ319, two Bombardier Global 6000, a Gulfstream G450 and a Bombardier Challenger 350.
MSB Aerospace LLC celebrates first year of production in Savannah, Georgia.
Savannah, Georgia/13 February 2019 – MSB Aerospace LLC, the US-based division of Montreal-headquartered precision engineering business MSB Design, is celebrating the first year of production at its Savannah, Georgia facility. Opened late in 2017 to better serve the US market, the facility has quickly ramped up to manufacture customized, precision-engineered products for the business aviation sector. To date, the operation has produced a variety of bespoke crystal, china and flatware stowage inserts (CCF), more than 50 single and dual pedestal hi-lo tables, personal device holders, and a collection of MSB's innovative up-lit glass holders.
When production began in Savannah, MSB Aerospace LLC employed nine people. Today the staff numbers 22 with more recruits anticipated to join in the next six months. The 10,000-sq-ft production unit is expected to produce up to 30 percent of MSB's total North American output this year, and the company is eyeing 60,000 sq. feet for further expansion.
"Clients are very happy that we've established a U.S.-based manufacturing presence. It allows us to better manage product costs as materials are sourced in the US, so we save the expense, and risk, of moving materials across borders. We have reduced potential customs delays, eliminated currency fluctuations, and negated import taxes," says Shannon Gill, Managing Director, MSB Aerospace LLC. "Our clients expect very high quality and so far the items are fulfilling their expectations. We look forward to continuing to build our U.S. presence."
The first inserts and tables came off the line in January 2018 with delivery to the new production unit's first customer, Gulfstream, following swiftly after. Subsequent products were destined for a mix of completion centres including L3, OEMs and private owners based throughout the U.S.A. The company began 2019 with orders to supply products to six new clients with delivery occurring this year.
Looking to the next year, in addition to manufacturing its own products, Gill is hoping to add build-to-print support for customers shortly. Several newly manufactured items will also enter production this year including variations on tables, new mechanisms and products for new aircraft platforms.
Senior management, clients, partners and local Savannah government officials  celebrated the success of MSB Aerospace's first year during an event held at the Mighty First Eighth Airforce museum in its home town of Savannah. Gill thanked local government for their support, customers for their business and acknowledged the hard work and dedication the newly created team members had given to make the first year a success.
VistaJet Advances Business Aviation Flight Safety with Integration of Advanced Flight Risk Assessment System
Safety and security always at the core of all operations, now with real time data-led analysis.
Osprey's breakthrough Flight Risk Assessment system will integrate with VistaJet's proprietary flight operations software
The system will deliver instantaneous and intuitive risk assessments for every flight
VistaJet is the first operator to receive the EBAA Diamond Safety of Flight Award
VistaJet, the first and only global business aviation company, places the safety, security and wellbeing of its customers and staff above all else. Today, the company announces a further step in advancing its flight operations software with the adoption of Osprey Flight Solutions data-led risk assessment technology.
Ever since its launch in 2004, VistaJet has placed the utmost attention on operational and flight safety and to date has completed over 146,000 flights globally, having safely flown over 367,000 passengers to more than 1,900 airports worldwide.
By integrating Osprey's leading safety system, VistaJet is able to instantaneously and intuitively risk assess every single flight directly through its proprietary operations software and support operational decision making. The platform delivers immediate intelligence on the aviation environment, collecting data from 200,000 sources in 60 languages. A team of analysts combines the data with machine learning algorithms, painting a real-time view of global safety.
The new cutting-edge integration complements VistaJet's expert human analysis to offer the most comprehensive security and risk assessment. Information includes the widest range of events that could impact flight performance, from local taxi strikes that may delay arrival of crew at the airport, to a detailed evaluation of no flying zones. Data is applied to a 10km by 10km grid covering the full globe and provides a detailed altitude overview. With a granular and real time access to data, the VistaJet team is able to measure possible delays and calibrate each flight to the most secure conditions along the safest routes, even when the aircraft is airborne.
Nick van der Meer, VistaJet's Chief Operating Officer, said:
"We look at the most efficient way to fly, with safety being the core driver. By providing even more meaningful data to our inhouse experts, they are able to create a smoother flight experience for our customers. Safety is and must always be a common goal for all aviation companies, and we are proud to lead the way by adopting the most advanced innovation technologies available on the market ahead of anyone else in business aviation."
Operated from its headquarters in Malta and supported through its network of regional offices, VistaJet's rigorous safety standards have been recognized globally. VistaJet is the first operator to be awarded the Diamond Safety of Flight Award by the European Business Aviation Association (EBAA) in 2016, and again in 2018, with each recognition spanning two years. The company's operations are also classified with the ARGUS International Platinum Rating and Wyvern Wingman, and VistaJet flight crew and ground staff are trained to standards that surpass stringent industry regulations.
Satcom Direct supports Skyservice to generate first Supplemental Type Certificate (STC) for SD Data Link Unit upgrade for Learjet 45
Melbourne, Florida / 6 February 2019 – The Transport Canada Civil Aviation (TCCA) authority has awarded Skyservice Business Aviation an STC for installation of the Satcom Direct Data Link Unit (DLU) upgrade on the Learjet 45 type. SD supported Skyservice through the TCCA STC process, and with the EASA and FAA submissions whose approvals are expected in the second quarter of 2019.
Of the three Skyservice Learjet 45 aircraft, one is already benefitting from the system installation, with the next two scheduled for SD DLU upgrade in early 2019. Upon completion, the installations will support CPDLC (FANS1/A and ATN- B) compliance to augment operational safety. Skyservice will use their STC to support other Learjet 45 operators requiring installation which helps retain asset value while optimizing performance.
"Skyservice is one of the first MROs to comply with 9,600/10,000/14,800-hour inspections and has more than 30-years-experience in Learjet maintenance. The SD DLU is a proven product that supports more efficient  Learjet 45 operations. With their support we are now positioned to be the facility of choice for these upgrades," said Paul Weeks, Vice President, Maintenance for Skyservice Business Aviation.
"Skyservice has a long legacy of excellent support for Learjet 45. Our DLU solution makes operating these aircraft safer and helps manage operating costs," said Robert Vega, Director of Product Management at SD. "Our DLU is already fitted on numerous aircraft and we're excited to have this newest STC available for the aviation industry. The upgrade allows operators to both reap the benefits of more efficient routes and preserve critical safety features including FANS-1/A compliance."
Flying Colours Corp. celebrates thirty years of business
Peterborough, Ontario/ 5 February 2019 –  Flying Colours Corp., the North American maintenance, repair, overhaul and completions business is celebrating thirty years of successful MRO and interiors operations. Launched as an aircraft painting business by current President, John Gillespie, the small start-up quickly developed into an aircraft sales business before evolving into a fully-fledged MRO and interiors business in 1989.
Since inception the privately owned, family run company has grown the business from a small hangar dedicated to painting turbo-props and small jets at Peterborough Airport to an international company known for its strong maintenance capabilities, creative cabin-interior design resulting in functional, yet stylish completions, refurbishments including Flying Colours branded CRJ ExecLiner, avionics expertise and ability to handle complex special mission projects. Led by the core philosophies of Integrity, Innovation and Flexibility,once the smallest business at the airport it is now the largest airport tenant and is currently expanding its head quarter's footprint with the addition of a fourth hangar measuring more than 100, 000 squared feet.
A second base was established in 2009 when Flying Colours purchased JetCorp Technical services in St. Louis, which became Flying Colours KSUS in 2013. The facility expanded rapidly and now consists of a 40,000 squared feet state-of-the-art dedicated cabinetry and interiors facility along with a further 60,000 squared feet of hangars, the most recent of which opened its doors for business in January this year. With the opening of a Singapore interiors division at the Bombardier Seletar Airport facility in 2015 Flying Colours became truly international. A growing Asia Pacific-based team provides a range of services from interior touch-ups to complete refurbishments for Bombardier aircraft based in the region. Today a global team, which is anticipated to exceed more than 500 employees by year-end, delivers an extensive selection of dedicated business aviation services.
"It's a well-known fact that the business aviation sector is a competitive and challenging industry to succeed in, and we are extremely proud to be marking our thirtieth anniversary this year. In some ways it feels like we are just getting started as we still have a lot of exciting plans to implement over the next decades," said John Gillespie, Founder and President. "It goes without saying we would not have got to where we are without the support of our elite set of customers who value the fact we can deliver even the most complex project, our reliable long-term partners, and most importantly our highly motivated and skilled technical teams. As the years progress this is set to continue to grow," said Gillespie.
Flying Colours plans to mark its thirtieth year with internal and external events with customers, partners and its growing in-house team to demonstrate its gratitude to those that have worked and supported the business through the years.
FAI welcomes seventh Global Express
February 4, 2019 – German Special Mission and VIP-Charter Operator FAI rent-a-jet AG has welcomed its seventh Bombardier Global Express, MSN 9016, to the company's 26-strong fleet.
Following a 240-month inspection, the Global Express will undergo a complete interior refurbishment at the company's growing MRO division, FAI Technik in Nuremberg. Further planned upgrades include the installation of a new cabin management system, KA-Band Ultra-High Speed Wi-Fi Internet and new exterior paint.  It is anticipated that the aircraft will be introduced to the market for sale or lease by the end of March 2019.
The aircraft's custom interior will be designed by FAI's design partner, award-winning German design specialist, Tim Callies. Tim, who is well known in the business aviation industry for his work on Boeing BBJ's, Airbus ACJ's and Global Express business jets will work with the future aircraft owner to select custom features to suit his or her own particular taste and lifestyle.
The Global Express will be FAI's third "Signature Edition" aircraft where a buyer can personalise the cabin design and select upgrades for an all-in turnkey price. The end result offers the benefit of a fully refurbished aircraft with major maintenance inspections completed.
Siegfried Axtmann, FAI Aviation Group Chairman, comments: "We are delighted to be working with the renowned Tim Callies and his team on our Global Express enabling the new owner to personalise their interior as part of our 'Signature Edition'.  FAI Technik has performed numerous 120- and 180-month inspections on BD700 series aircraft, notably this aircraft will be the first Global Express to undergo its second 10-year inspection at our MRO. With its state-of-the-art carbon fibre cabin, it will represent extraordinary value for money on the Global Express pre-owned market."
 In addition to the seven Bombardier Global Express jets, FAI´s group fleet includes, five Bombardier Challenger 604s, one Challenger 850, 11 Learjet 60, plus one Premier 1A and one King Air 350. All Bombardier aircraft are maintained by FAI Technik GmbH in Nuremberg.
FAI is Germany's largest general aviation operator by fleet operating more than 13,000 hours of airtime in 2017. It is also one of Europe's largest Bombardier operators, which brings significant operational and cost benefits.
VistaJet records a 31% increase in new members as it celebrates 15 years in the industry
January 29, 2019 : The leading business aviation Unicorn ideally positioned to seize even larger market share in 2019.
Number of flights increased by 25% globally and by 46% in North America in 2018
Outperforming the market in Europe – number of new Program customers grew by 105%
Aircraft utilization up by 20%, as each aircraft flew around the world 20 times
VistaJet now part of Vista Global Holding to further revolutionize the fragmented business aviation sector
Strengthening its global position and its fleet of over 70 long range aircraft, VistaJet is part of a global network of 116 owned business jets and over 1,500 aviation experts through Vista Global
VistaJet, the first and only global business aviation company, today announced another record year in 2018, with new Members and number of flights up prominently year on year. As it enters its 15th year, Malta based VistaJet made significant progress on its core strategic priorities, increasing market share worldwide.
In line with the asset lite macro trend taking off globally, VistaJet saw new contracts of its flagship Program membership grow by 31% in 2018 and the number of flights increased by 25%. As demand for longer flights and comfort continues to increase across the industry, VistaJet's utilization grew by 20% across its fleet of over 70 aircraft – now equating to enough hours to fly each aircraft around the world 20 times on average.
Regionally, Europe proved a significant market for corporates and individuals flying privately, accounting for 48% of total VistaJet flights in 2018. New Program Members grew significantly by 105% in the region, with the majority of growth coming from clients based in the UK which doubled its new contracts.
North America remained a key growth driver for VistaJet and accounted for the largest increase in flights in 2018, with a rise of 46%. To cater for the growing demand from customers in the region, 21% of VistaJet's global fleet at any given time is in the market, with the Global 5000 fleet flying more than the Challenger aircraft during the year.
VistaJet continued to lead the market in terms of innovation and service. Adding to its global coverage and unique flight-hour subscription model, the company introduced new experiences for its Program Members, designed around their passions. Encompassing key partnerships with world leading art and sport partners such as Christie's and British Polo Day, as well as the launches of the most extensive traveler's programs for children and oenophiles in private aviation.
Other 2018 highlights include:
While the Middle East has seen some weakness in the industry, VistaJet's customer base appears to be as strong as ever, with number of flights up by 38% and passengers by 24%. The UAE accounted for the majority of flights in the region at 29%, and the number of flight hours at 34%.
As Dubai continues to prove a significant global hub, VistaJet will open a larger sales office in the region in January 2019.
Strong numbers in Asia, with flights increasing by 26%. Reflective of economic forecasts for GDP, Singapore led the results with a 71% growth in the number of flights to and from the country.
Air BP adds exclusive Spanish destination La Perdiz to its network
January 29, 2019
Air BP has started supplying Jet A-1 fuel at La Perdiz airport on the La Nava estate in Spain.
This latest addition to the network brings the total number of Air BP's locations in Spain to 49.
Air BP customers will benefit from direct access to one of Spain's most exclusive country destinations.
Air BP, the international aviation fuel products and service supplier, has added La Perdiz (LEIZ) airport on the La Nava estate to its Spanish network. This latest addition to the network brings the total number of Air BP's locations in Spain to 49.
Effective immediately, Air BP will supply Jet A-1 fuel at La Perdiz, one of Spain's most exclusive country destinations. Air BP customers will benefit from convenient direct access to the location, rapid turnarounds and a high degree of discretion at this dedicated business aviation airport.
Customers will be able to use their Air BP Sterling Card to purchase fuel, in addition to ordering and paying for fuel via the RocketRoute MarketPlace platform. Air BP has invested in a state of the art 30m3 capacity 'Eagle' fuel tank at La Perdiz airport which complies with the highest international (JIG 4) standards.
Jesús Presa Fernandez, General Aviation Account Manager Air BP Spain comments: "La Perdiz is a highly convenient location for travellers given its location directly on the La Nava estate. If we add to this a service specifically designed for general aviation without waiting times, it will become a very popular destination in our network. We are ready to deliver a premium service and welcome all customers visiting La Perdiz this year."
Customers can refuel at La Perdiz from 30 minutes before sunrise to 30 minutes after sunset, local time, seven days per week with prior landing permission. La Perdiz is located two hours from Madrid and handles around 125 international and domestic general aviation and business aviation flights per year.
La Nava is located in Castilla La Mancha, the land of Don Quixote. The resort is popular with those who enjoy country sports and is an ideal location for private meetings or exclusive special events.
TBM's customer support expands with a new Daher operational base in the greater Paris region
Toussus-le-Noble, France, January 28, 2019 – Daher today announced the opening of a new TBM customer support base serving the Île-de-France geographic region surrounding Paris, and which is strategically situated in a technology cluster zone that has earned the designation as "Europe's Silicon Valley."
Located at the popular Toussus-le-Noble aerodrome southwest of Paris, this operation includes a workshop and offices in Hangar 111/112, positioned near the airport's main entrance.
As a subsidiary of the primary TBM Service Center at Daher's Tarbes-Lourdes-Pyrenees Airport facility, this latest customer support base is Part 145 approved by the European EASA and U.S. FAA airworthiness authorities – enabling work to be performed on TBM aircraft registered both in Europe and the United States.
It will provide maintenance service, including scheduled inspections for TBM aircraft covered by Daher's maintenance contracts. The station ensures handling and customer care during opening hours of the airport, weekends and holidays included, with a two-hour prior notice.
"With more than a dozen civilian TBMs based in the Paris region – plus the French Ministry of Defense's TBM fleet at the nearby Villacoublay Air Base – it was essential to offer our customers local maintenance services," commented Nicolas Chabbert, Senior Vice President of the Daher Airplane Business Unit. "Additionally, Toussus-le-Noble's close proximity to corporate research sites, company administrative centers, and technology businesses makes it ideal in serving the needs of TBM owners and operators."
Chabbert also noted the Toussus-le-Noble customer support base benefits from the direct support of Daher's TBM experts in engines, airframes, avionics and systems at its Tarbes-Lourdes-Pyrenees Airport facility.
Hugo Delpi, manager of the TBM Service Center at Tarbes-Lourdes-Pyrenees Airport, also will be responsible for the new Toussus-le-Noble operation.
AVIAA to acquire Convolus, merges fleets
 Brings larger scale global purchasing for business aviation
With wider footprint in Europe
January 28, 2019 :AVIAA, the international group purchasing organization for business aviation, is adding over 150 new aircraft to their membership with the announcement today (28th January) it has reached an agreement with Europe's smart purchasing business Convolus to merge their operations.
The move will see AVIAA widen its footprint in Europe with the establishment of an office in Munich, Germany, complementing its existing bases in the UK and US.  Irena Deville, co-founder and CEO of Convolus, becomes Managing Director – Europe and Middle East for AVIAA, and she will work alongside California-based CEO Gillian Hayes and her team.
"We are delighted to have formalized this agreement with Convolus.  It marks a significant strategic step for AVIAA, which will enable us to deliver larger scale global purchasing for our collective members and suppliers," said AVIAA CEO Gillian Hayes.
Speaking at Corporate Jet Investor's annual 2019 conference in London she highlighted how the deal will help the business grow and enable AVIAA to deliver value for members and its supply network in new geographies, and bring expanded procurement services to new European members.
After the acquisition formally concludes this month, the AVIAA community will support a member fleet of nearly 500 aircraft and a network of suppliers with global operations across every spend category, including a robust international FBO network.   
Existing Convolus members will be seamlessly integrated into the AVIAA community. In addition to the increased buying power the fleet merger will afford them, they will also be able to accrue further cost savings in the AVIAA supply chain, which covers expanded service categories, including insurance, maintenance, fuel, business operations, and crew training.
AVIAA's predominately US-based members will be able to draw benefits and savings from the enlarged group's 100-strong European FBO network, from large multi-destination handlers to stand-alone individual FBOs.
"Business aviation in Europe remains significantly fragmented," commented Irena Deville.   "The opportunity to scale up and expand with AVIAA means we can optimize our technology solutions; combine our procurement data sets globally to better inform pricing, predict spend, and streamline our transactions. It all comes down to better serving our members and suppliers as we add new categories to support our mainstay pillars." she added.
Irena brings a wealth of experience to AVIAA, not just for her insight and embracing of disruption as co-founder of London-based Convolus, but in her former role focused on mergers and acquisitions activity and spearheading consolidation efforts.
Prior to developing Convolus, Irena was Head of Strategic Development at Gama Aviation Plc, where she was responsible for implementing the group's strategic development and acquisition strategy.
Irena joins a team at AVIAA with deep experience not only in aviation, but insurance and risk management, technology, marketing, and group purchasing. AVIAA uses aggregation, transparency, industry expertise, and proprietary algorithms to streamline the procurement process for both operators and vendors. Through membership, operators of all sizes achieve improved business intelligence and economies of scale, allowing them to get the best value for key operational items; suppliers receive committed volume without the overhead, reduced friction costs around transactions, and deep insights into customer behavior and purchasing patterns.
Two Daher TBM very fast turboprop aircraft make milestone flights over the South Pole
Tarbes, France, January 23, 2019 – Daher salutes the exceptional flights performed this month by owner-pilots on two TBM aircraft that traversed Antarctica and overflew the magnetic South Pole.
These achievements marked the first legs in earning the Polar Diamond Circumnavigator Diploma, recognized by the Fédération Aéronautique Internationale (the world's governing body for aeronautical and astronautical records and sports), which has only been awarded once before.
One of the TBM owner-pilots – Sebastian Diaz from Santiago, Chile – reunited three generations of pilots in flying his TBM 850 with Diaz' father, 88-year-old Patricio (one of the oldest still fully-licensed TBM pilots); and Sebastian's son, Sebastian Jr., as copilots.
The other TBM owner-pilot, Dierk Reuter from Chicago, USA, was flying with son Alex on his TBM 930, carrying cameras and an inflight tracking system benefitting from an Iridium GO! satellite connectivity device and support of Iridium Communications. In-flight photos were posted to Instagram in quasi real-time using Iridium messaging and software created by the Reuters.
The 2,700 nautical mile trip for both aircraft from Santiago, Chile, to 75° South – the latitude required for the polar circumnavigator diploma – required three stopovers and much preparation, as Antarctica offers some of the most challenging environments for aviators. The temperature averages -56°F (-49°C) with constant winds.
Both TBMs had to fly over the huge continent – nearly 5 million square miles (12.9 million square kilometers) in size, largely uninhabited and mostly covered in ice. In addition, central Antarctica presents high ground that rises to more than 8,000 feet (2,500 meters), with peak mountains reaching 16,050 feet (4,892 meters) – where clear blue skies can quickly turn to overcast whiteout conditions.
On January 1, the two TBM aircraft left Punta Arenas in Chile: destination Teniente Rodolfo Marsh Martin Airport on King George Island (part of Chile's Antárctica commune in Antarctica, and the continent's northernmost airport). This airport serves the nearby village of Villa Las Estrellas and Base Presidente Eduardo Frei Montalva – the most important Antarctic base of Chile – with a 4,232-foot (1,290-meter) gravel runway.
On January 2, both TBMs continued to the British Antarctic Survey Sky-Blu base, at 807 nautical miles southwest, and reached the 75° South latitude turning point before returning to King George Island's airport. On the way, TBM 930 owner Jim Baum arranged a fly-by of the National Geographic Orion – an ice-class exploration ship, enabling exciting pictures and video to be recorded.
"We are impressed by the airmanship of such TBM owner-pilots as the Diaz family and Dierk Reuter, who carefully prepared this dual polar expedition," commented Nicolas Chabbert, Senior Vice President of Daher Airplane Business Unit. "We salute the confidence they have in our TBM very fast turboprop aircraft, as they had to face extreme weather conditions flying over one of the world's most hostile regions."
Dierk Reuter explained: "The journey from my hometown Chicago to 75S 71W and back can be summarized in figures: 18,782 nautical miles, 64 hours, 3,080 gallons of jet fuel, and 19 stopovers. But it doesn't tell the story about a pilot's feeling to fly over the South Pole. The TBM is an awesome aircraft to explore the globe!".
Added Sebastian Diaz: "We also had the challenge of avoiding the freezing of the fuel because of the extreme low temperatures, for which we used more Prist [fuel system icing inhibitor] than usual. We also like to thank the Chilean Air Force for their generous hospitality at SCRM (Base Presidente Eduardo Frei Montalva)."
SONAS Aviation gears up for Irish AOC
Founding CEO Graham Williamson highlights benefits of EJ registry amid uncertainty of Brexit
22 January, 2019 : SONAS Aviation, the new Shannon-based aircraft charter and management company, founded late last year by Graham Williamson, former CEO of TAG Aviation Europe, is just weeks away from acquiring its Irish AOC.
With its first managed aircraft, a Bombardier Challenger 605, to be available for charter on the new EJ-register, Graham will be at Corporate Jet Investor's London conference next week to meet with financiers and G-registration aircraft operators.
"We are reaching out to owners of corporate jets seeking predictability, stability and continuity in these uncertain times," says Graham.
"The impact of Brexit – deal, no deal, interminable status quo, political uncertainty and its subsequent effects on the aviation community in the United Kingdom is a real and immediate issue."
SONAS Aviation is duly offering aircraft owners a simple transition for their aircraft to an EASA Operation, allowing free movement in Europe and unfettered traffic rights to the 44 countries covered by EU bilateral agreements, including the USA and Canada.
"Looking at EASA's newly updated Guidance Notes, it is difficult to predict how aircraft operated, crewed, registered, maintained or managed from the UK will be affected, and this throws up uncertainty regarding importation, free circulation, certification and licensing," says Graham.
"Ireland (with its EJ registry) offers a simple importation and tax environment for owners.  It is a renowned and secure legal jurisdiction for financiers and the Irish Aviation Authority (IAA) is committed to developing and growing its already strong aviation sector."
"Some of the currently fashionable and established European jurisdictions, such as Malta, are struggling to keep up with the volume of aircraft coming onto their registries," suggests Graham.
An alternative jurisdiction, so close to the UK, with an excellent legal, finance and banking fraternity will add to the EJ appeal, he believes.
New company with established management team
While SONAS Aviation is brand new, behind it sits a management team with decades of aviation experience.
Graham has been joined by Russell Allchorne, former VP Operations at TAG Aviation Europe as the COO, and Keith Brennan, former Post Holder with Eirtech Aviation, as Airworthiness Director.  SONAS is supported by the Air Law Firm and its Founding Partner Aoife O'Sullivan, a widely regarded business aviation lawyer.
Leasing model key focus for SONAS
As well as traditional aircraft management, SONAS Aviation will be offering expertise to clients looking to lease, rather than 'buy' their corporate jets.   "Where better to advocate this growing model than in Ireland, home to many established commercial aircraft leasing companies dedicated to the airline sector,"  highlights Graham.
Operator leases could become the biggest driver in business aviation, especially popular in the large cabin sector, which he will highlight whilst chairing a panel on day two (January 28th) of CJI London 'Dispelling corporate airliner myths – the cost of operations.' 
"A lease offers predictable costs and gives the owner far greater flexibility to upgrade the jet, or change it in six years, just as the airlines do.  It removes the uncertainty of residual values and it is a smart way of financing a depreciating asset," Graham will highlight.
SONAS Aviation is not seeking to grow into a large aircraft management company.  Rather, it wants to build a close relationship with select clients, build trust and deliver a quality, personal service, maintaining full transparency on costs.
Ahead of its operational start, drawing on lessons learned, SONAS and its primarily Irish team, has created seamless processes for all elements of planning, operations and customer service using harmonised cloud-based systems.
"We are committed to offering a simple and seamless transition for clients.  We will be limited in the number of aircraft we can absorb in the coming months.  First mover advantage is paramount and only those who take control and make the right choice today will be guaranteed continuity of operations, approvals and licences," Graham concluded.